I'm loving having Good Food Magazine on my ipad, not only is it very portable but it means I can search for recipes that I've seen without having to flick through pages and pages. One of the recipes that caught my eye was in the budget cooking edition for tomato & harissa stew with cheddar dumplings. I'm always looking for ways to save money on the weekly shop and making more veggie recipes is definitely helping, however if you like to have a bit of meat in your cobbler make sure you check the Asda offer of 3 for £10 on selected meat, poultry and fish.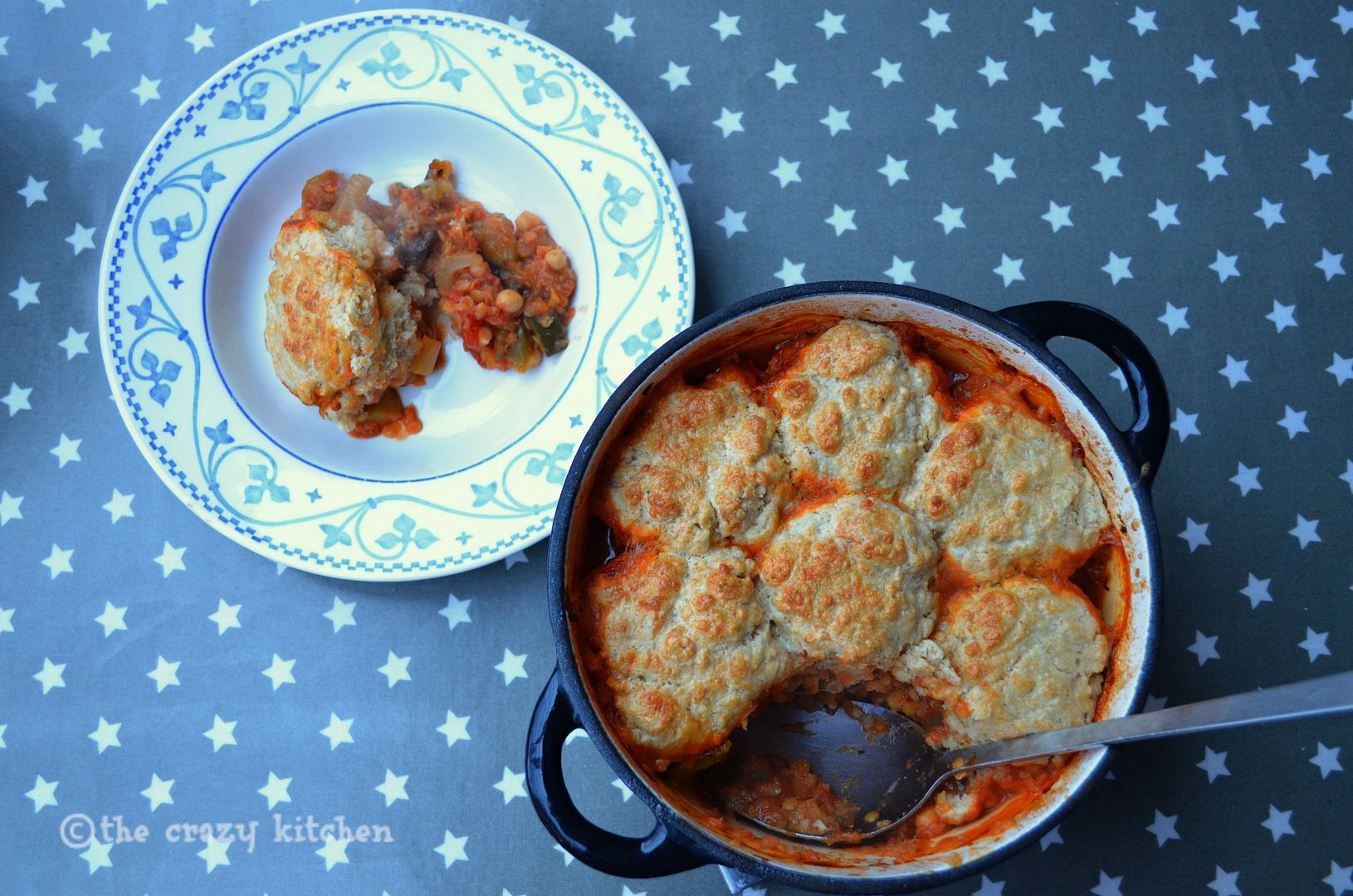 I amended the recipe by adding a few more ingredients (vegetables from the bottom of the fridge) and using my recipe for cheesy scones for the top (leaving out the chilli) instead of the dumplings.
Vegetable & Harissa Cobbler
1 tbsp Olive Oil
1 Onion, chopped
2 sticks of celery, sliced
1 heaped tbsp of Harissa paste
1 Can of chopped tomatoes
1 Can of water
1 Can of chickpeas, drained
1 Large Courgette, chopped
1 Red pepper, de-seeded & chopped
2 Large Chestnut Mushrooms
1 Knorr Herb Stock Pot
75g Red Lentils
1 Egg, beaten
Heat the oil in an ovenproof casserole pan and fry the onion gently for 3 minutes

Add the celery, harissa paste, tomatoes, water, chickpeas, courgette, pepper, mushrooms & stock pot and bring to the boil

Place the lid on and bake in a 180 C oven for 1 hour

Stir in the lentils and return to the oven (lid on) for 10 minutes

Make up the

scone mixture

and cut circles out

Place the scones on top of the stew, brush with beaten egg and bake (no lid) for a further 15 minutes until golden brown
If you're also looking for ways to save money on your weekly grocery shop then there are always lots of voucher codes for food to be found online, such as £12 off £60 spend on grocery.
This post has been brought to you in partnership with MyVoucherCodes