Easter is almost upon us, which means that Cadbury Creme Eggs will be disappearing off the shelves for another year (well, until Christmas at least), so whilst I had the opportunity to get my hands on some I decided to make a cheesecake, which I've been meaning to do for ages.
This isn't your traditional no bake cheesecake with a biscuit base, as it's a cross between a cheesecake and a cake - you get the best of both worlds. There are two layers of moist chocolate cake sandwiching a creamy vanilla cheesecake layer, packed full of Creme Egg pieces, and topped with a milk chocolate ganache. It's not for the fainthearted or diet conscious among us, as it contains a full 7 Creme Eggs, plus a bag of mini eggs.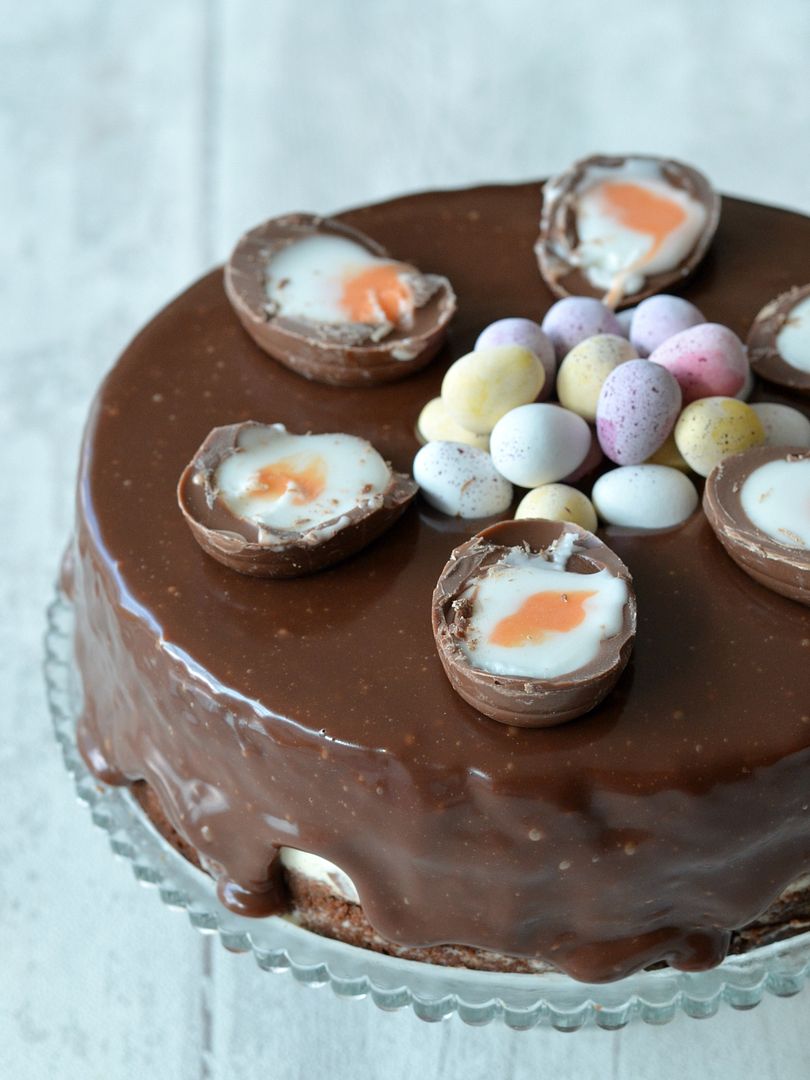 Creme Egg Cheesecake Cake
for the cake layers
3 tbsp cocoa powder
75ml boiling water
200g butter, melted
200g caster sugar
3 medium eggs (approx 200g weight in shells)
200g self raising flour
cheesecake layer
300g full fat cream cheese
50g caster sugar
1 tsp vanilla extract
300ml double cream
4 Cadbury Creme Eggs, chopped
ganache layer
100ml double cream
200g good quality milk chocolate chips (I used Callebaut Belgian chocolate)
to decorate
3 Cadbury Creme Eggs, halved
90g bag of Cadbury Mini Eggs
Whisk the cocoa powder and boiling water together until smooth

Whisk into the melted butter, and then whisk in the sugar and eggs

Fold in the flour until fully combined

Grease the base and sides of a deep sided, loose bottomed 20cm cake tin, and line the base with baking paper

Pour the batter into the tin

Bake in a preheated 180C oven for around 45 minutes, until springy to the touch

Allow to cool for 10 minutes before turning out of the tin & cooling fully on a wire rack

Once the cake is completely cool slice the top off & discard (eat) and slice the remaining cake around the middle, into 2 equal slices

Make the cheesecake filling by beating the cream cheese, sugar and vanilla together

Whisk the cream in, a third at a time, until it's thick enough to hold it's shape (but not stiff)

Stir in the chopped Creme Eggs

Place the bottom off the cake into the 20cm tin and spread the filling over it

Place the top slice on top and refrigerate overnight

Turn the cheesecake cake upside down out of the tin onto a plate or cake stand, so that the base is now the top

Make the ganache by bringing the cream to the boil and then pouring onto the chocolate chips

Leave for a minute before whisking until smooth

Pour over the cake and allow to drip down the sides

Decorate with Creme Egg halves and Mini Eggs
Creme Eggs - how do you eat yours?
How about in a Creme Egg chocolate quiche or creme egg chocolate brownies?
Easy Peasy No Knead Hot Cross Buns