The end of the school year has arrived, and I can't believe that my baby boy has completed 2 years of school already. It suddenly dawned upon me yesterday that we hadn't got anything for his teacher, and even though he'll have the same teacher next year it's nice to give a little thank you gift, so we decided to bake cookies.
This is my favourite cookie recipe, and I just add different flavours to suit. Yesterday I made lemon and sultana to take to bootcamp as it was my birthday, and we decided that chocolate orange would be a nice flavour for the teacher. They can also be made in whatever size you choose - I used the same recipe previously to make mini spiced lemon cookies, but this time we wanted to make jumbo cookies, and packed six in a box to take into school.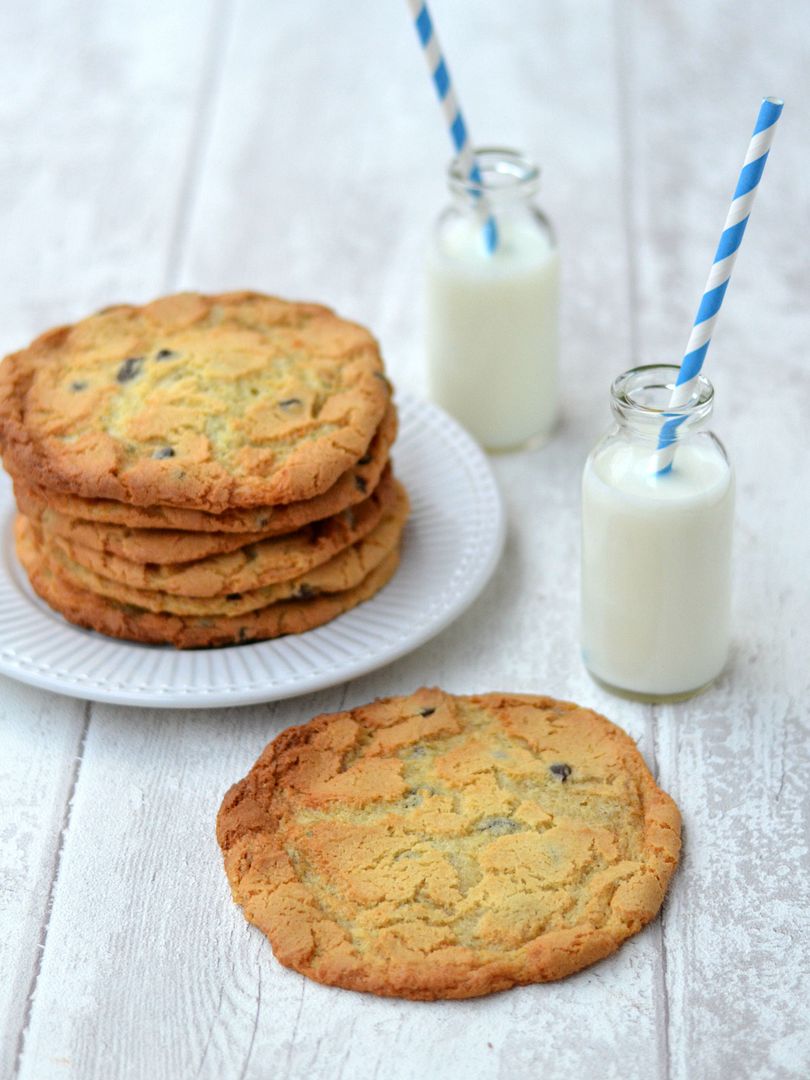 Jumbo Chocolate Orange Cookie

s - makes approx 9
115g Butter, softened
230g Caster sugar
35g Golden syrup
1 Egg
zest of 2 oranges
230g Self Raising Flour
1 tsp Bicarbonate of Soda
100g dark chocolate chips
Beat the butter and sugar together

Beat in the golden syrup, egg & orange zest

Add the flour and bicarbonate of soda and stir until well combined

Stir in the chocolate chips

Roll mixture into large balls (approx size of a satsuma) and place on a greased baking sheet, spaced well apart (you may need to do this in a few batches)

Bake in a preheated 170 C oven for approx 12-14 minutes, until golden brown

Cool for 10 minutes on the baking sheet before transferring to a wire rack

Store in an airtight container
I used a Microplane Premium Classic Zester to zest my oranges. I actually thought microplanes were over-rated when I've seen them used by chefs, and I've been happy to stick with my mini Ikea grater to zest oranges, lemons and limes - how wrong I was! The microplane effortlessly glides over the orange and takes an extremely thin layer of zest off, whereas with my grater I usually ended up grating as much of the bitter pith as I did the peel.
The Microplane is available from John Lewis, House of Fraser and independent cook shops rrp £17.95 in 10 colours.
You can see my Microplane in action in a short You Tube video here.