It's December this week, and if you haven't started your Christmas shopping yet it's time to get a move on. I'm feeling pretty smug as I've already bought and wrapped presents for the family, which is a bit of a miracle for me. My aim is to enjoy December as much as possible and really get into the spirit of Christmas, rather than stressing over presents for other people.
Whilst doing my Christmas shopping online I've discovered a new love for all things copper. I've never really been into anything metallic, but this year I am loving anything copper or rose gold.
I've put together a small collection of ten items that would be perfect if you're looking for a few Christmas gift ideas for yourself or someone else.
I've already picked up the star shaped tea light holder for myself, and have my eye on the wall clock and plant pots too.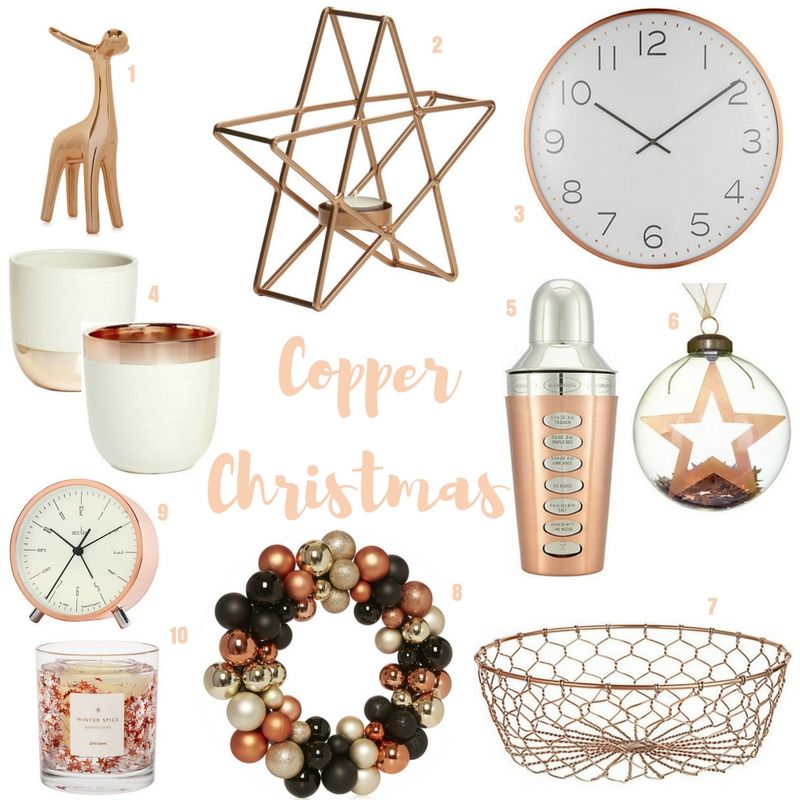 Copper stag £5.00 - Primark

Star tealight holder £5 - Wilko

Wall clock £40 - John Lewis

2 plant pots £8 - Wilko

Cocktail shaker £20 - John Lewis

Helsinki stars bauble £3 - John Lewis

Fruit basket £10 - John Lewis

Copper bauble wreath £8 - Primark

Alarm clock £25 - John Lewis

Glitter candle £15 - John Lewis