During half term last week we hired a motorhome and set off into the Welsh countryside in search of an adventure.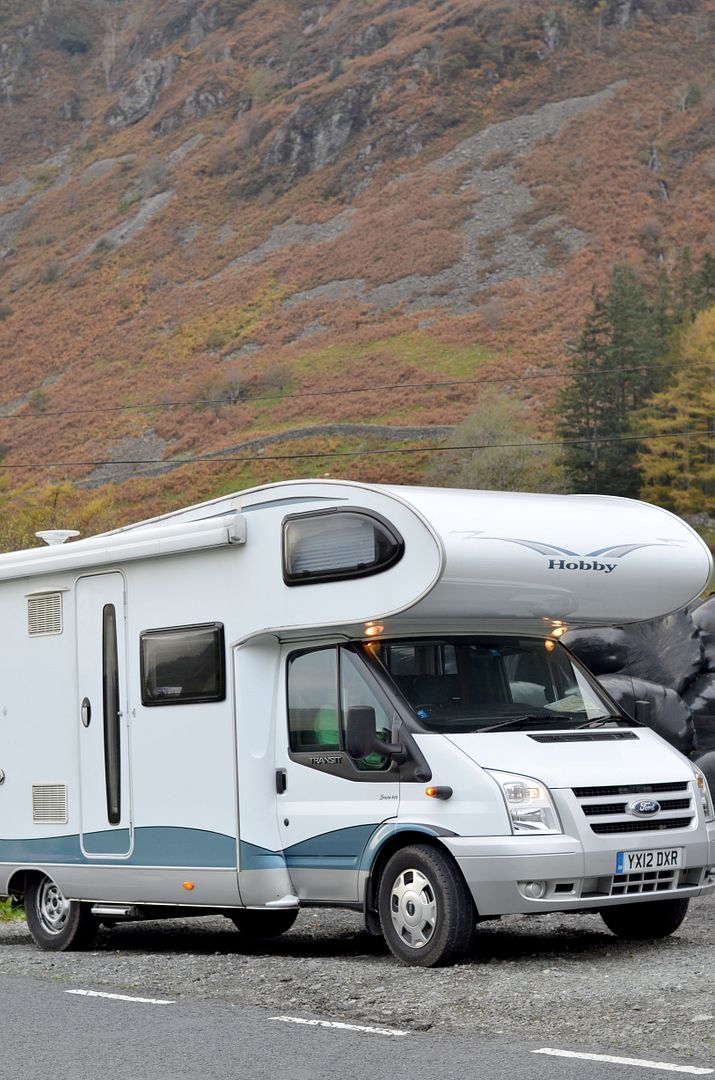 Our 6 Berth Hobby Siesta (with Ford Transit cab) was hired from Better than Camping in Stourbridge and cost £400 for the 4 nights. The sleeping arrangements consisted of a double bed above the cab, single bunkbeds at the back and a double bed converted from the seating area. It was quite cramped at times, especially when we all sat around the table to eat or play cards. Although it did look as though the seating and table extended we didn't try as it would mean less room around the cooking area.
There is a small bathroom in the motorhome, with sink, toilet and shower but we decided not to use it as we stayed on sites with shower and toilet facilities, and instead used the bathroom to store our clothes!
The cooking facilities consisted of a 3 ring gas hob and a small oven/grill (around the size of a microwave) above the fridge. The oven was a bit of a pain to use as the door was so stiff and it was also quite high up, meaning that relatively short people, like myself, have difficulty seeing inside. The best part about the motorhome was definitely the fridge, which was quite a bit larger than you would find in many static caravans.
There was quite a bit of storage room, including a cupboard with hanging rail and shelving, three cupboards above the seating area, drawers below the hob and sink and cupboards above, as well as many pockets by the sleeping areas and a large storage area under one of the seats, with the water tank under the other seating area. There was also a large 'garage' area at the back which was accessible from the outside, and perfect for folding chairs and tables, wetsuits, life jackets and electric cables and water hose.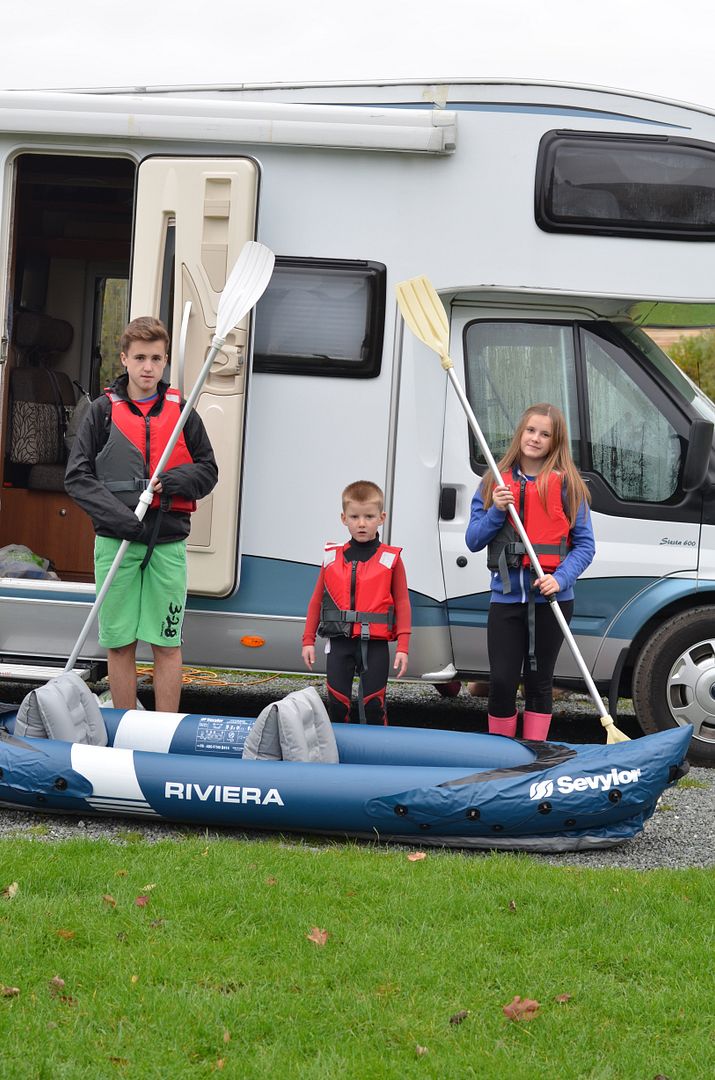 The heating and hot water system was very efficient and heated up quickly, and was powered by either gas or electric. Once hooked up to electric there is also the option of using 3 pin sockets for the tv and phone chargers & hairdryer.
We spent our first night at Fforest Fields Caravan & Camping site near Builth Wells; a peaceful site with good, clean and modern facilities, and a lake which was perfect for Kayaking, and a shelter great for enjoying breakfast in. We paid £25 for the night for a hardstanding pitch with electric hook up.
When we arrived the desk wasn't manned, and instead there was a register to check ourselves in, although there were phone numbers to contact a warden if needed. The desk still wasn't manned when we left the next day, which was a bit awkward as we had to scratch together the correct fee for the pitch and post into a box on the wall of the office. There were 2 kayaks that could be taken out onto the lake free of charge (£20 refundable deposit for the key to unlock them) but as there was nobody around to ask we just used our own inflatable kayak (£68 from Amazon).
If you were thinking about buying a kayak then Globo Surf has a comprehensive article on choosing a kayak.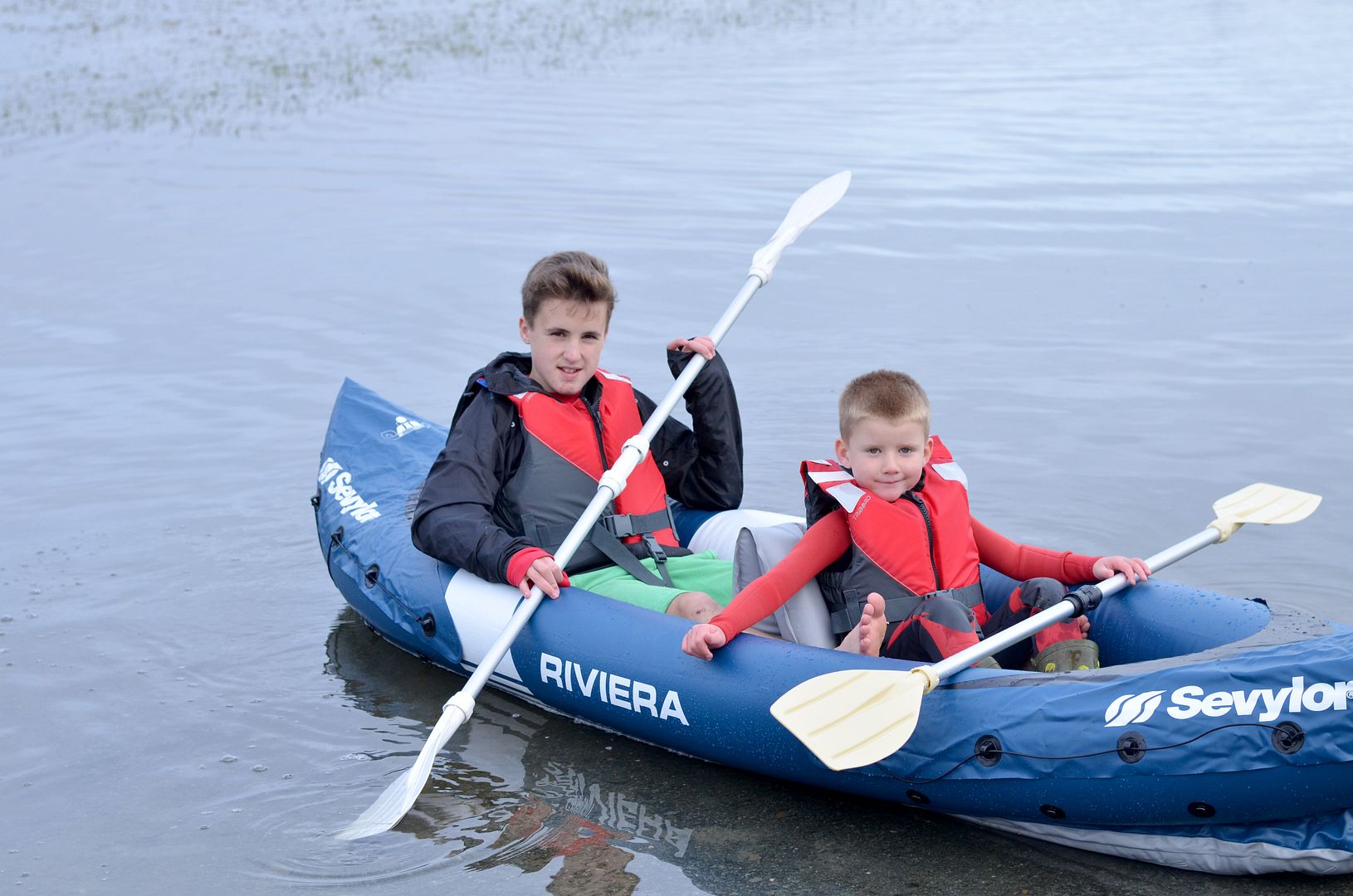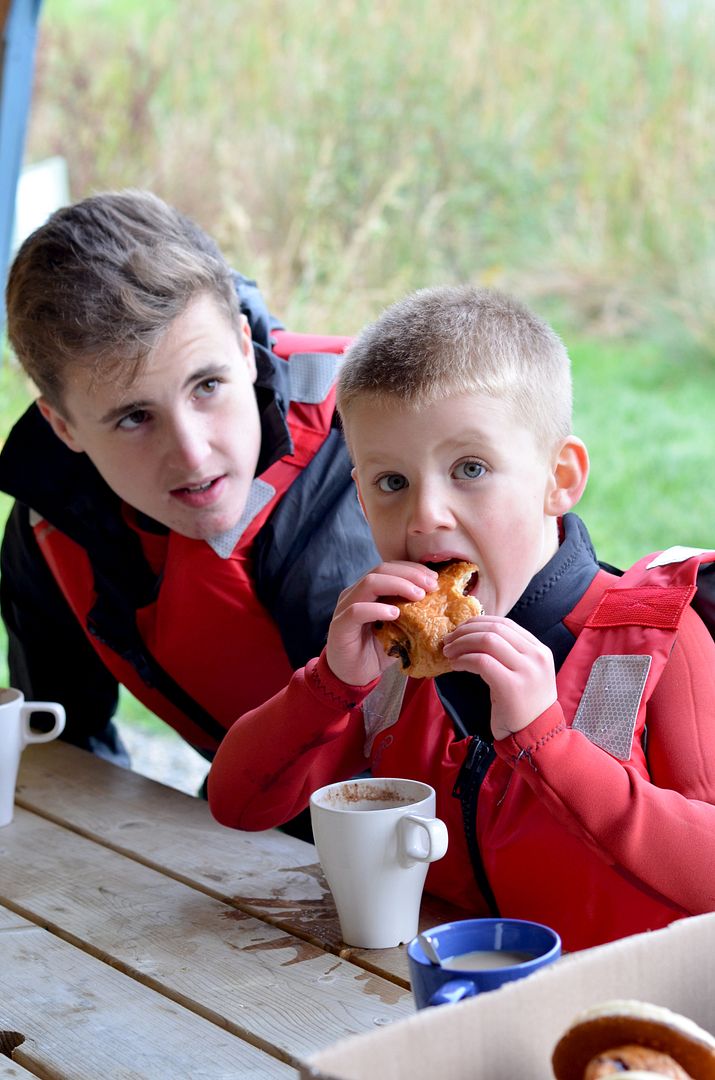 The following day we set off for the coast, with a stop at Devils Bridge Waterfalls for lunch before continuing our journey to Hendre Mynach camping park near Barmouth. The site is situated in a great position behind the promenade and railway line and just under a mile to the town centre. The facilities are a little dated but clean and plentiful, with friendly reception staff. There is a play park for the children and wifi is available at £10 for 48 hours (although the signal was weak). We paid £22 per night for a hardstanding pitch with electric hook up and water.
We stayed for two nights in Barmouth, with plenty of time spent on the beach, enjoying the warm October sunshine, as well as lovely ice creams in Knickerbockers Ice Cream Parlour.
Next we headed off back towards home, with a night spent near Welshpool, at Rhos y Gallt, a small site with simple but adequate facilities, and access to a river which was great for paddling and kayaking, even at the end of October. The site had only a handful of pitches with a purpose built building with washing up facilities, two showers (operated by £1 coin) and two toilets. The owner came to check on us not long after we had arrived and gave us directions to walk across a couple of fields to a local pub around a mile away. we paid just £15 for this night, with a hardstanding pitch with electric hook up.
We even managed a spot of al fresco dining, where we enjoyed some local produce, in the form of Welsh Oggies (similar to the Cornish pasty), Bara Brith (rich fruit loaf) and Welsh cakes (a cross between a scone & a pancake), which we'd picked up from 'Born and Bread', a local bakery in the centre of Barmouth.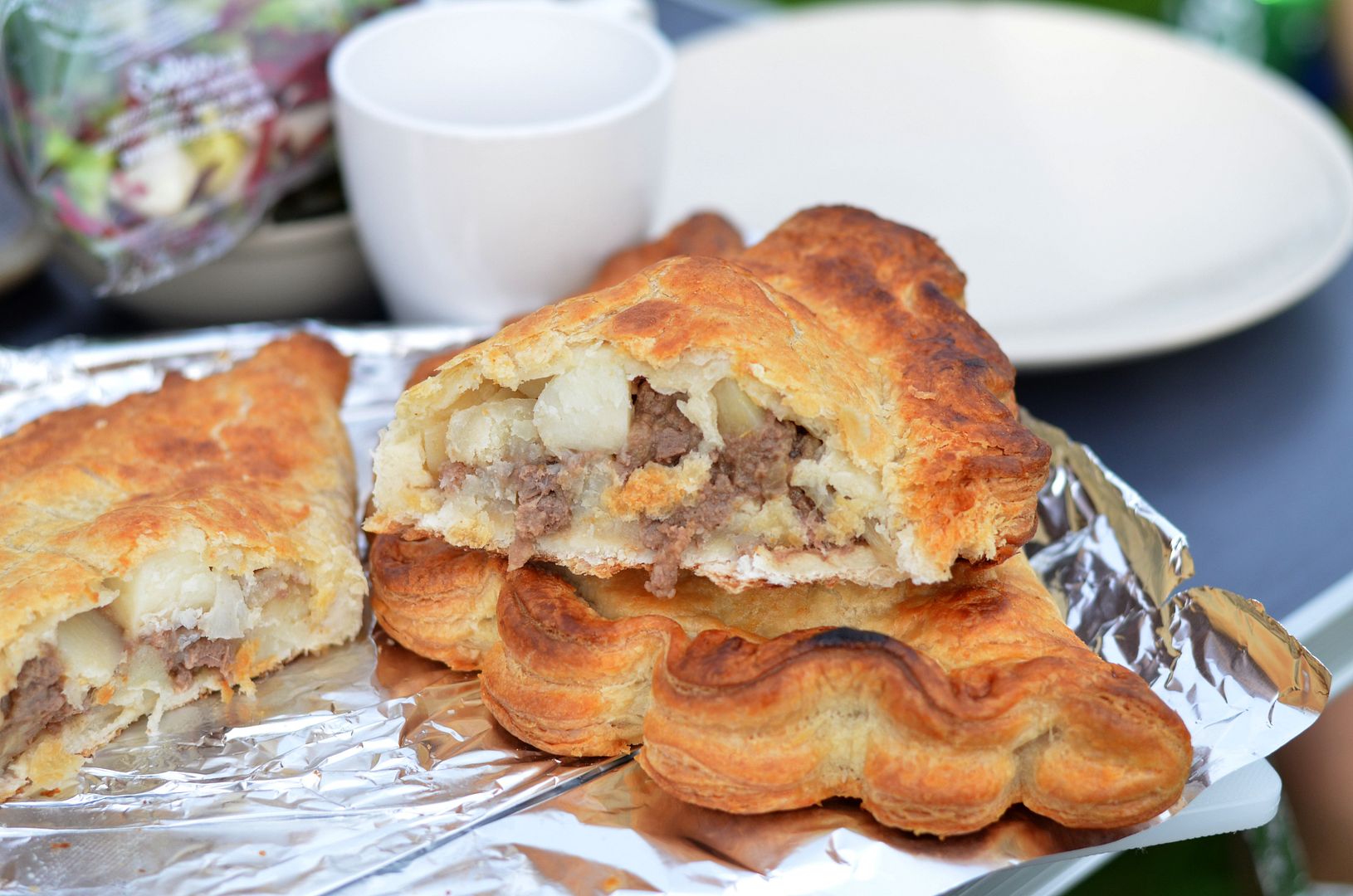 Next time we hire a motorhome we will definitely get one from somewhere closer to where we live so that we can bring it home to load up as it was a bit of a pain trying to get everything that we needed (including all of our bedding) into the car and roofbox.
Tips & points to consider when holidaying in a motorhome
Stock up your fridge and cupboards from a supermarket en route (or before you go) as it's not always easy to nip to the shop for a pint of milk

Bring your motorhome to your home for loading up if possible, and take small bags for clothes etc, rather than larger suitcases

If you're going on a long journey make sure all the electricals are fully charged to avoid arguing over a single 12v socket

Take maps as the GPS on your phone may not always work in remote areas

Take plenty of games and a pack of cards to keep everyone entertained if you are camping on a remote site - there may not be digital tv available

Check to see if the tv in the motorhome has a DVD player and take plenty of DVD's, or take a laptop to watch DVD's on the move

Having the convenience of a gas stove when you stop at a picnic area or services is great for having a cuppa or hot chocolate to save paying inflated coffee shop prices

Stock up on hot chocolate, coffee, tea, milk, bread, soup, bacon, eggs, beans, marshmallows, rich tea biscuits and Nutella to make sure you can have breakfast, lunch and s'mores whenever you stop

Cooking bacon and eggs for breakfast whilst watching your kids playing on the beach is priceless