If you're thinking of redesigning or refurbishing the kitchen in a Spanish home, it makes sense to keep that Mediterranean feel and retain some of those gorgeous original Spanish features that are already there. Talk to your kitchen designers about keeping (or adding) all those rustic touches, bold colours,
Saltillo-tiled (terra cotta) floors
and wooden beams that are the essence of a Spanish kitchen.
Spanish design is made up of a mix of natural materials in vivid, bold colours and decorative antique items. W
alls can be painted deep blue, rich red, dark green – even a deep yellow.

Genuine Spanish-style kitchens have wall and/or floor surfaces of brightly-coloured patterned tiles, ceramic backsplash tiles in rosette patterns, or hand-painted in vivid oranges and blues.
Earthy tones and the use of dark woods (ceiling beams and counter tops) are a hallmark of the early
Spanish hacienda
style, as are terracotta tiles and ornate wrought iron light fittings and sconces.
Backsplashes of bold patterned mosaic tiles in golden yellow or bright blue resemble the colourful, rustic Spanish haciendas of days gone by. Wrought iron handles, knobs, racks and hooks add an authentic touch, as do open shelves with antique pottery, paella pans, dishware, espresso pots, bottles of Spanish olive oil, and bunches of sweet-smelling herbs.
For a slightly modern touch that's still in keeping, why not have your kitchen designers fit a
central island with a dark wood top and an under-mount sink? Although appliances like stainless steel American double-door fridges, hobs and dishwashers, hammered copper sinks, and brightly-coloured ranges with hoods, are ultra-modern, they provide a wonderful contrast.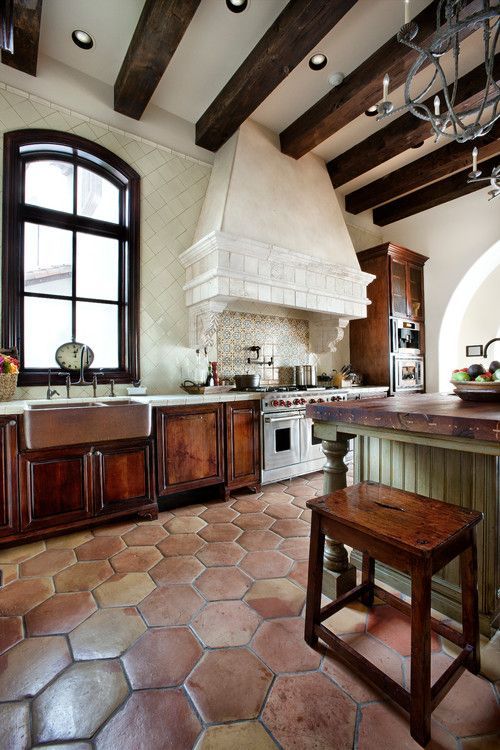 If you're looking for specific, practical advice, here are 10 design ideas inspired by
Promas kitchen designers
, that will help you remodel your kitchen in an authentic Spanish hacienda or colonial style.
Give your cabinets some age
Try to find some old, traditional kitchen cabinets at a second hand Spanish market or antiques fair, or make your own cabinets look old by using distressed wood. Knots in the wood and imperfect lines are perfect for a Spanish style kitchen. Choose knotty pine, or alder, and bring the natural grain to the fore with stains that are the colour of dark honey or hazelnut.
Saltillo tiles, or terracotta tiles, with their warmth, rough textures and patinas, are as traditional as Spain itself. A must-have in your Spanish-styled kitchen.
Wood and stone – a great combination
Your kitchen may already have a ceiling of natural stone or intricate brickwork and dark wooden beams. In which case, don't change a thing.
Rustic stone walls add warmth and a lovely tactile texture to your kitchen. They'll also contrast beautifully with your distressed cabinets and your sleek, modern kitchen appliances. To finish off the look, use traditional, brightly-coloured tiles for the backsplash and as the backing for any open shelving or small alcove arches.
If there isn't one already, you might like to create an archway. This is another Spanish and Mediterranean architectural design feature, and it's a great way to divide the cooking and dining areas. Smaller arches for niche storage areas are also a nice touch.
Open kitchen shelves are in keeping with the Spanish way, especially wooden shelves that are intricately carved. They provide easy access for all the kitchen items you regularly use.
Get creative with your cooker hood
The hood of your kitchen stove or range is definitely a major focal point. So why not take it up a notch and add
an
intricately carved wood panel, or fit a
wood trim using old, reclaimed timber, or even add some intricate Spanish or Mexican tile designs.
A stylish sink with a rich patina
The distinctive appeal and rich patina of a gorgeous hand-beaten copper sink will lift your otherwise simple rustic kitchen to a new level.
Warm up the kitchen with a fireplace
A blazing fire is just the thing to add cosiness and warmth to the kitchen in the cold Spanish winters. A Spanish-style fireplace together with
banco seating
turns the room into a relaxing and welcoming gathering, and eating, place for family and old friends.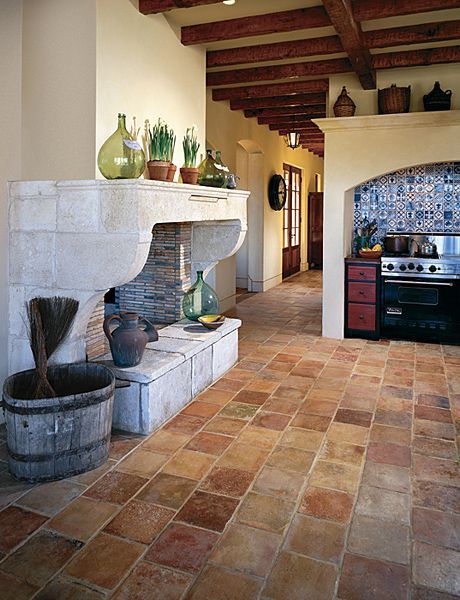 Iron sconces are a great idea for lighting accents in Spanish-style kitchens. Have them connected to dimmer switches and turn these down to create the perfect atmosphere when serving tasty dishes to friends and family. You could also complement your sconces with other antique Spanish wrought iron pieces like candelabras and drop lights.