If you're having your kitchen redesigned, now is the perfect time to rethink your environmental credentials. Not only will you be doing your bit for the planet, thinking sustainably may actually save you money on your utility bills. Choosing green won't affect the functionality, style and performance of your kitchen – it may even improve it.
Think sustainable when you design your new kitchen. Units, flooring and worktops made from FSC (
Forest Stewardship Council
) certified timber are a good start – much better than engineered MDF boards, many of which contain formaldehyde, which is carcinogenic.
Believe it or not but stainless steel sinks are generally made from up to 70% recycled material. Not only do they look stunning, but they also reduce your carbon footprint!
Coloured recycled glass tiles make terrific splashbacks, and if you're looking for kitchen furniture and surfaces that are modern and chic, you can get fabulous items made from coloured recycled plastics.
Before finalising your choice of light fittings, look for ways to use natural light in the best possible way. Consider putting in another window or even having glass sliding doors installed if this helps.
It's also a good idea to position your food preparation areas, cleaning stations and cooking islands close to natural light. Where possible, have your kitchen cupboards fitted on the opposite side of the room to the windows, so that you can see what's inside easily.
Did you know that fluorescent lights use around 70% less electricity than halogen downlighters? You can use
low-energy lights in the ceiling and have them connected to dimmers – these last up to 10 times longer than conventional bulbs.
Sustainable flooring products such as natural stone, bamboo and even cork are practical as well as beautiful choices for kitchens that are becoming increasingly popular. If you prefer to use hardwood, make certain it comes from sustainable forests and is also FSC certified.
Vinyl flooring can present a problem since the reprocessed plastic can contain toxic chemicals including phthalates, lead, cadmium and brominated flame retardants. Have you considered
linoleum as an alternative kitchen flooring option
? Modern lino comes in an astonishing range of colours and designs. It looks fabulous and is made from natural products like cork, linseed and wood and is backed with Hessian, a natural fabric made from hemp or jute.
Thanks to rapidly advancing technology, there are now numerous appliances on the market that use up to 50% less energy and water than standard models, so look out for these when shopping for your new kitchen appliances.
Take a look at energy efficiency ratings – clearly displayed on every appliance as an
EU Energy Label
– to see how energy efficient your dishwasher, washing machine or fridge is. Appliances are graded from A to G, while fridge freezers have 3 extra ratings: A+, A++ and A+++. The most efficient appliances will also carry an Energy Savings Trust Recommended Certification Mark.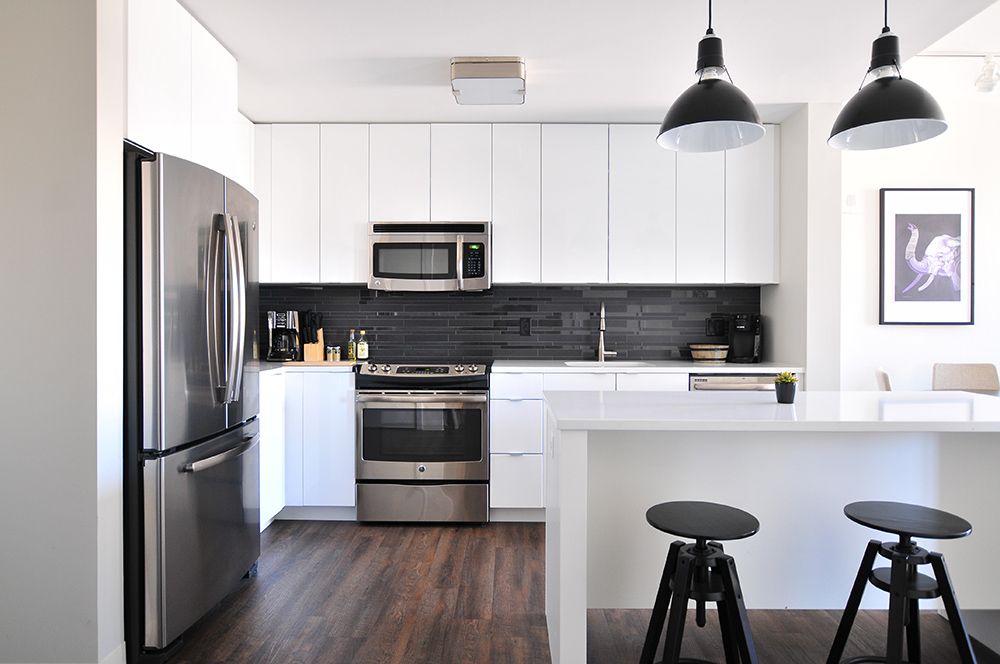 A recent innovation in green cooking technology, the precision induction hob that looks like a sheet of glass. Not only does this make it easy to keep clean, the technology is between 85% and 90% efficient since it has almost no wasted heat – it only heats the space directly underneath your saucepan.
Induction hobs have power boosters that reduce cooking times by raising the temperature settings to the maximum for 10-minute intervals. That way, your cooking time
can be cut in half
.
6.
Go shabby chic with kitchen furniture
Rather than invest in new kitchen furniture, why not buy a second-hand kitchen table and chairs at a
v
intage market, a boot sale or even on eBay? Or scour reclamation yards or salvage companies for original preloved pieces that you can personalise to your heart's content.
With a lick of paint or a new fabric covering, kitchen chairs can be transformed into charming pieces full of personality, that no-one else has. Retro kitchen cabinets or reclaimed (and ideally sustainably farmed) wooden worktops will give your kitchen that lived-in feel that new furniture just can't provide.
7.
Cultivate green habits
If you're going to go green in your kitchen, you need to be in the right mind-set. Don't waste energy mindlessly by leaving kitchen appliances switched on – and that includes on standby. Instead, you should turn them off manually, or buy a standby saver that automatically switches them off when not in use.
Think about
your water use
too. Don't wash dishes under a running tap; use a washing up bowl instead. If you have a dishwasher, don't run it half empty and use the eco programme. The same goes for washing machines. And how about switching to environmental cleaning detergents and washing powders?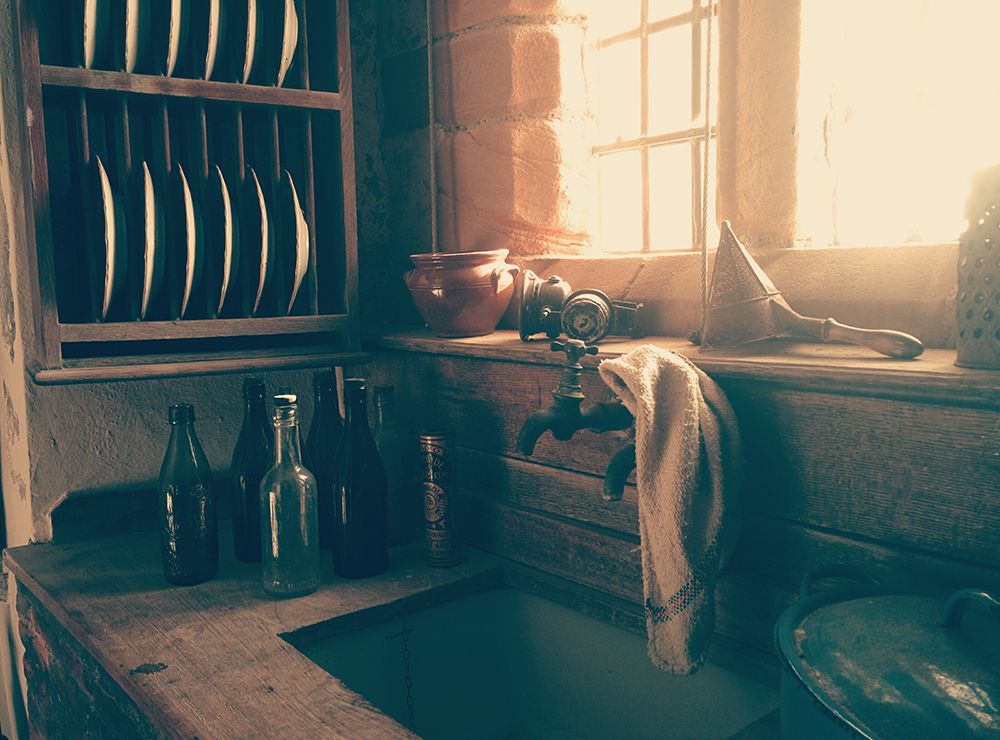 In any modern kitchen, recycling is the way to go. Make sure you incorporate facilities to separate your plastic, paper, tin cans and glass bottles and put them out for the recycling collection, or take them to your nearest recycling depot.
Organic waste should be put onto the compost heap or into the composting bin in your garden. Composting is an aerobic decomposing process whereby solid organic waste is turned into humus, which is a great fertiliser for plants.