I've reviewed Riverford recipe boxes on my blog previously here and here, and what I really liked about them was the abundance of fresh salad and vegetables in the boxes. I do love my salad and veggies and always use them to bulk out family meals, so it was great to see so much green in my delivery of the limited edition guest chef box from Sarah Raven.
As per previous boxes, the chilled items are packaged in an insulated bag, and all of the smaller items are in the centre sections, divided for each recipe.
Recipes included were for :
Sweet & Sour Vegetable Curry
the limited edition boxes are available for 3 more weeks, with different recipes each week, and cost £36.95 for 3 meals for 2 people.
The first dish that I made was the curry, which came with a side of red rice. I've not tried red rice before, but it was a lovely nutty addition to the curry, which mostly consisted of sweet potatoes and spinach, both of which I love in a curry. It comes with whole spices that are to be heated and ground to a powder, which could prove a little tricky without the right equipment, but once ground it makes enough curry powder for a few more dishes, so I'll definitely be making this again.
The second dish I tried was the Sangria Chicken, which required overnight marinating.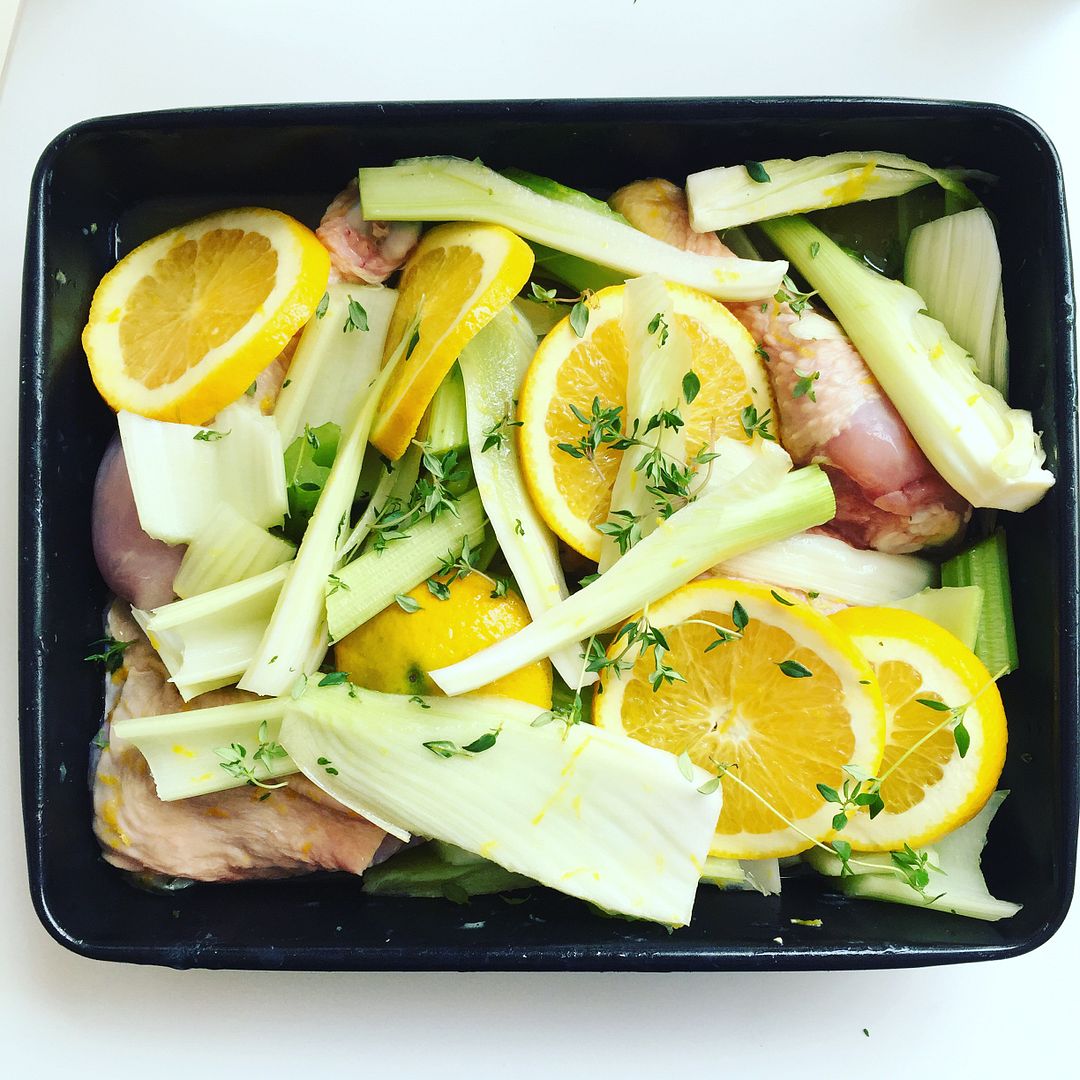 Look at those colours!
The roasted fennel and celery was so full of flavour, and the sauce was delicious poured over the accompanying red rice.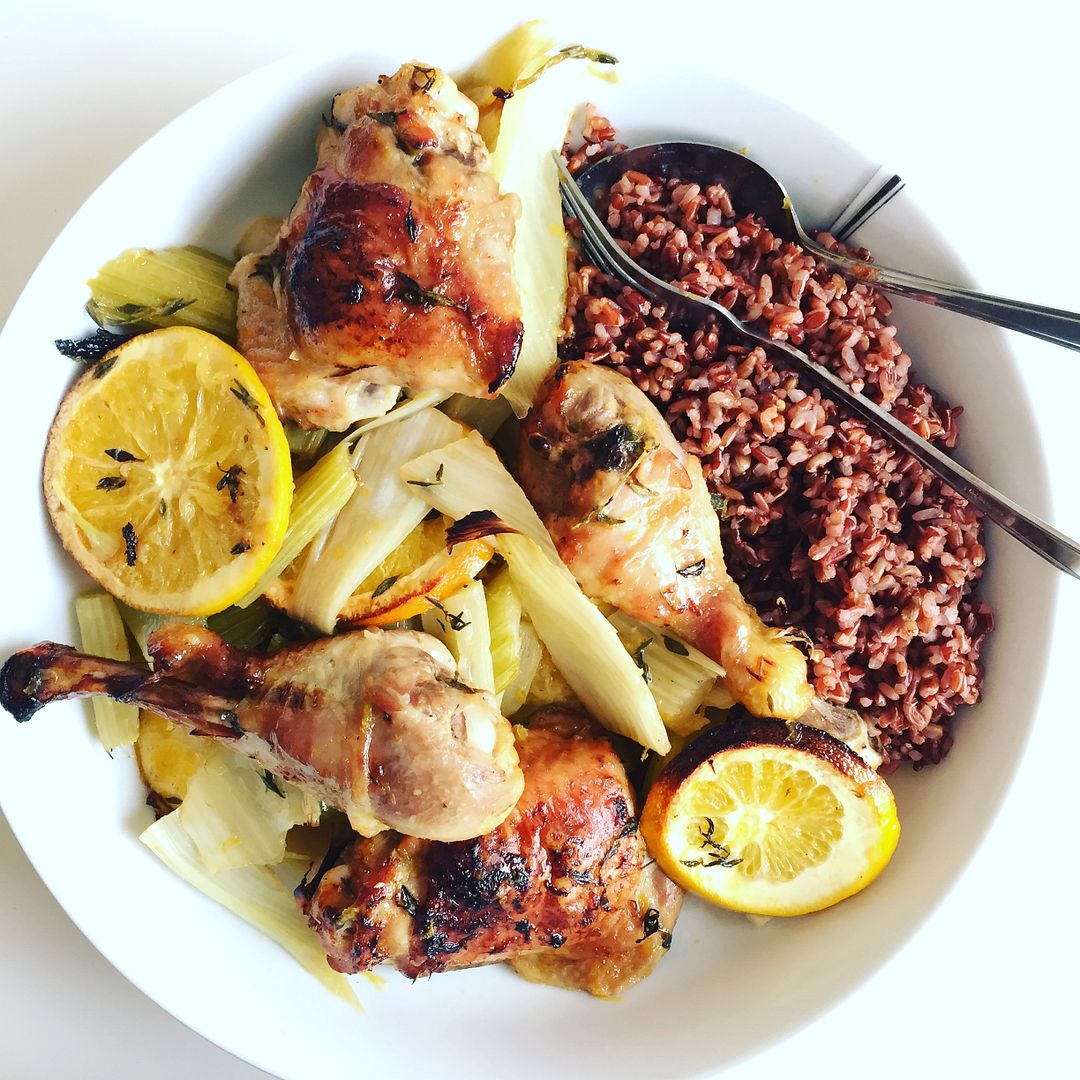 I haven't yet tried the Tomato & Poppyseed Tart, but I'll be sharing a picture over on Instagram when I do.
Although the Sarah Raven boxes are limited edition for the next 3 weeks only, Riverford still have a great selection of recipe boxes each week including their vegetarian, quick and original boxes starting at £24.95 including delivery.
About Sarah

sarahraven.com / Twitter: @srkitchengarden
Sarah Raven worked as a doctor at the Royal Sussex County Hospital in Brighton before becoming a broadcaster, teacher and writer. She has cooked all her life for family and friends with an emphasis on goodness, and commitment to healthiness and general wellbeing. Sarah runs her own cookery and gardening school at Perch Hill in East Sussex, and has established a mail order gardening company with 80,000 active customers. She has made regular appearances on the BBC's Great British Garden Revival and Gardener's World; and she is the author of Sarah Raven's Food for Friends and Family, Sarah Raven's Complete Christmas, Sarah Raven's Garden Cookbook (which was the Guild of Food Writers' Cookery Book of the Year 2008) and The Cutting Garden.

About Riverford www.riverford.co.uk
Riverford began in Devon in 1987, delivering organic vegetables to 30 local homes. Word spread, and with it came the challenge of how to meet demand without compromising a commitment to local growing and employment, supporting local farmers and keeping a close link between grower and consumer. The solution was to team up with sister farms who share the same ethos, growing and delivering to their local areas. There are now four Riverford sister farms in the UK: the original Wash Farm in Devon, growing and delivering to homes in the South West and South East; Sacrewell Farm in Cambridgeshire covering East Anglia and the Midlands; Home Farm in North Yorkshire covering the North and Upper Norton Farm in Hampshire covering central Southern England. Together, the four sister farms deliver to around 47,000 homes in the UK each week. Riverford also has a farm in France where they grow crops to plug the 'hungry gap' around May and June, when the UK winter crops have reached an end and the summer crops are not yet ready.

The company has won many awards including Ethical Product of the Decade at the Observer Ethical Awards 2015, Best Retailer at the same awards on five previous occasions, Best Independent Retailer in the RSPCA Good Business Awards and numerous Compassion in World Farming Awards. Guy Watson has a regular column in The Telegraph, and has been named BBC Farmer of the Year twice. In addition, its restaurant the Riverford Field Kitchen won Best Ethical Restaurant 2010 and 2009 in the Observer Food Monthly Awards. Riverford's first book, the Riverford Farm Cook Book, won Best First Book and Best Work on British Food at the Guild of Food Writers Awards 2009. In 2014, Riverford teamed up with the UK's only Soil Association- certified organic pub, The Duke of Cambridge, to launch London's first farm-owned pub. In 2015 they released their series of Riverford Companion books with Spring & Summer Veg and Autumn & Winter Veg.
I was provided with a recipe box for the purpose of this review