Easter has come a little early in The Crazy Kitchen, and we've been sampling some chocolate treats so that we can help steer you in the right direction, when it comes to Easter cakes and chocolate.
First up was a selection of chocolates from Lindt. In my opinion you cannot go wrong with Lindt chocolate. Their gold chocolate bunnies are so cute and no Easter basket should be without one.
There is something for everyone this Easter, from Lindor milk chocolate truffle eggs to a luxury Hazelnut egg, that smells & tastes amazing. The gold bunny storybooks are a lovely idea for an Easter gift for little ones, and have a selection of chocolate animals in a box along with a story to read. I'm loving the colours and packaging on the Taste of Spring boutique collection, and the individual easter eggs and praline box not only look great but taste delicious too. Our least favourite from the collection was the strawberries and cream white chocolate egg. Not only is white chocolate our least favourite but the strawberries and cream truffles were a bit sweet for our liking.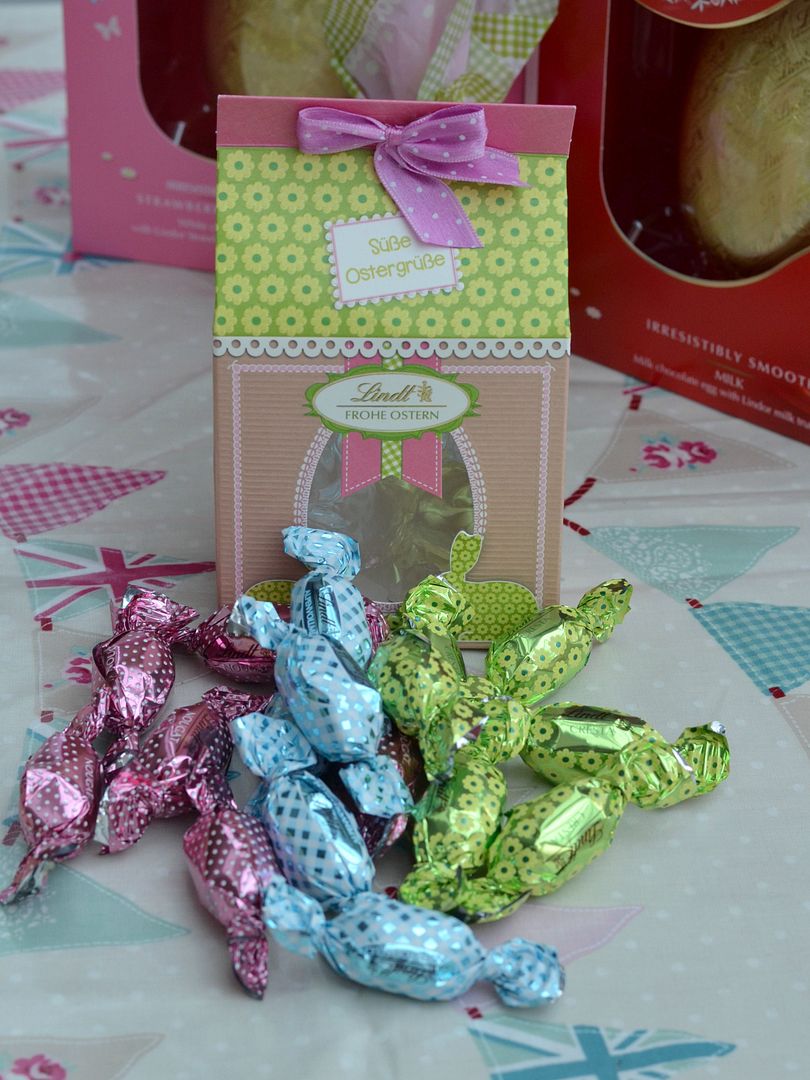 If you're looking for something a little bit different then the Monty Bojangles eggs could be for you. They come in three flavours - Scrumple Nutty Truffle, Berry Bubble Truffle, and The Flutter Scotch Truffle, which was the one that we tried. I gave the egg to the kids to fight over whilst I set to work on the truffles, telling the kids that they wouldn't like them. Unfortunately for me they didn't believe me and once the egg had been inhaled they pinched some of the butterscotch and sea salt truffles too - please will someone buy me a box of these truffles for my birthday as they are so good!
I only really thing of Greggs as making sausage rolls, but my local store showed me that they do so much more when they delivered a lovely box of Easter treats for the family to share, which included hot cross buns, Easter doughnuts, Easter Ring buns and Easter cupcakes.
I was really surprised at the price of these as they are great value, and look so cute too. I know I shouldn't have had any of these myself, after an weekend away indulging in lots of food and drink, but I couldn't resist trying the doughnut, filled with vanilla frosting and topped with milk chocolate - oh my I do love a chocolate doughnut!
Hot Cross Buns - 30p each / £1 for a pack of 4
Chick & Bunny Ring Buns - 75p each / £2.50 pack of 4
Easter doughnut - 85p each
Easter Chocolate cupcake - 85p each / £2.80 pack of 4
If you fancy making some Easter treats for yourself to keep the kids busy in the holidays (mine don't break up until Thursday so there's not much time for Easter baking here), then these Mini Egg Crispy bars are quick and easy, as well as being extremely cheap. I picked up a value box of Coco snaps for 83p and some chocolate flavour cake covering for 67p - making these just under 6p each (not including the cost of the mini eggs).
Chocolate Crispy Treats

- makes 28
300g milk chocolate cake covering
300g coco snaps
pack of Cadbury Mini eggs
Melt the chocolate in the microwave until smooth

Stir in the coco snaps until fully combined

Press into a lined baking tin and pop Mini eggs onto the top

Refrigerate until set & then cut into squares/bars
I received the Easter products mentioned free of charge for the purpose of review