This year we decided to host a cooking birthday party for Jack's 6th birthday. He wanted a party at home with a few friends, and as he loves to indulge in a spot of cooking I thought it would be a nice idea to get the kids involved in some fun cooking activities.
The agenda for the party looked like this :
Apron decorating

Birthday cake making

Cupcake decorating

Fruit kebab making

Birthday cake decorating

Pizza making

Party games

Party food
I bought some plain cotton aprons from Baker Ross, along with washable pens and fun stickers. Each child had their own apron and pot of stickers (to avoid the possibility of arguing), along with a paper chef hat and novelty glasses.
It was interesting watching how different the children were when decorating the aprons - some carefully drew detailed pictures, whilst some used every sticker they could get their hands on and slapped them on the apron. It certainly kept them quiet for a few minutes whilst I prepared the next activity though.
Next up was birthday cake making. Each child had their own task, whether it was whisking the cocoa powder into the melted butter or cracking an egg. The bowl was passed around in turn and each child had their turn at whisking and mixing the cake before I baked it in the microwave. (recipe for microwave chocolate cake here).
On the morning of the party I made some cupcakes and gave each child two to decorate - one for eating now and one for taking home. I filled some icing bags with buttercream and let the kids loose with sprinkles and Smarties. I'm sure I will be finding 100's and 1000's on the kitchen floor for a long time to come, but they had so much fun doing it.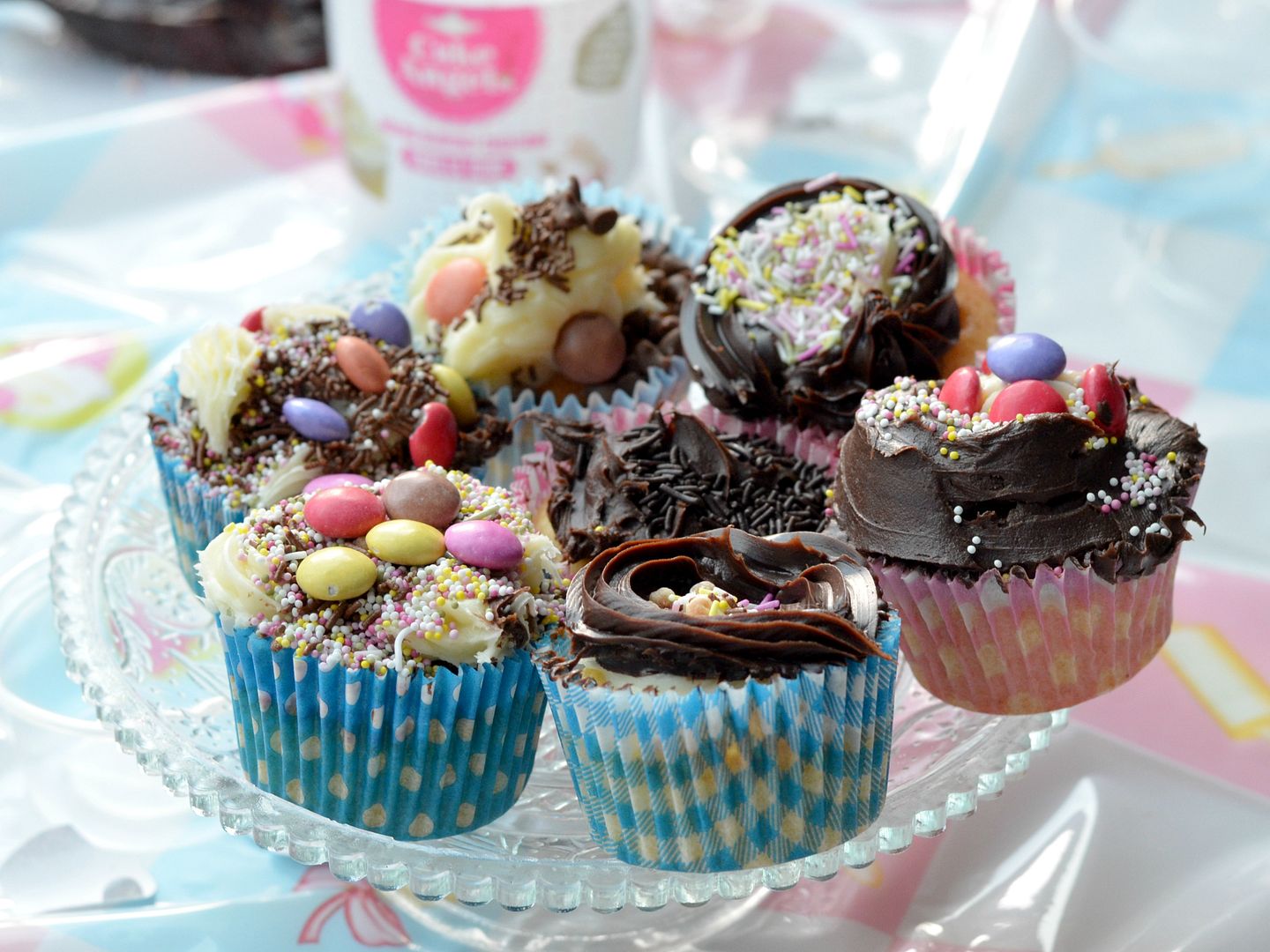 Fruit kebabs were next. There was a selection of fruit available - melon, grapes, strawberries and satsuma segments (I forgot the bananas) and the children threaded their choses fruit onto a wooden skewer.
Once the cake was cooked and cooled slightly I once again let the children loose with icing and sprinkles and they decorated Jack's birthday cake (which saved me the job of making one).
Next was the messy task of pizza making. Each child had a piece of pizza dough on a paper plate covered in flour. They rolled their dough out and topped it with passata, grated cheese, and their choice of toppings - mushrooms, sweetcorn, ham, sausages, pepperoni and red pepper.
Whilst I cleared away (with help from a few very good friends) and baked the pizzas, party games were played in another room with the husband. I called them back in when their pizzas and fruit kebabs were on their plate ready for eating. These were accompanied by some veggie sticks and a selection of crisps.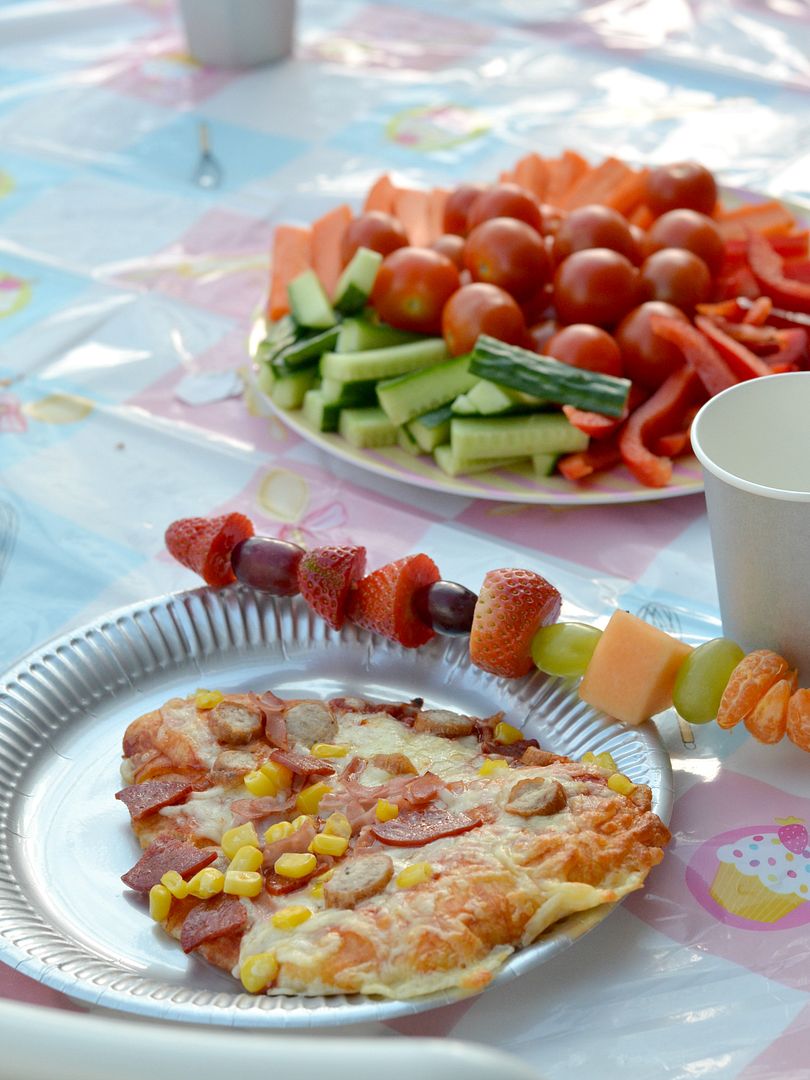 Many of the kids were full up (I suspect from eating too much icing during the cake decorating) and wanted to take their leftover pizza home, along with their cakes. We sang 'Happy Birthday' and then it was time to go home, complete with party bags.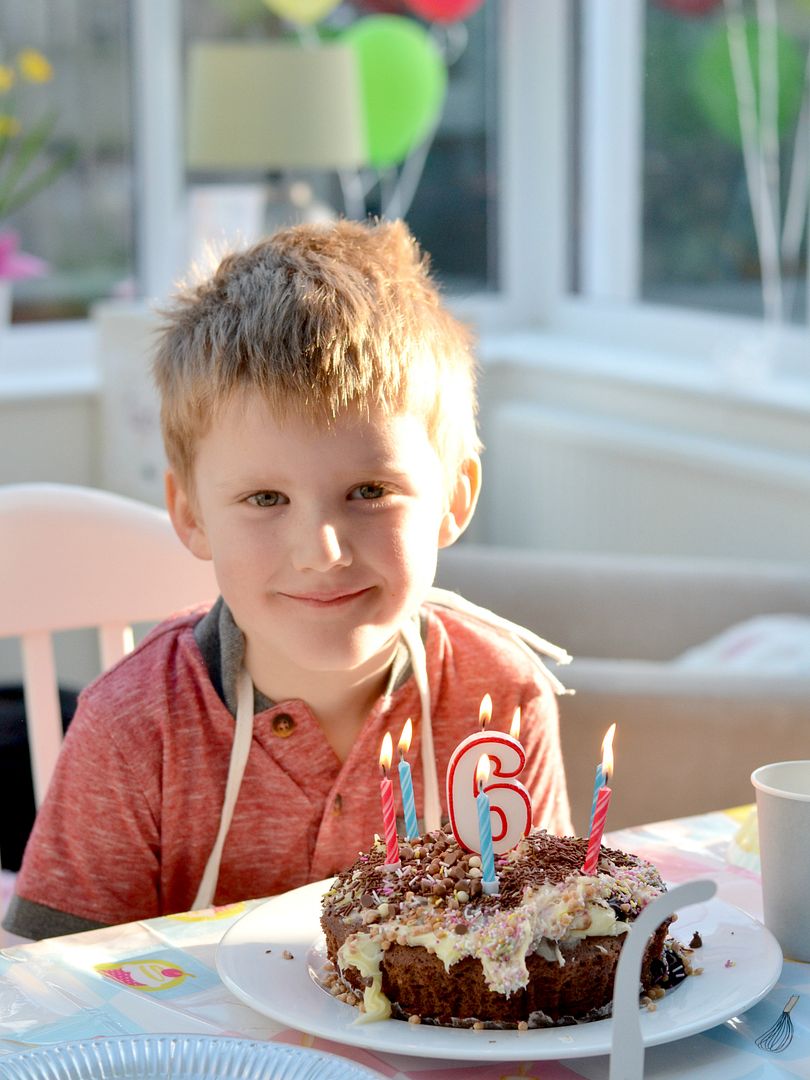 I found these colourful paper bags in Asda and tied a helium balloon to each handle. The balloons came courtesy of Balloon Time, which is a convenient helium tank kit which inflates approximately 30 latex balloons. There's no need to go to your local party supplies shop for helium filled balloons, and instead these can be filled in your own home. I bought mine from Asda and had it delivered with my weekly grocery delivery, which makes it even more convenient.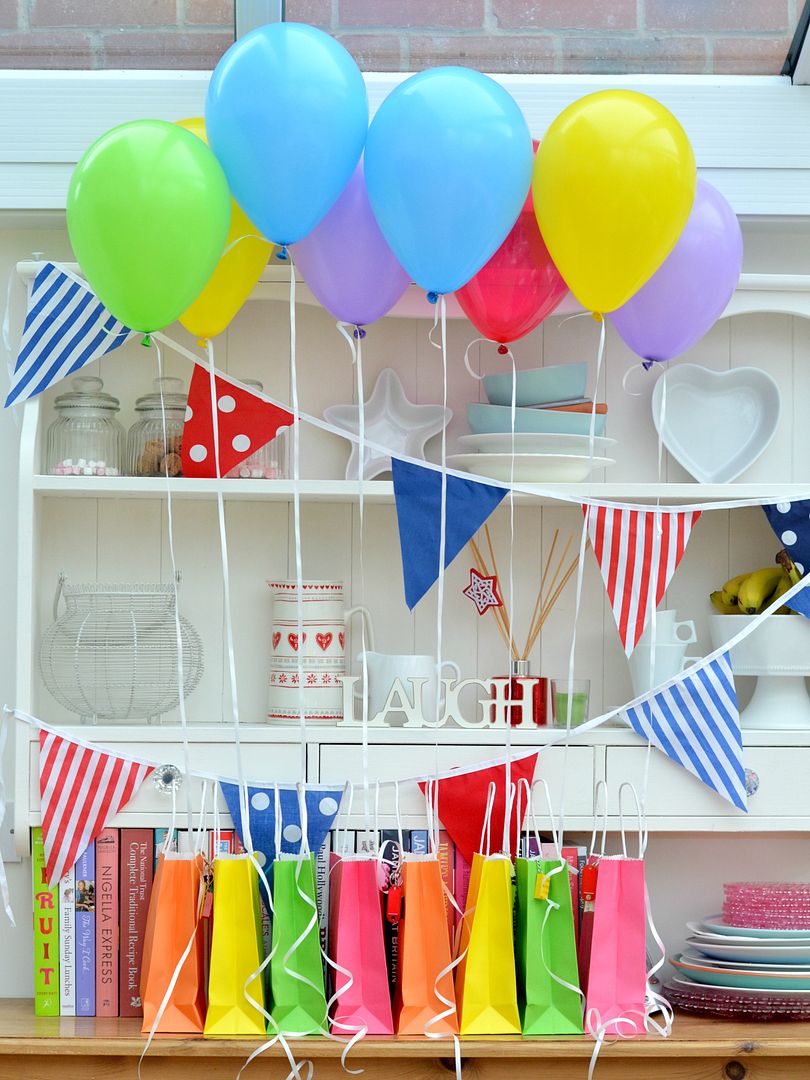 The tank comes with 30 balloons and some ribbon, along with full instructions on using and disposing of the tank. It's really straightforward to use, and I inflated all the balloons I needed in just a few minutes. The only problem I had was getting them off the conservatory roof when I stupidly let them go after tying, without any thought of how I was going to get them down - thankfully a selfie stick with sellotape on the end works well if you should ever find yourself in the same predicament!
The helium tank filled 20 latex balloons for the party bags and decorations around the room, as well as a large number 6 foil balloon that a friend gave to me after her little boy's birthday.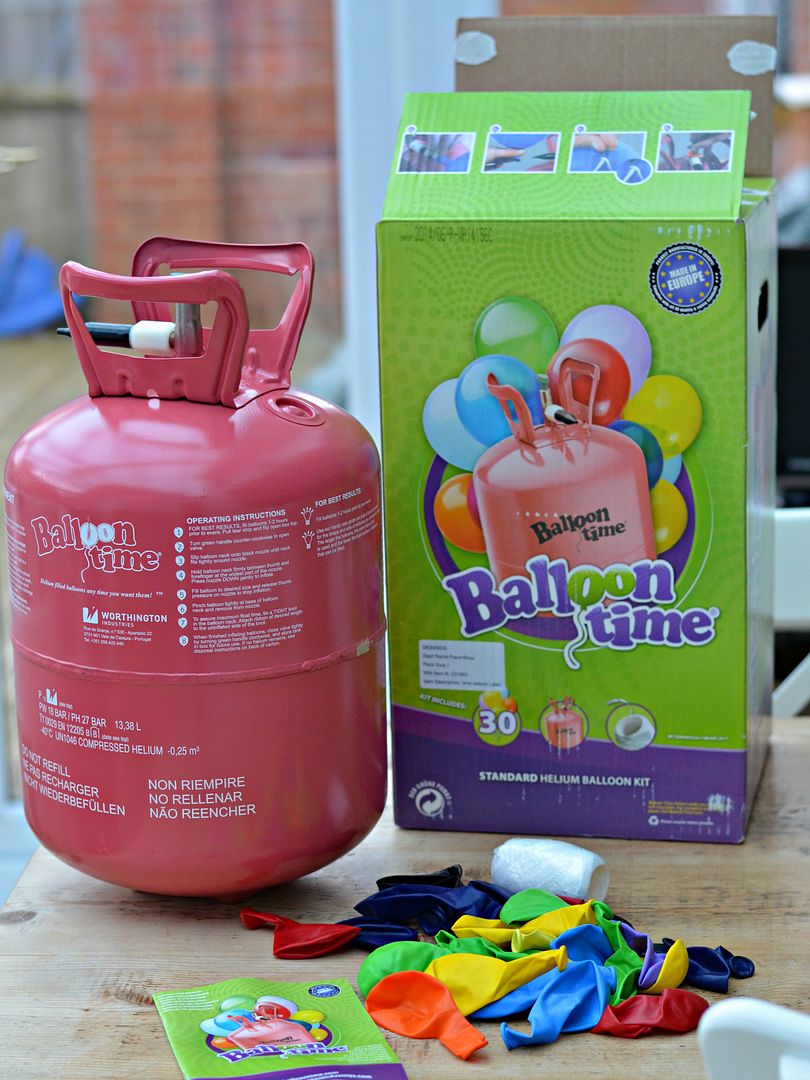 I received a lot of comments on how nice and colourful the party bags looked, and the balloons acted as an additional decoration in the room.
I'm working with Britmums and Balloon Time as part of the "celebration club", hilighting inventive and fun ways of using balloons. I was provided with a Balloon Time helium kit and have been compensated for my time. All editorial and opinions are my own. Visit www.balloontime.com for more information and party inspiration.