We don't often eat out as it can be quite expensive catering for a teen with hollow legs, as well as a pre-teen that doesn't always want to go for the kids menu, so we jumped at the chance when asked if we wanted to try out the festive menu at our local Brewers Fayre.
Myself and the husband opted for the three course festive menu, priced at £13.99 on evenings and weekends. The kids festive menu was a bit limited with only turkey as a main course option so the two youngest chose three courses from the regular kids menu, priced at £4.99, and Sam chose a starter and main course from the main menu.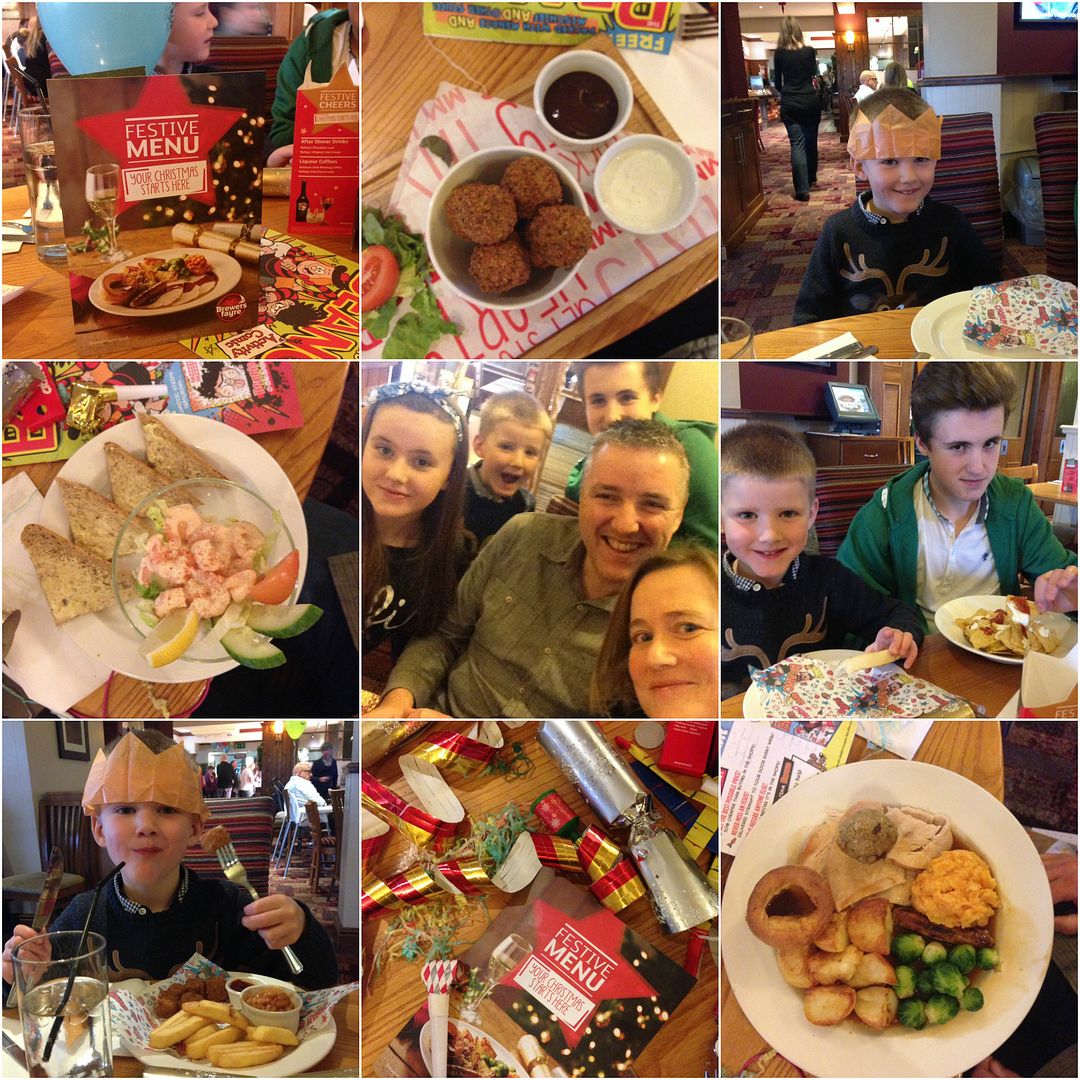 Our friendly waiter brought over crackers, party poppers, streamers, blowers and balloon rockets to get us in the festive party mood whilst waiting the short time until our starters were delivered.
For starters I chose breaded mushrooms and the husband chose prawn cocktail, both of which were really nice, although it would have been nice to see a cranberry dip for the mushrooms rather than a bbq sauce.
Whilst waiting for our main courses much hilarity was caused by the balloon rockets flying around as guests on nearby tables got into the party spirit too.
For main course I chose the festive beef burger, which was a delicious 6oz burger topped with cranberry sauce and brie, accompanied by coleslaw and potato dippers. My only criticism of this was the bun, which didn't seem very fresh and had the appearance that it had previously been frozen.
The husband had the traditional Christmas turkey dinner, served with roast potatoes, chipolata, root vegetable mash, sprouts, stuffing, yorkshire pudding and gravy, which he said was really good.
After the burger I was completely stuffed and gave my dessert of chocolate brownie to Sam, but sampled the very nice Christmas pudding and custard that the husband ordered.
All in all we had an extremely positive experience at Brewers Fayre, with good food and a very welcoming and friendly atmosphere. Our total bill came to just over £50 for a 3 course meal for 2 adults and 2 children, a 2 course meal for 1 adult, plus drinks, which is great value for money for a family of 5.
Whilst there I spotted a great looking offer of 2 starters for £2.50, 2 main courses for £10 and 2 desserts for £2.50, which is available weekdays, so I think we may be back to sample that very soon.
We were provided with a voucher to try out the festive menu