I'm a bit of a magpie when it comes to new gadgets and appliances - the shinier the better. With this in mind, you may think I would jump at the chance of receiving a brand new shiny microwave to review. However, I was a little concerned when I was offered the Sage Quick Touch Microwave as it was quite a bit bigger than our existing [cheap] microwave, but as we were just about to embark on a kitchen makeover I decided to take the plunge, and rearrange the worktops if necessary. The following day the bulb blew on our old microwave, which I saw as a sign that I had made the right move!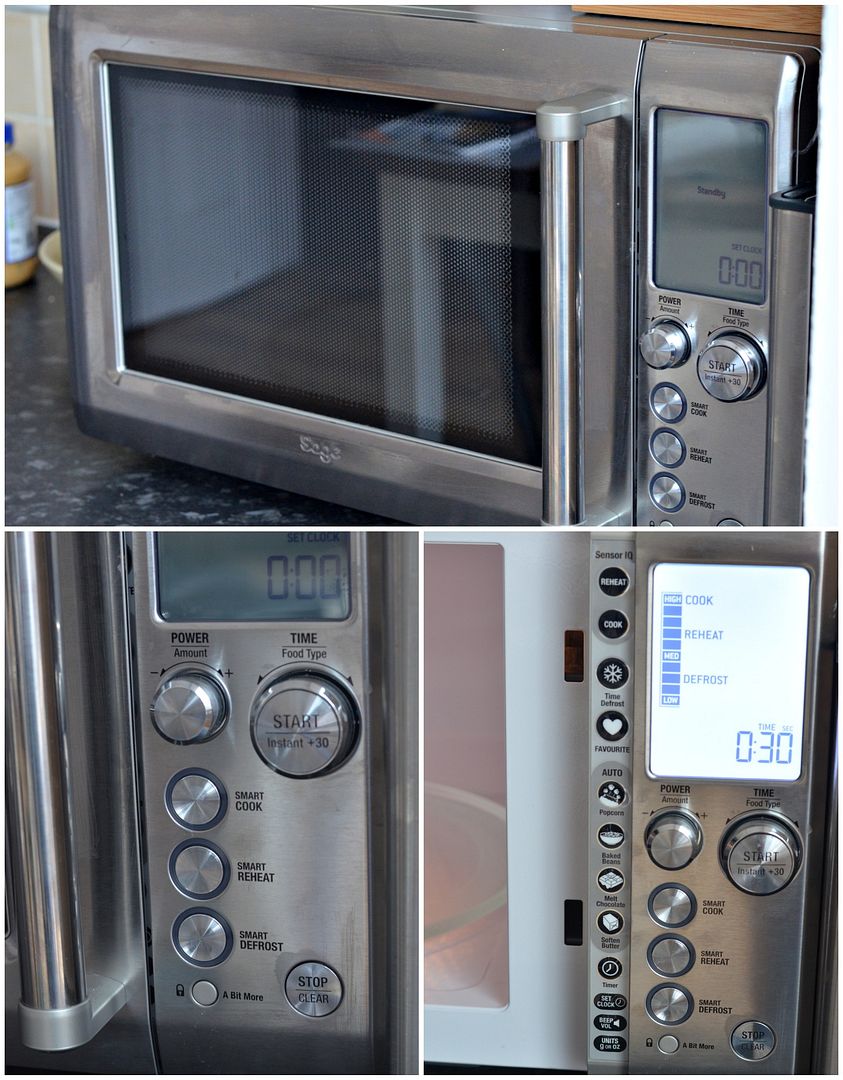 Shortcuts Panel
In the past I have only really used the microwave for reheating dinners, warming milk and cooking baked potatoes so I was interested to see how much more we could use the Sage for. A quick flick through the instruction booklet got me a little excited once I spotted the 'Sensor Reheat' setting on the shortcuts panel, just inside the door. When I was growing up my parents had one of the very early microwaves, which was quite expensive and quite bulky, but it also had a sensor reheat function, which was very handy when I was a teen as I could reheat my dinner without any complicated manoeuvres. My mum now says that this was the best feature on any microwave that she has ever owned, and has not come across it since.
Just like this old microwave of my parents, this reheat function has been put to good use by the teen, with no more [daily] questions of "how long shall I put my dinner in for?".
The meal does come out very hot, perhaps a bit too hot for the kids, but I'm happier having it too hot than not hot enough and risk not killing off any bacteria.
Two more of the settings on the shortcuts panel that I've used are 'melt chocolate' and 'soften butter'. The butter softening function worked perfectly on fridge cold butter that I wanted to use in some buttercream, that otherwise would have had to sit around on the side for a few hours to soften. It was still a little firm in the centre but soon softened up when beaten.


The chocolate melting function didn't seem to work as well, however it is dependent on the type of chocolate you use. There is a note in the instructions that the setting was tested on dark chocolate melts, which must melt more quickly than milk chocolate, containing less cocoa solids, that I tried. It's definitely a handy function to have though, as it avoided the necessity of stopping and stirring every 20-30 seconds. The milk chocolate that I used melted perfectly by the 'stop and stir' point of the second cycle. Candy melts, however, took quite a bit longer to melt. (excuse the extra bleeping in the background)
Smart Reheat and Smart Cook
There are quite a few options for the Smart Reheat and Smart Cook settings, including these that I have tried out a few times.
The settings use lower power levels to gently reheat food without overcooking. It takes longer to heat than it would using the standard '100% instant cook', but it heats more gently and evenly. Firstly you select your food type and then the quantity or weight.
Smart Reheat - Beverage
You know when your coffee has gone cold and you decide to pop it in the microwave, and know that 1 minute won't be long enough so you set it for 2 with the aim of stopping it early, but then you get distracted and the next thing you know the coffee has boiled over. Well the smart reheat setting does away with this. With just the press of 1 button (2 if you count the start button) you can have a hot cuppa in no time. The settings are based on a 200ml cup of drink at room temperature, and it heats to a temperature that is drinkable straight away. I also use it it to heat half a mug of milk, to which I then add a shot or two of espresso for my morning coffee.
Smart Reheat - Baked Beans
The teen can easily heat beans without the risk of them splattering all over the microwave
Smart Cook - Oatmeal
The pre-teen can easily make her own porridge in the morning without it going lumpy
Smart Cook - Soft / Hard Vegetables
The microwave is not somewhere that I would normally cook fresh vegetables (apart from baking potatoes) but this function cooks sliced carrots, broccoli and courgette perfectly, and not over or undercooked. You just need to remember to weigh it before placing it in the microwave.
There are also settings for cooking potatoes, frozen vegetables, chicken, meat, fish, rice and soup, which I haven't yet tried out. There are some handy tables included within the book to tell you how much rice and water to add, as well as a couple of soup recipes. The reheat settings include potatoes, vegetables, pizza, frozen meals, chicken, fish, meat, leftovers, pasta & rice and soup.
The Sage Quick Touch Microwave is priced at £279.99, which is quite pricey for a microwave, but is a good solid machine that looks great too.
I was provided with the microwave free of charge, for the purpose of this review