Around 18 months ago I reviewed Gousto ingredient delivery service, so when I was asked to try them out again I thought it would be interesting to see if anything had changed.
Last time I was bit disappointed with the quality of a couple of the ingredients, however it was mostly really good quality organic ingredients, and the portions were of a reasonable size.
This time around I chose 3 meals, each of which were for 2 people - Pork Tenderloin Tagliatelle in creamy mushroom sauce, Crisp Chicken Escalope with Taleggio & Leek gratin and Middle Eastern spiced Beef Pitas with homemade hummus.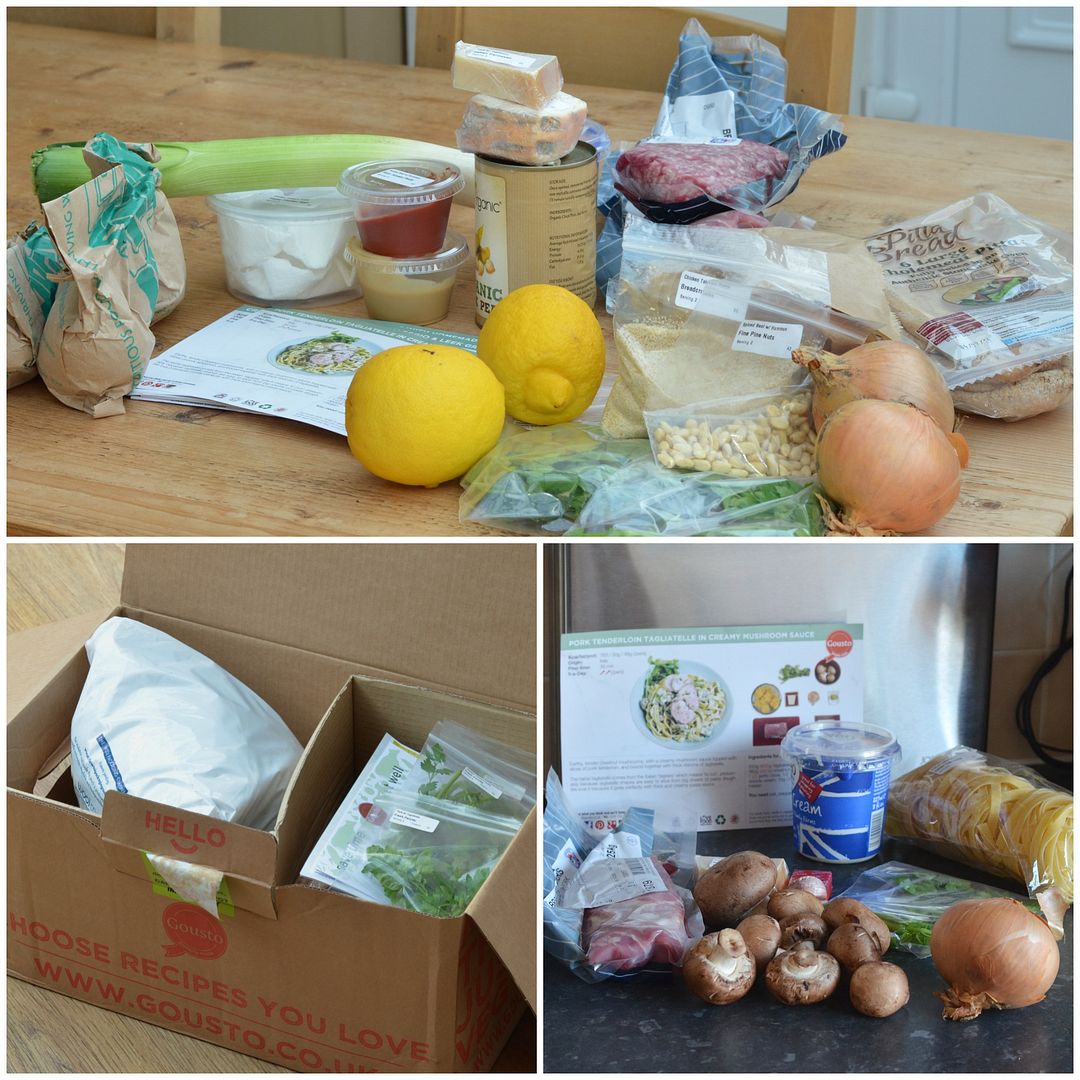 The delivery arrived on a Wednesday, as promised, and it was advised that all of the meals should be eaten by the Saturday. The ingredients all looked to be of good quality, and included detailed recipe cards for each of the meals.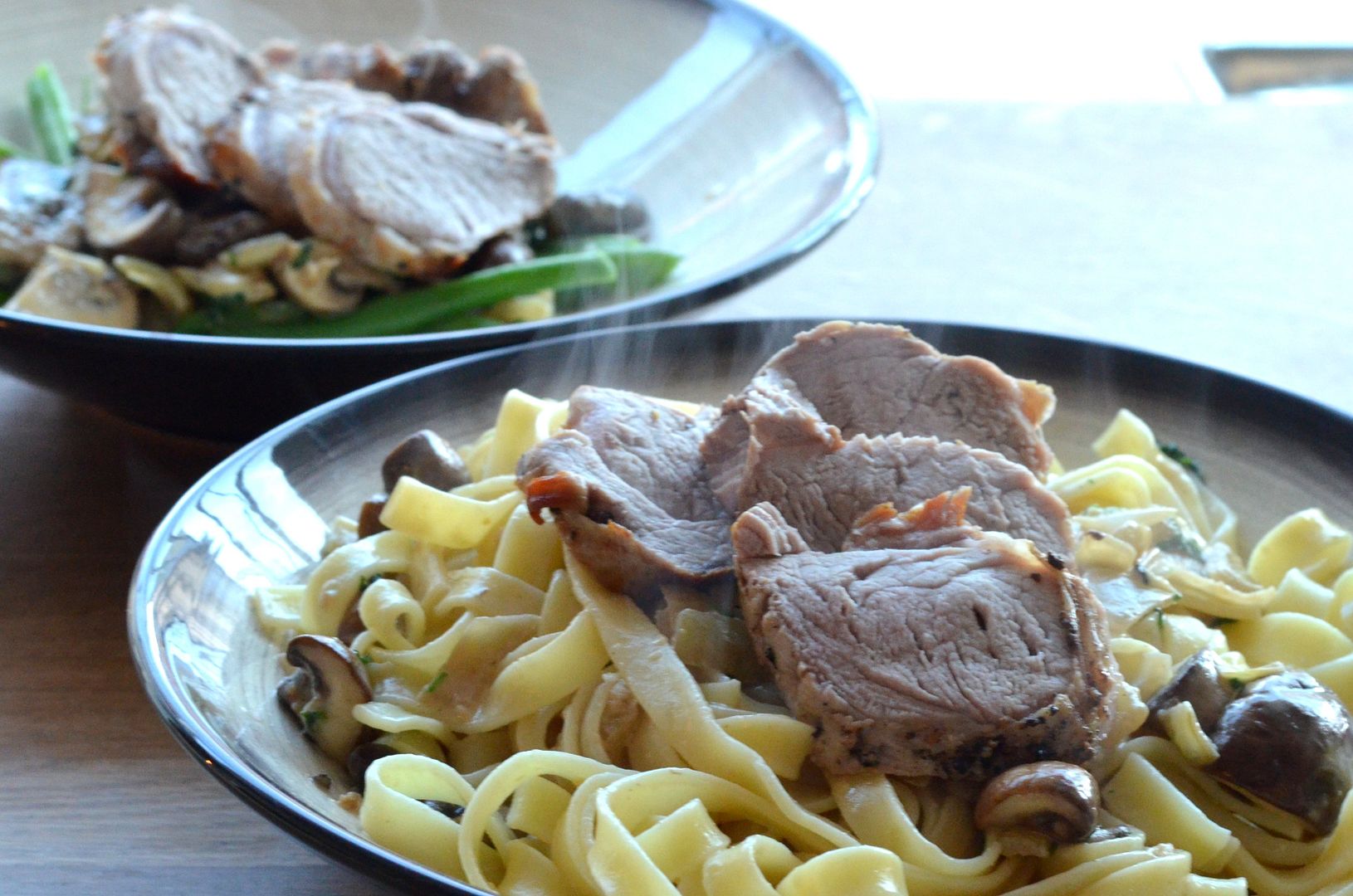 Pork Tenderloin Tagliatelle in creamy mushroom sauce
I chose to have green beans (my own) with my pork tenderloin instead of the tagliatelle, which I piled onto the husbands plate. The sauce was lovely and the pork was of a really good quality. No special equipment was needed for this and I just needed to add my own salt, pepper & olive oil.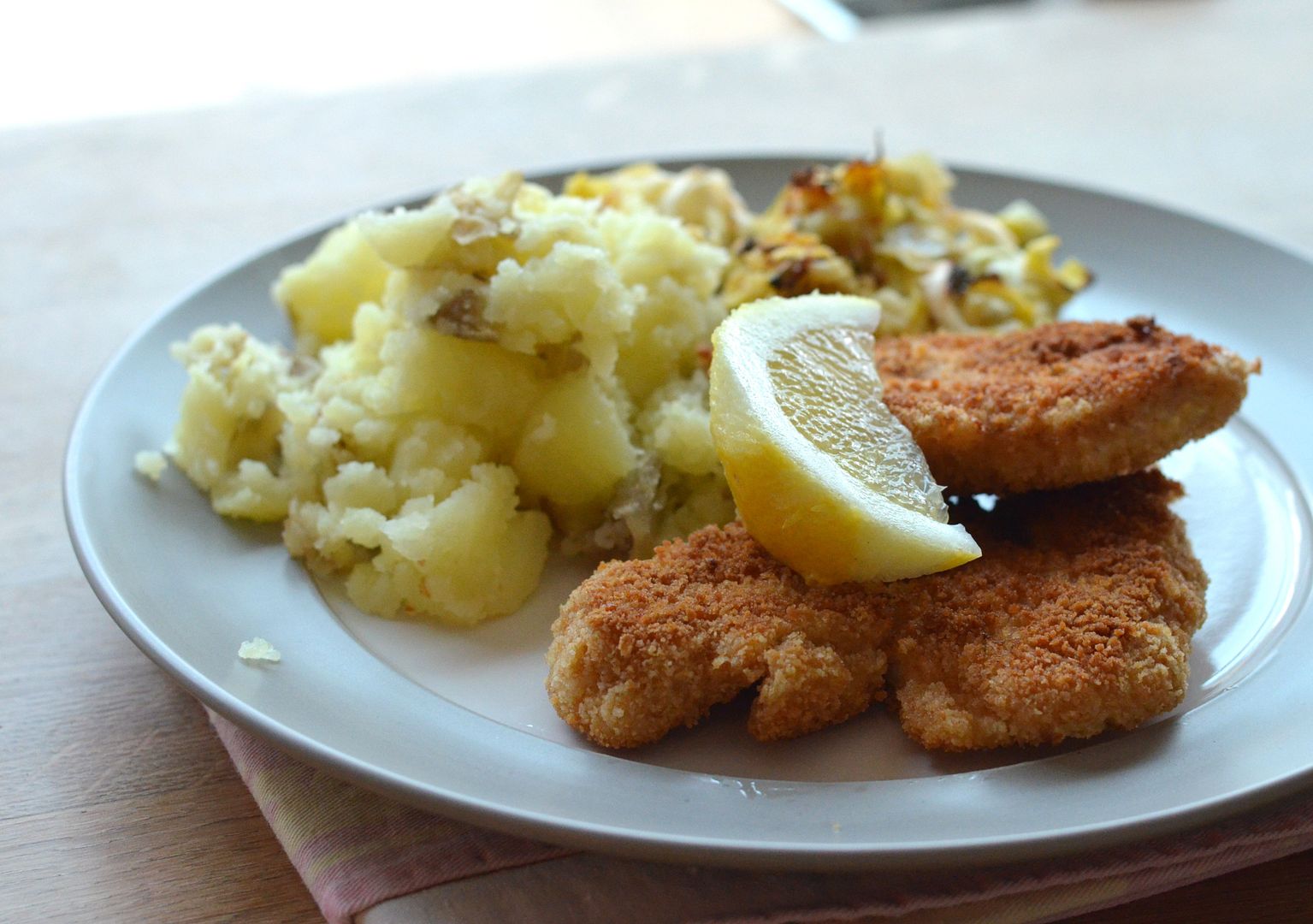 Crisp Chicken Escalope with Taleggio & Leek gratin
The chicken in this dish was beautiful - due to doing my paleo diet I coated mine in crushed nuts instead of the breadcrumbs but the husbands meal (above) looked delicious. I was a bit lazy and didn't peel the potatoes for the mash and instead crushed it instead of mashing fully. We would both have liked a little more green veg with this dish. This one needed a few more ingredients providing - salt, pepper, olive oil, butter, milk & flour - although I would have expected the required amount of flour to be included as not everyone has a bag of flour kicking around their store cupboard. Saying that, I didn't actually use flour & it the crispy coating on the chicken was still great.
Beef Pitas with homemade hummus
This was our favourite dish as it was so tasty, with so many flavours going on. The beef was a little on the oily side and I would have liked some salad with it, but apart from that it was absolutely delicious & I've since bought some Bharat spice mix to try and recreate it myself. I just had to provide salt, pepper & olive oil for this dish.
The portions in the 2 person box were enough for 2 people, however (in my opinion) could be stretched to feed 3 people if you added some vegetables or salad on the side. The 4 person box could easily feed a family of 5 that includes children but I would definitely have to add some greenery on the side to make sure that they had their 5 a day.
SPECIAL OFFER
If you would like to try out Gousto for yourself I have a great deal where you can get 50% off your first Gousto box. That could make it as little as £1.90 per meal (based on a family box for up to 5 people), which is great value.
Although Gousto is a subscription service there is no obligation to buy any further boxes and you are free to cancel at anytime.
Just enter
CRAZYKITCHEN50

at the checkout to gain the 50% of your first box.