This month has been another busy one on the testing front. The weather has been beautiful and Spring like and we've been spending a lot more time outdoors, and whizzing around in my new convertible - did I mention that I have a new car?!
Enough of the car though, and back to business. Here's what we've been getting our hands on this month.
We loved using this to make our own peanut butter, knowing exactly what has gone into it. The peanut butter was lovely and I used it to make some Peanut Butter Cups.
This is a monthly subscription service to a surprise food box. Last month I was disappointed with the contents of the box but this month was more suited to my tastes. You can read more about the box here, as well as my recipe for Chorizo & Pepper Fried Rice.
As part of the Shortcuteggsperts challenge I have created my first recipe using British Lion Eggs. Eggs that have the British Lion Quality mark means that they have been produced to the highest standard of food safety. Always look out for this mark when buying eggs. You can find my recipe for Chicken & Egg Fried Rice here.
Flexible Hot Chocolate Range
Fruity and oaty bars with no artificial colours or flavours. Very bright colours available in 3 flavours - apricot, orange & ginger, strawberry or mixed berry. I quite liked these although my kids didn't - they don't like their fruit messed with!
I was lucky enough to sample some delicious wine from Aldi this month. All my favourites at great prices, and I was even luckier that I got another bottle of Aldi Prosecco and Cava for Mother's Day too!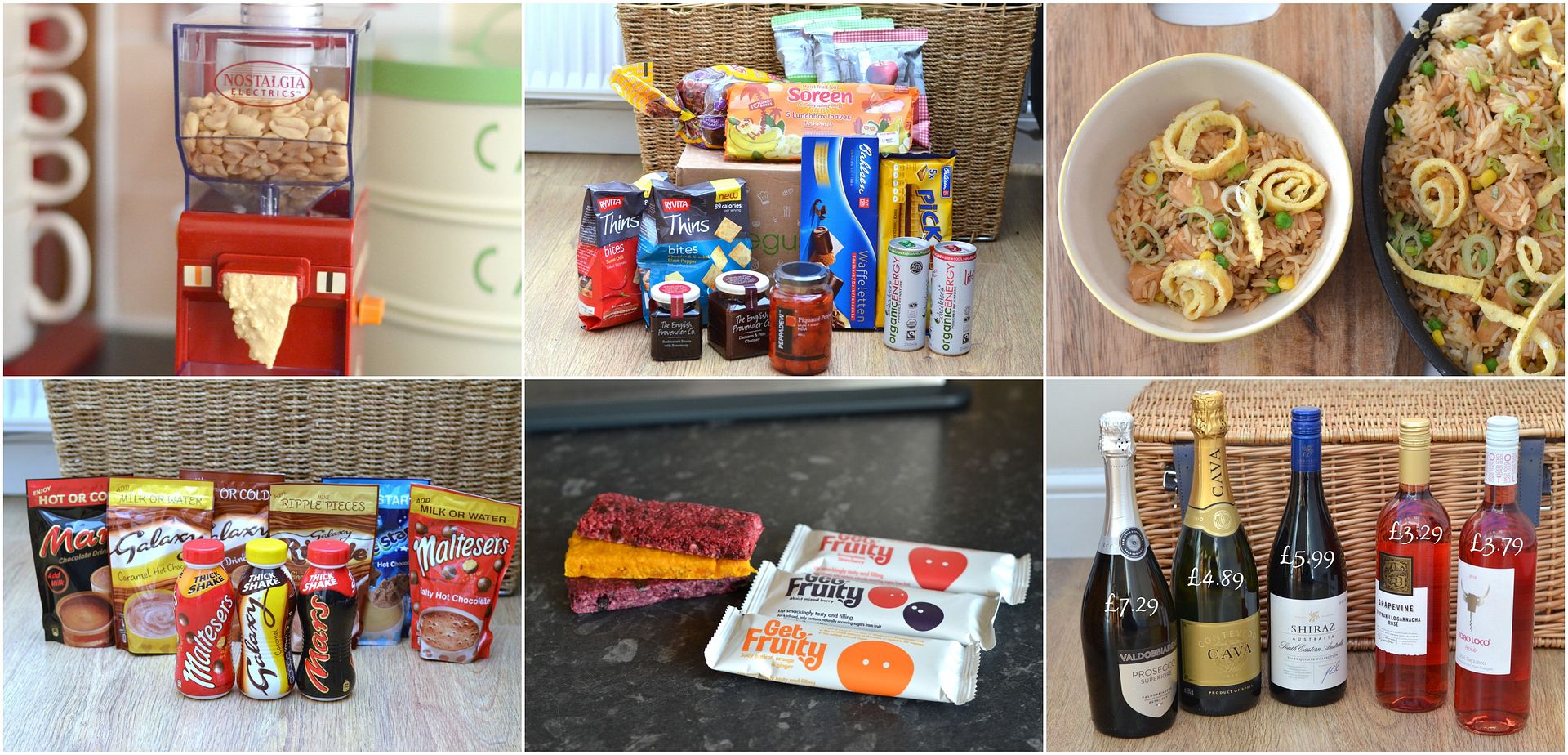 Lindt Creation Dessert chocolates
These were a nice treat and each box has 3 layers, with one of each flavour in each layer : tiramisu, creme brulee, meringue to name a few. I recreated a Tiramisu here.
Chef'n Cookie Stamp Set
I was looking forward to trying this cookie stamp out - a cookie cutter and stamp set in one handy container. Unfortunately, although the idea was a nice one, the stamp set didn't live up to expectations. Despite flouring the stamp, the dough stayed in the cutter and there was no easy way to get it out so I resorted to using a regular round cutter and pressing the shape into the dough by hand, a little disappointing.
I received a selection of items to use for Jack's birthday party, including paper table ware and some trophies and medals. You can read more about them here.
I got to sample some of the new Tasty Toasted Muesli, which was packed full of fruity & nutty bits. I used the raspberry & apple flavour to make some flapjacks here.
Rachels organic lemon yoghurt
This Greek style yoghurt was delicious and the whole family loved the creamy but fruity taste. I used it to make some breakfast pops here and a lemon cake here. I also gave a couple of pots to my friends little boy who is currently undergoing chemo and the steroids are giving him a ravenous appetite - he loved it and said it was 'really tangy'.
Cadbury Creme Eggs
It's almost Easter which means it will almost be time to say goodbye to Cadbury Creme Eggs until next year. I made the most of having a few samples and made some individual creme egg brownies.
Lovely authentic Italian food delivered to your door. We had a great selection, enough for a couple of family meals and snacks.
McCain Special roast Potatoes
These new roasties made our early Mother's Day dinner a bit special, basted in beef dripping they tasted a bit like seaside chippy chips!

I was sent products above for the purpose of review