Last week I was invited down to Cornwall to have a tour of the Rodda's Creamery in Scorrier, near Redruth. As I'm in the Midlands it was a bit far to go for a couple of hours but The Valley in Carnon Downs kindly accommodated us for a couple of nights (read more about our stay here and here).
Rodda's started their journey into clotted cream making in 1890 when Eliza Jane made it in her farmhouse kitchen. Before long she was transporting it to London where it was stocked in top food shops.
The cream is no longer made in the farmhouse kitchen and is instead produced in larger batches in the nearby creamery. Until I entered the creamery I hadn't even considered how clotted cream was made. It was really interesting to see the process from the milk entering the building, separating the cream from the milk, then baking the cream and packaging it, using a very clever machine that glues and folds the cardboard sleeve so quickly and efficiently, it was mesmerising!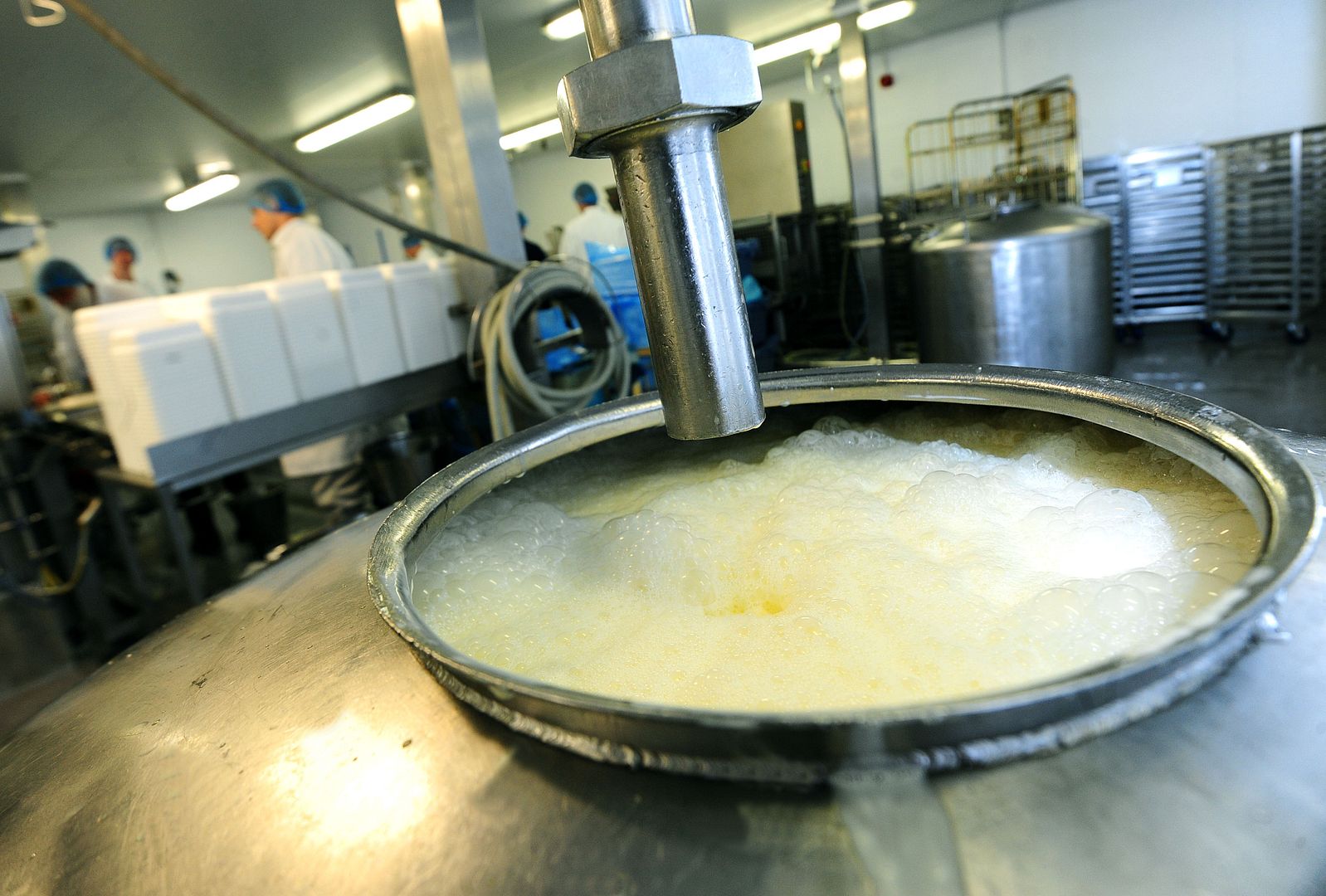 image courtesy of Rodda's
Baking the cream is what gives it the crusted top, characteristic to clotted cream. These days the cream is baked in the retail containers to make sure that none of the crust is lost.
image courtesy of Rodda's
Everyone that I met at Rodda's seemed to love their jobs and it appeared to be a great place to work, a workplace that really looks after their staff. This doesn't just apply to the staff working at the creamery but also to the farmers, all farming within a 30 mile radius of the creamery. There is a good relationship between Rodda's and their farmers and in turn between the farmers and their cows, happy cows produce good milk!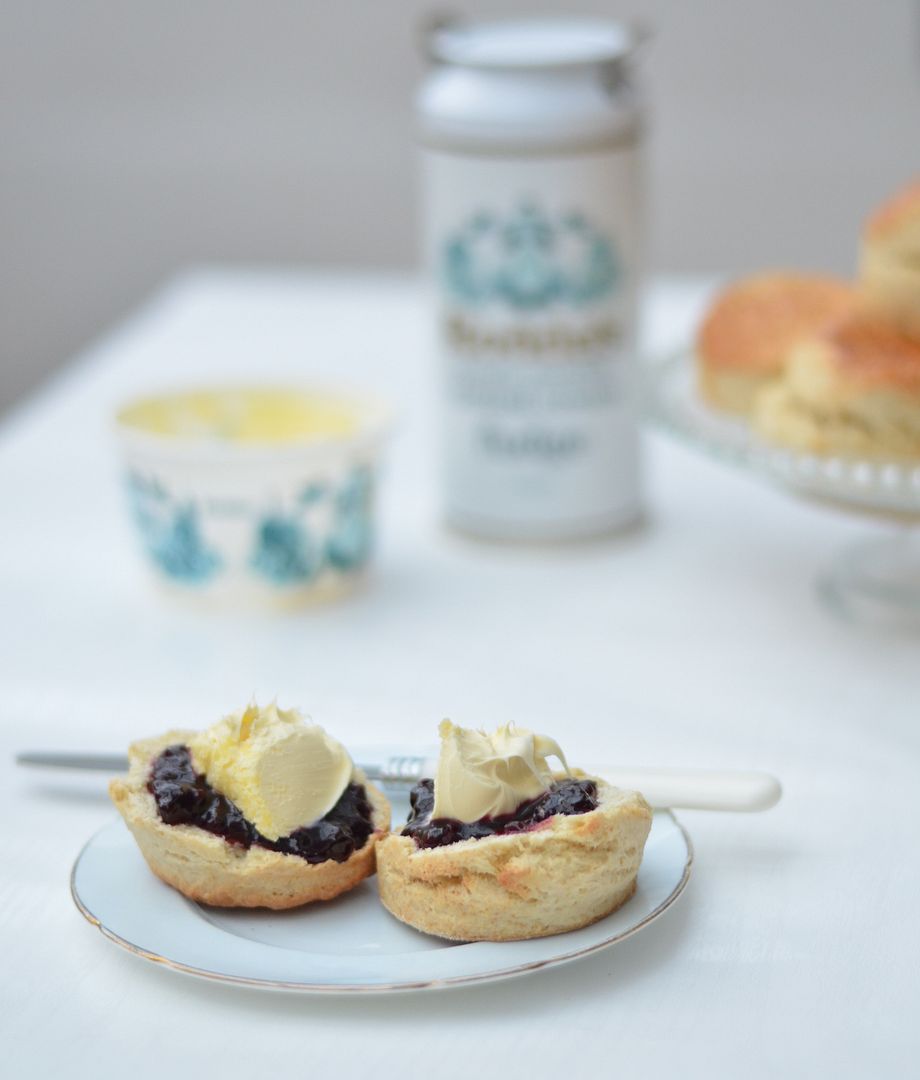 In 1998 (after 5 years of campaigning) Rodda's were awarded the Protected Designation of Origin, designed to protect traditional regional foods against imitation. This means that when you read 'Cornish Clotted Cream' on a label you can be sure that it has been made in Cornwall by the authentic and traditional local method, using Cornish milk.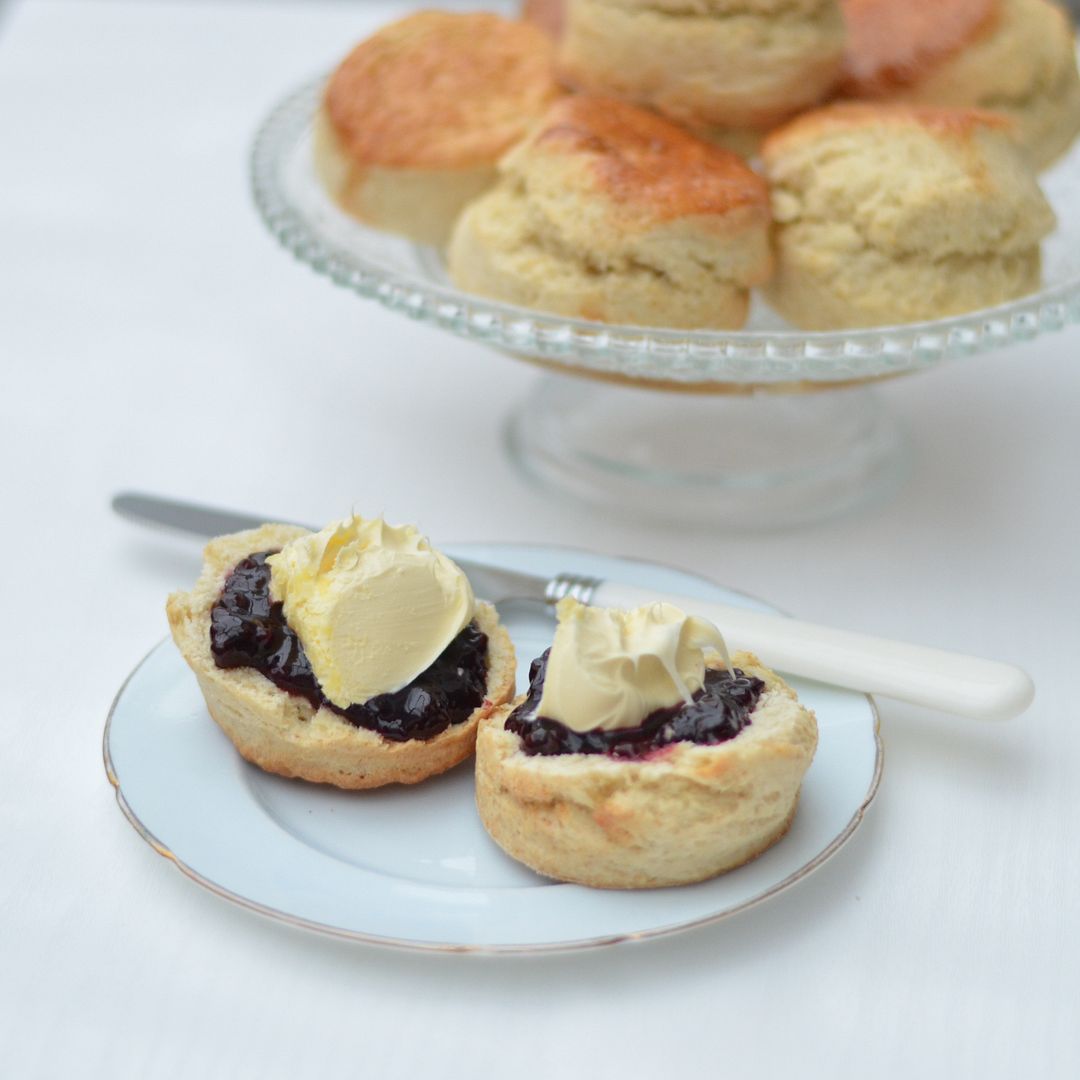 The clotted cream is produced in a variety of sizes and is available throughout the UK as well as being available overseas, but it's not just clotted cream that they make these days - their current range of products include pouring cream, crème fraîche, butter, fudge, shortbread, milk (only available locally) and a cream tea box with everything you need for a cream tea for one.
I was lucky enough to receive a few samples to take home with me, and it's amazing how far one pot of cream will go - we first enjoyed some with scones and jam in Torquay, then with apple crumble in Cheltenham, and then left the remainder of that pot for the new owners to enjoy the following day with their home made scones. It seemed a good exchange for a jar of my sister in laws blackberry to accompany my second pot of sumptuous clotted cream.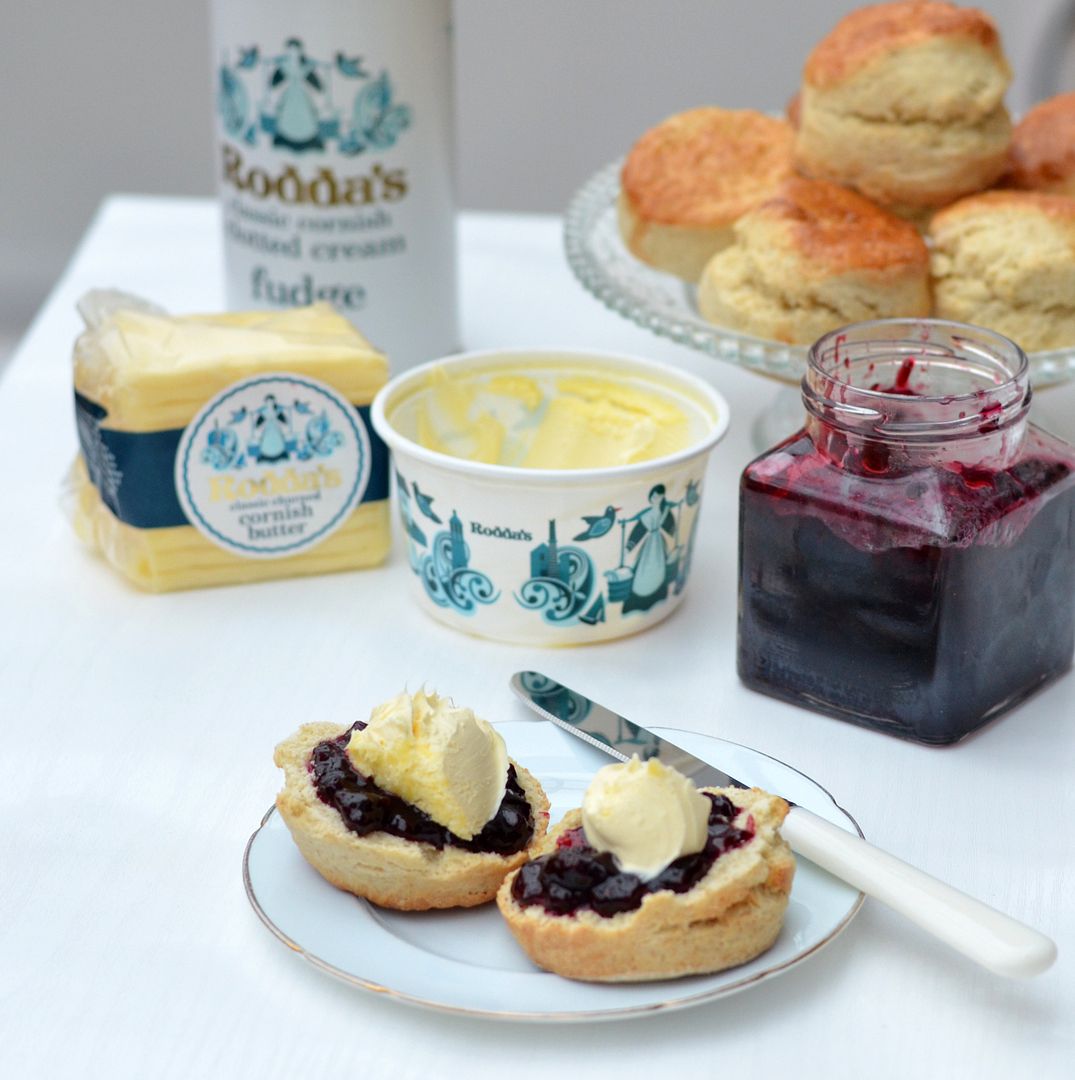 I used the recipe on the Rodda's website here to make these delicious scones.
makes:
12
500g plain flour, plus extra for dusting
15g baking powder
100g caster sugar
100g salted butter, diced
250ml milk
1 medium free-range egg, lightly beaten
227g pot of Rodda's Cornish clotted cream
200g good-quality strawberry jam (preferably homemade)
Sift the flour, baking powder and sugar into a bowl. Using just your fingertips, rub the butter into the flour until it is no longer visible. Add the milk and mix well. Once it starts to come together, turn out on to a lightly floured surface and knead gently until it forms a smooth, soft dough.
Preheat the oven to 200C/fan180C/gas 6. Roll the dough out on a lightly floured surface to 2.5 cm thick and cut into rounds with a 5cm cutter. Place on a baking tray lined with baking paper. Brush the tops of the scones twice with the beaten egg.
Bake in the oven for approximately 15 minutes. Do not over-bake them or they will be dry. Serve warm with the Rodda's Cornish clotted cream and strawberry jam.
Enjoy!
For more great recipes check out the website, and here for my Clotted Cream and Rosemary Mash.