Wow what an amazing an thoroughly exhausting weekend that was!
Last week I spent a large part of it baking cakes, cookies and flapjacks in preparation for our Sport Relief bake sale in the local pub on Saturday (more on that in another blog post), as well as a couple of trips to the gym to build up my stamina for our bike ride that was to come for the Team Honk Relay.
On Saturday afternoon myself & Fi donned our Sesame Street onesies and met up with Emma to perform a baton exchange in a pub carpark in Cannock. It was a drizzly afternoon and no sooner had we stepped out of the car and the heavens really opened & we got pelted with hailstones. We didn't hang around too long but long enough to get a few photos.
It was then off to the pub for the bake sale, where we had a really good turn out and lots of great friends brought along cakes and cookies to sell as well as going home with their arms filled with more.
Saturday morning started early with a coffee and a crumpet before meeting up with my cycling buddies at 8.15 to start our adventure.
We collected Fi en route and then all cycled together for just under 10 miles into Stafford, via the local Fire Station for a quick slide down the pole.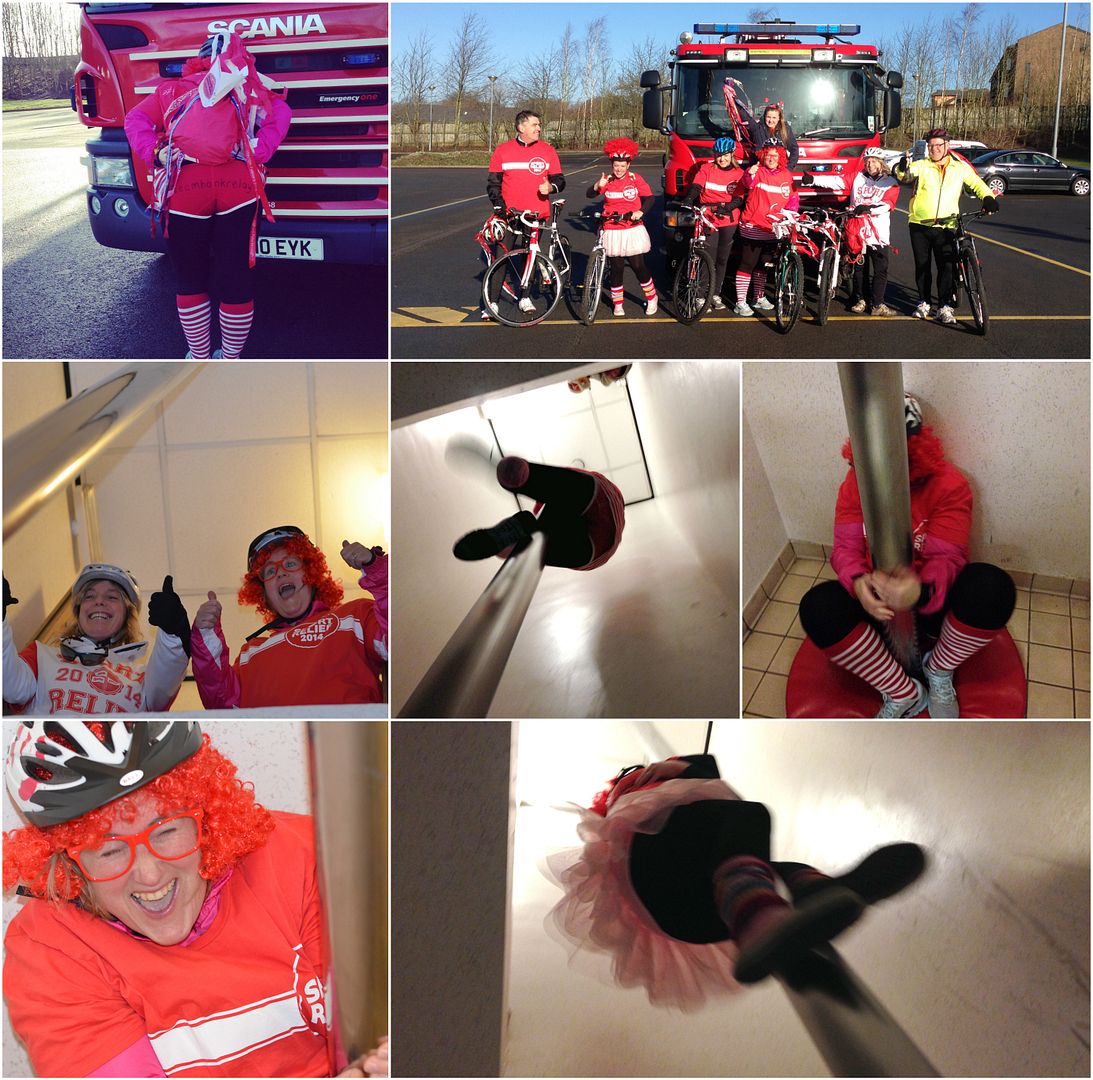 We were met at the Stafford Railway Station by a lovely group of Zumba dancers who put on a great show for passing motorists and travellers. I got my kids to work selling cakes, and our team and family members collected donations from lots of generous passers by.
Myself and Fi then hooped on a train rammed with Liverpool football fans en route to Arsenal for a FA Cup match (so glad we weren't sharing a train home with them after their 2-1 defeat). We sold the remaining cakes and cookies to the very high spirited fans who were not afraid to dip their hands into their pockets.
Much to the dismay of the London Midland staff at the sleepy Nuneaton station we had no cakes left to sell so our hour long wait there for the next train was spend having a well earned pint in a nearby pub and making the most of the sunshine.
It was then back on the train for the 90 minute journey to Peterborough where we were met by the lovely Amanda, Karin & co for the baton handover.

After a break for a lovely meal in Nando's it was back on the train again to commence the long journey home, where we arrived shortly before 8pm, exhausted.
It was all worth it though, and after counting up the money we had collected we managed to tip our current total just over the £1000 mark, double our original target.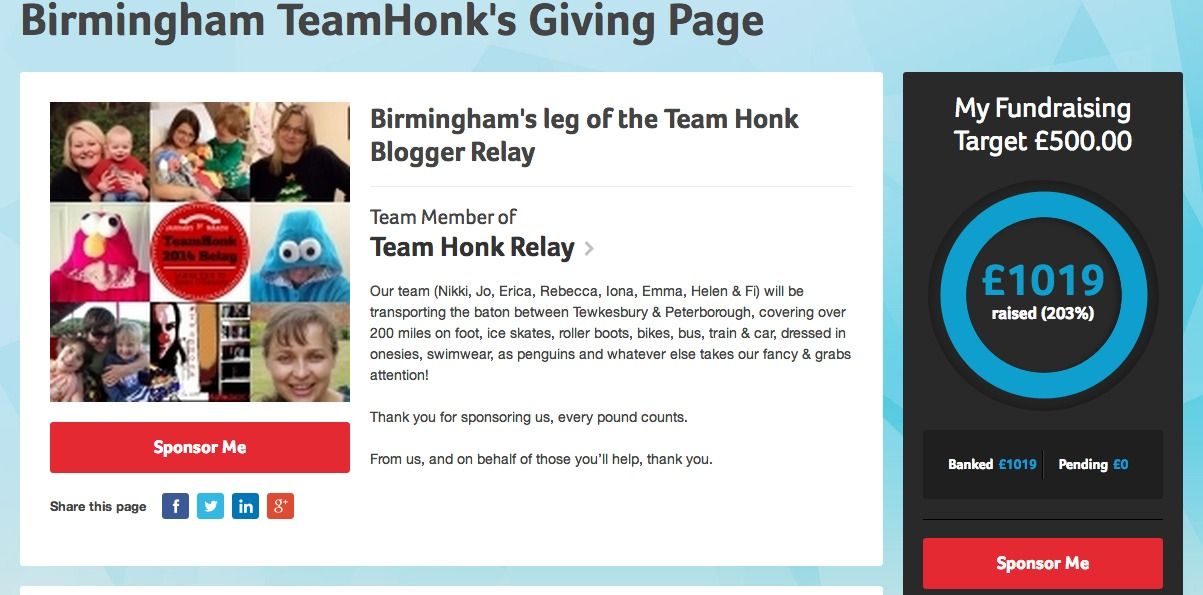 To find out where the baton is going next and support everyone involved : TeamHonk.org
Thanks to all of our friends and family that donated, sponsored & baked.

Thanks to our team of cyclists for a great morning : Helen, Tracey, Dave & Paul.

Thanks to our family & friends that followed us in cars and cheered us on & came to the Station to sell cakes, collect money & wave us off.

Thanks to London Midland and Virgin trains for funding part of our journey and allowing us to sell cakes and collect money on their premises and trains.

Thanks to

Stone Junction PR

for funding our journey home when the rude and unfriendly Cross Country Trains refused to help.

Thanks to the accommodating Fire Fighters at Stafford Fire Station.

Thanks to John & Steve from The Green Man, Hixon for allowing us to hold our bake sale.

Thanks to

Sarah Timms Zumba

and class for the great Zumba Flash Mob.

Thanks to all the friendly Liverpool fans on the Euston bound Virgin train for your kind donations & singing to us.

Thanks to Amanda, Karin & the rest of Team Honk Peterborough for meeting us at Peterborough Station.

Thanks to Hi-Tec for supplying me with an extremely comfortable pair of trainers.

Thanks to Dr Oetker and Jelly Belly for supplying ingredients for the cakes & cookies
....and anyone else that I hope I haven't forgotten!