It most definitely has started. This morning I boarded my rusty old bike and set off on a short ride to test it out. My husband had pumped the tyres up & oiled the chain so it was just a matter of seeing if a. the tyres stayed pumped up and b. the chain didn't snap.
On the way back from the school run I drove my intended route in the car to get an idea of how many hills were involved and how many miles it was, as well as making sure I knew which way to go. Halfway through driving the route I did wonder if cycling it was going to be a bad idea as there was a lot of water on the roads which stretched right across the road in some places. I figured that I could always walk it on the grass verge if it looked too deep though.
I returned home, donned my best cycling gear, of which I have none so borrowed my husbands football coat as it was big enough to cover my ample backside hanging over the rather small saddle, a pair of lycra capri's with a pair of bootcut joggers over the top, some woolly socks, thermal mitts, trainers that are a bit on the small side as I couldn't find my newer ones, and my 13yr old's bike helmet.
I set my Endomondo tracker and I was off.
I absolutely loved the ride and remembered why I used to cycle so much. It's so peaceful cycling down country lanes with just the wildlife and your thoughts for company. I absolutely hate running with a passion, I've tried it, and I just cannot enjoy it, but cycling is definitely my thing and this is definitely the start of the 'new me'.
When I arrived home from my ride I posted the following on my Facebook wall, a few lessons learnt :
After that little 5.35km bike ride I can conclude the following :
My tyres are not rotten
A little bit of oil works wonders on a rusty chain
There are lots of hidden hills around the village
Boot cut joggers do not work well with bike chains
Woolly socks & trainers do not make for comfy feet
Thermal mitts do not make braking easy
If the chain won't shift onto the small cog at the 3rd attempt just forget it
You never forget how to put a chain back on
Wet grass is great for cleaning oily hands
My gears need looking at
I'm a scaredy cat on the downhills
I'm not as fit as I used to be
It's true, you never do forget how to ride a bike
Cycling is so much better than running
I'm doing it all again tomorrow......
and I most certainly am doing it again tomorrow, come rain or shine.
Not long after I arrived home a parcel arrived, containing 2 loaves of seriously seeded LivLife bread, with half the carbs of regular bread, perfect timing.
When the nausea from exercising finally wore off (about an hour and a half later) I enjoyed 2 slices of toasted LivLife with light olive spread and honey on, with my usual morning cuppa.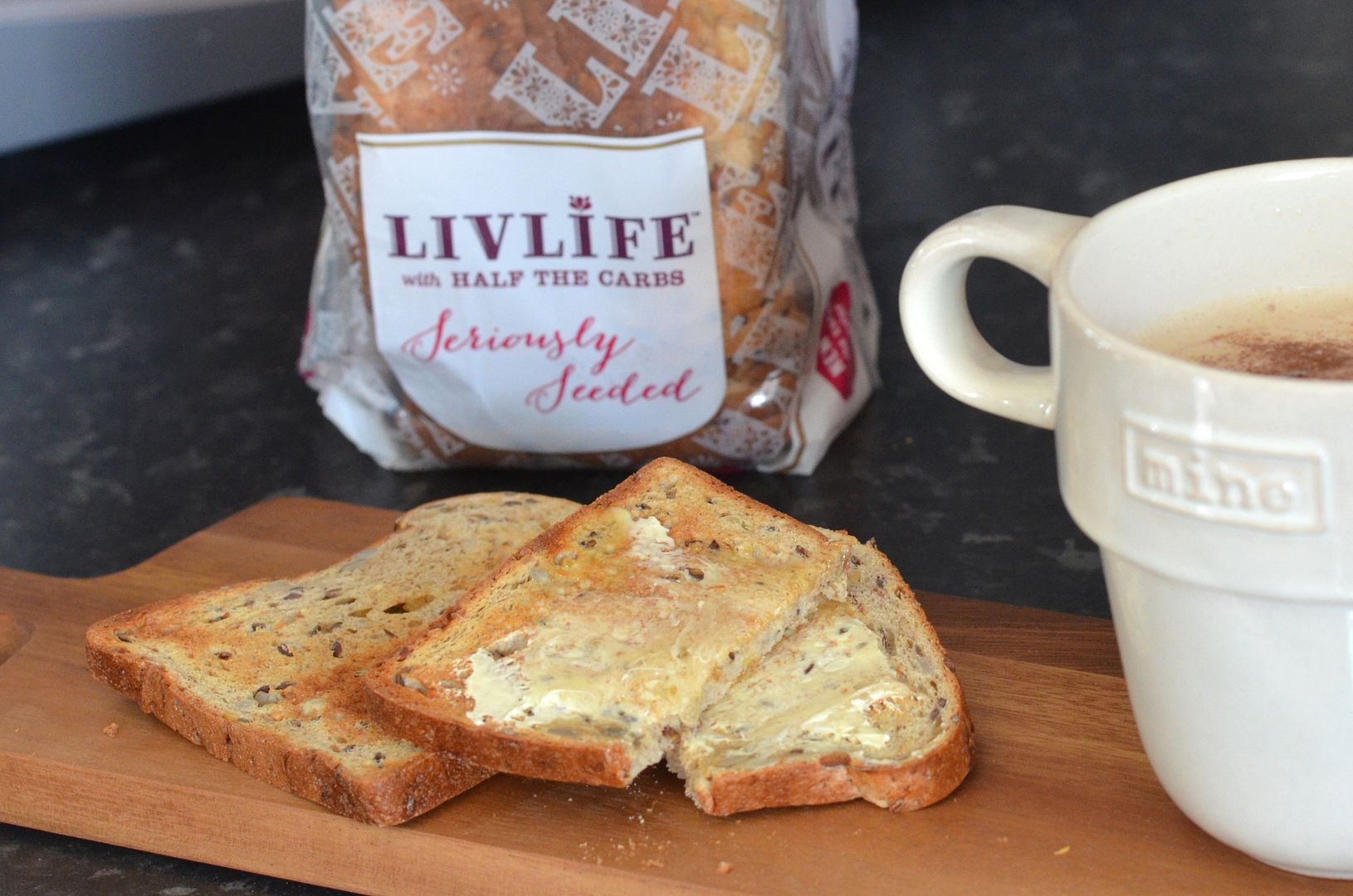 The bread, whilst being smaller than my usual slices of bread, tasted lovely, with lots of crunchy seeds throughout. It has the same 2 point Weight Watchers value as my regular wholemeal bread but 2.5 times the protein and less than half the carbs and seemed an ideal post ride breakfast.
I was sent the bread for the purpose of review



LivLife is available in selected Waitrose, Morrisons & Ocado stores across the