I few weeks ago I made a Chocolate Dacquoise which consisted of layers of meringue sandwiched with a creamy filling. If you've ever made meringue you will know that it involves separating the egg white from the yolk carefully to make sure that none of the yolk gets in with the white, otherwise the whites won't whisk up stiffly.
My usual method of separating the egg is by passing the yolk from shell to shell whilst the white drips through into a bowl beneath. You need to be careful to make sure a stray sharp piece of shell doesn't pierce the yolk but apart from that it's a simple method and works for me. Some people crack the egg into their hand to catch the shell but I've never attempted that method myself.
I always crack an egg at a time over a bowl and then pour the white into a larger bowl - there would be nothing worse than cracking them all into the same bowl only for your last yolk to break & ruin all of your clean whites.
To make life even simpler, especially if you have a lot of eggs to crack, OXO good grips have a useful tool - an egg separator.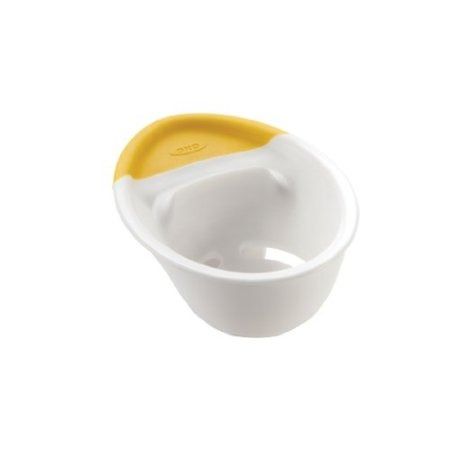 It works simply by resting it over your bowl and cracking the egg into it. The white drips through and the yolk is caught in the separator. There is piece on the side of the separator that you can easily crack an egg on too, making the whole process nice and simple.
Definitely very handy if you separate a lot of eggs.


I was sent an egg separator for the purpose of this review