It's been a long time since I've been on a rollercoaster. I think as you get older and have children these things become less appealing to you. I couldn't think of anything worse than looping the loop and hanging upside down.
Recently though my children have reached an age where they want to experience the adrenalin rush that only a rollercoaster can give and they've been asking to go to a theme park, and I've been trying to ignore them. When we were given the opportunity to try out the rides at Thorpe Park I have no idea why I jumped at the chance, I could have just kept quiet, said nothing and put the rollercoasters off for another year.
We made a weekend of it last weekend with an overnight stay in the Crash Pad, the on-site accommodation for Thorpe Park. Accommodation on a Saturday night includes park tickets for both Saturday and Sunday as well as a buffet continental breakfast. Don't go expecting a luxurious hotel, the Crash Pad is made of shipping containers and rooms are compact, however each room has a double bed, bunkbeds and bathroom with shower, and plenty of storage space as well as tv, safe, towels, shampoo's and bottles of water. They are clean and very cosy and a perfect place to lay your head and recover for another day of action.
We left Jack at Nanny's and arrived at the park just after opening on Saturday morning and the queues for the rides weren't too long, however not long later Colossus had a waiting time of 140 minutes. We were lucky enough to have a few fast passes which meant we could skip the queues (we did feel a little guilty moving swiftly past lines of waiting thrill seekers), and these can be purchased separately on the park.
My husband is not one for rollercoasters due to his aversion to heights but we did manage to get him on X which is a light and sound rollercoaster in the dark! I suspect that had the lights turned on he would have been rooted to the spot! We also managed to get him on Tidal Wave, which we left until the end of the day as we'd heard that you get very wet. This was not an understatement and we got drenched, probably not helped by the fact that we went on it twice!
I couldn't believe that I was persuaded to go on Stealth as it looked so terrifying when we arrived but once I'd got over that fear I went on The Swarm and think I rode it 5 or 6 times in total.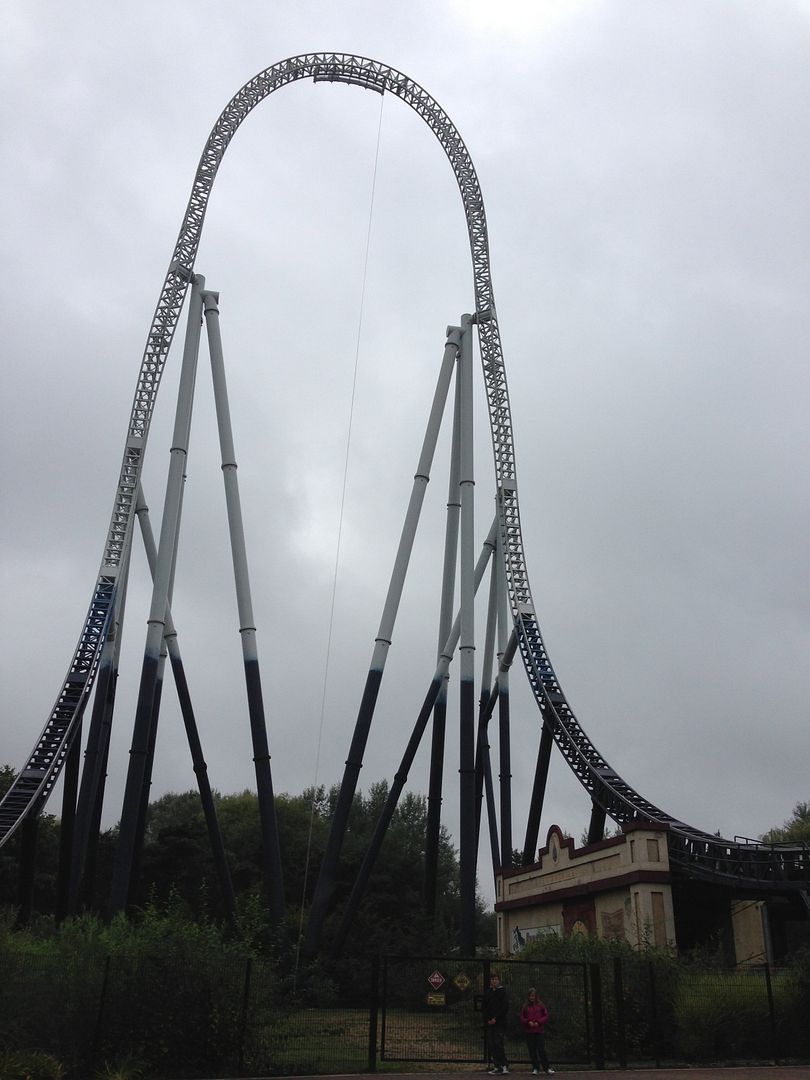 Stealth... 0-80mph in 2 seconds!
Another of the rides that we managed to get the husband on was loggers leap - a double drop log flume, which he thought 'can't be too bad'....I think the ride photo will prove otherwise...
Log Flume faces
Around the park there are plenty of places to eat as well as lots of funfair style games and amusements. If the weather was warmer we could have tried out the beach area where there were some amazing sand sculptures and water slides.
If you're staying over you can eat an evening meal in Bar 360 and enjoy the evening entertainment and win fast passes in the music bingo and and quiz.
My kids (ages 11 and almost 13) loved it and we felt comfortable letting them queue up for rides on their own and if we lived nearer I would be happy for them to have annual passes and drop them off for a few hours at a time.
Coming up in October and November at Thorpe Park are some scary Fright Nights where visitors can experience horror attractions as well as riding some of the scariest rides in the dark. The park is open until 10pm and adult tickets are available from just £29.99.
We were provided with tickets and accommodation at the Crash Pad for the purpose of this review