I always used to wonder why chefs would take their own knives wherever they went, much like my Mum always taking a knife (wrapped up carefully in a beach towel) on holiday with us.
I now know.
There is nothing worse (well actually there probably is a lot worse, especially if you find yourself holidaying at Pontins) than opening up the cutlery drawer on holiday to find one 'sharp' knife and even that's blunt. I now find myself taking a knife when I go away too, unless it's somewhere that I can guarantee there will be a decent selection. My own knives aren't great though and I'm very envious of this prize that I'm able to offer to you lovely readers of my blog - a set of Global knives.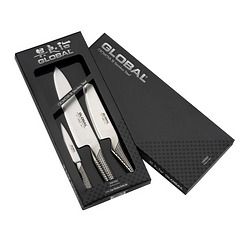 The Guardian said of Global knives "One of the few knives that cut all the foods cleanly at the first attempt, glides through meat and cuts cabbage like butter".
This particular set includes a 20cm cooks knife, 14cm vegetable chopper and 9cm paring knife.
The knives are being offered by LCE Online and can be found on their website : Global G-2538 3 piece knife set , usually retailing over £200
To be in with a chance of winning just complete the Rafflecopter form below
a Rafflecopter giveaway
I have been compensated for running this giveaway