The eldest two children have been asking for ages to go to a theme park with some big rides. They're at an age now where they want to experience the adrenaline of 'scary as hell' rides, and the bigger and scarier the ride the better in their opinion. I, on the other hand, am less than thrilled at the prospect of going on these rides so I've been putting it off and putting it off. There's no putting it off any longer though as we've been offered free tickets to Thorpe Park and after hearing about it from their Uncle, who recently went as a birthday treat (he's a big kid), they can't wait.
"we really enjoyed it and there were loads of really good rides, my favourites being Swarm and Stealth. We stayed overnight at the Crash Pad and were able to go on the rides before the park opened to the general public and managed to do 4 rides in the first 45 minutes....well worth it" - Uncle Martin (45)
I used to love the thrills and spills of the big rides but with the birth of each child the fear has set in, and as the husband has an aversion to heights it looks like I'm going to have to overcome my unwillingness and partake in a bit of this....
..whilst the husband enjoys Mr Monkey's Banana ride, Neptune's Beach and the Wet, Wet, Wet water slides with Jack.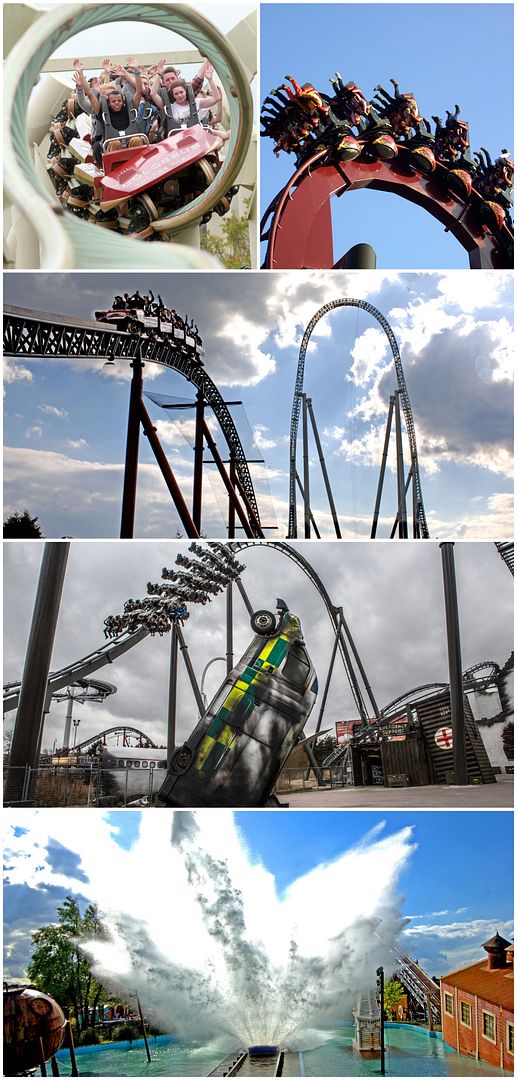 Currently Thorpe Park have some great offers and events on, the first of which is excellent value if you have pre-teens and teens that need entertaining over the Summer. Just buy a full price adult ticket (£43.20) and receive a pass for unlimited access to the park for the remainder of the season, until November 4th, or upgrade it to a pass for a full year for just an additional £10. This deal is available for any adult or child that has purchased a full priced adult ticket, however if you've taken advantage of the lower priced tickets (just £24.99) available online at thorpepark.com or 2 for 1 deals you don't need to miss out as you can pay the difference and upgrade at the park.

Between 23rd August and 1st September SUN SCREAM has returned where thrill seekers of all ages can enjoy 10 days (including 2 weekends) of free fun extras at the park.
daytime silent discos

adrenaline fuelled stunts

freestyle hip-hop and beatbox performances and workshops
If all that wasn't enough and you don't want the fun to end then it doesn't have to, as you can now stay overnight on the park at the Crash Pad and enjoy 2 full days park entry, nightly entertainment, free parking and early entry into the park.

So what are you waiting for..... www.thorpepark.com
We have been provided with family tickets for Thorpe Park in exchange for this post