It's not very often that we have quality cuts of meat, especially not steak, as we all usually eat together as a family so it can work out quite expensive to buy steak for everyone. If we do have some it's more likely to be rump than rib eye, sirloin or fillet, so when a meat hamper arrived from Simon Howie Scottish Butcher containing this little lot we couldn't wait to get stuck into the steaks.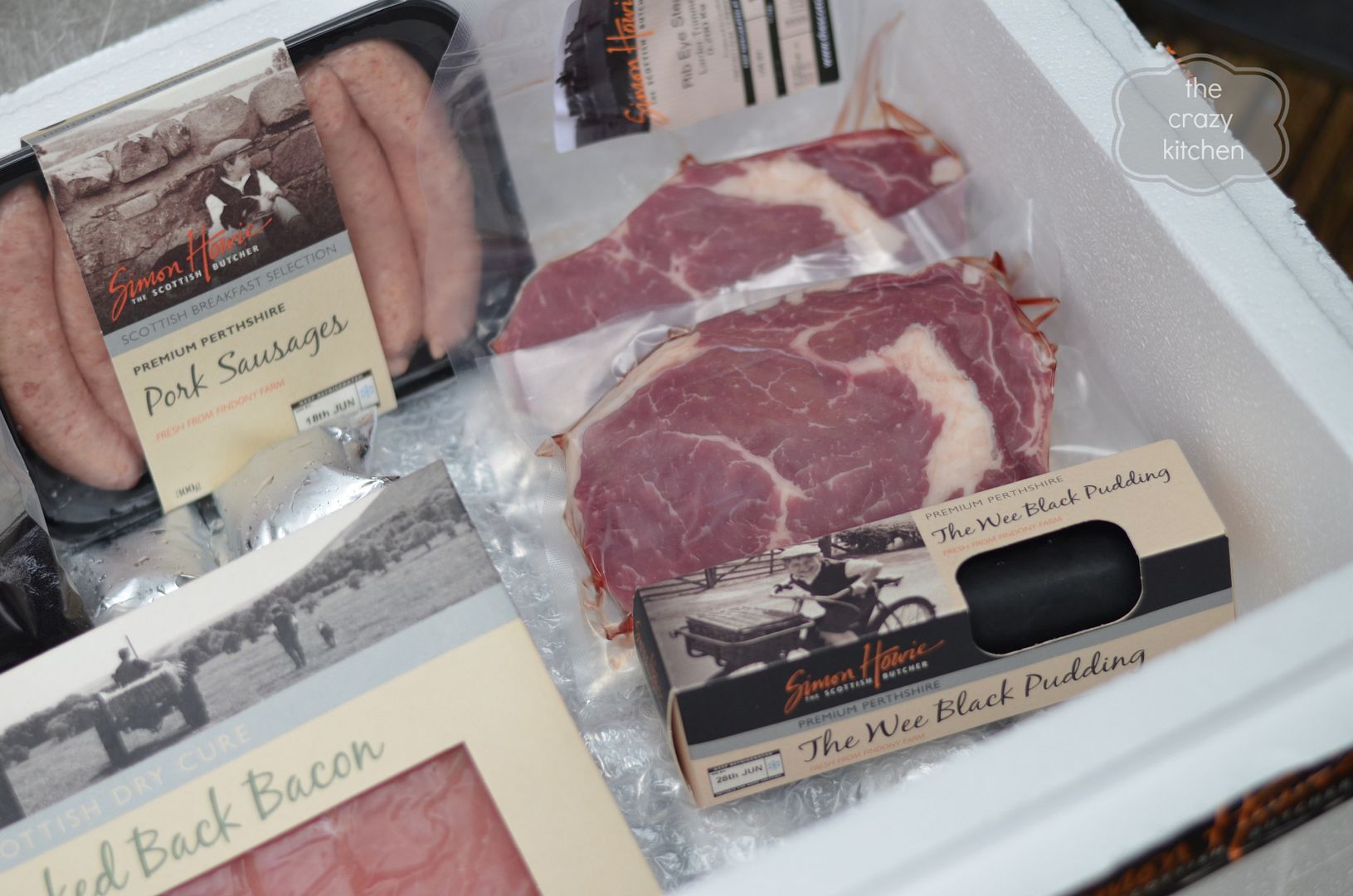 The rib eye steaks were a whopping 280g (10oz).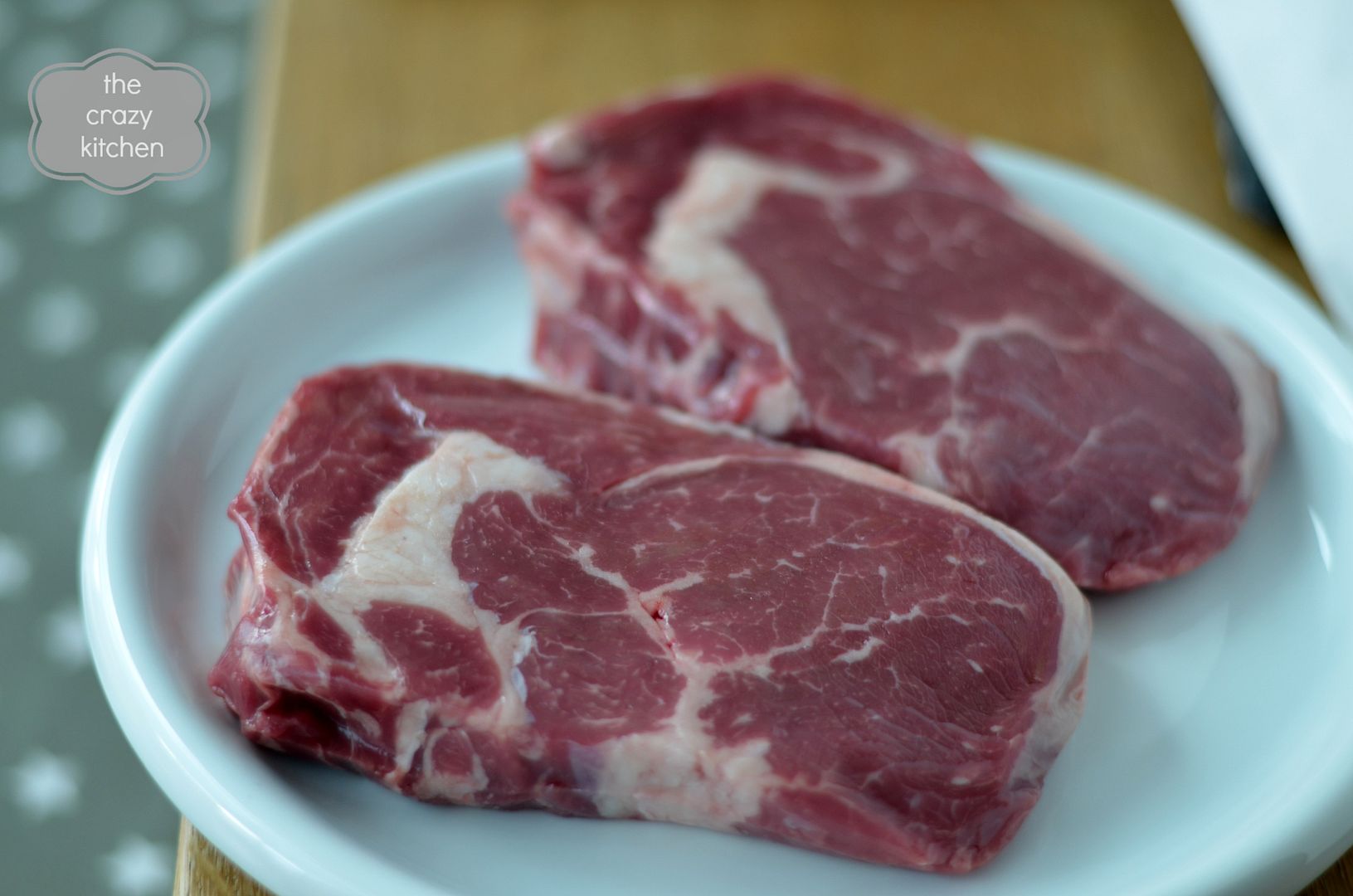 I simply rubbed them with a little olive oil and black pepper before griddling them in my skillet until they were just pink inside.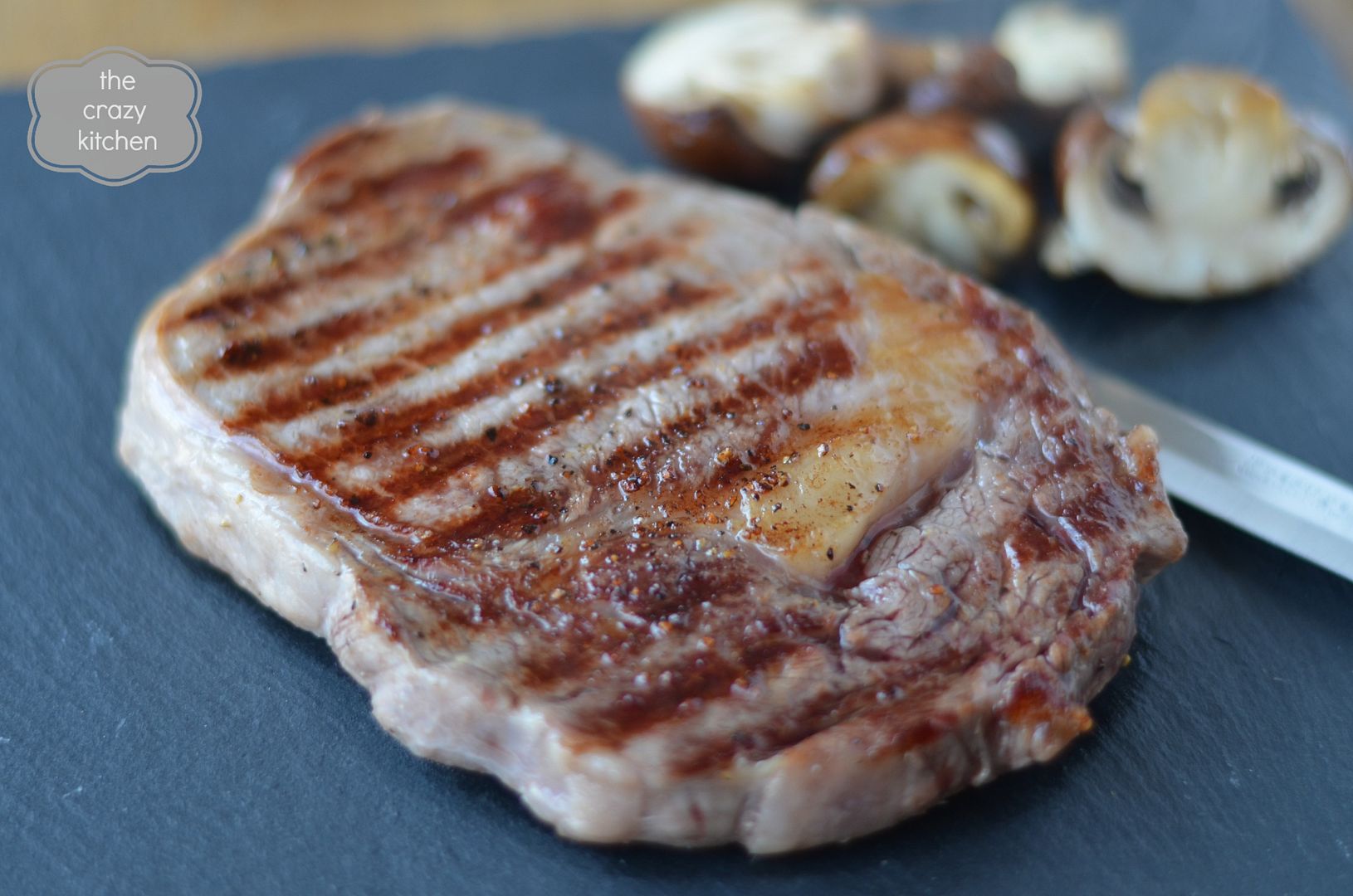 The meat was melt in your mouth tender and the best steak I've had in a long time. The last time I had a steak like this was on holiday in Portugal last summer where I cooked my own on a hot stone. Apart from the line of fat running through the middle there was no excess fat or gristle on this piece of meat at all - absolutely to die for.
Sausages sandwiches were served up to a bunch of hungry kids at the weekend using the traditional pork sausages. I was very surprised to see not one drop of fat came out of them during cooking which would make them great for cooking on the barbecue as we usually manage to set fire to our barbecue when cooking sausages due to the fat spitting out. I did think that 7 was an odd number of sausages to be in a pack and wasn't sure whether I should be pleased that there weren't 6 or disappointed that there weren't 8.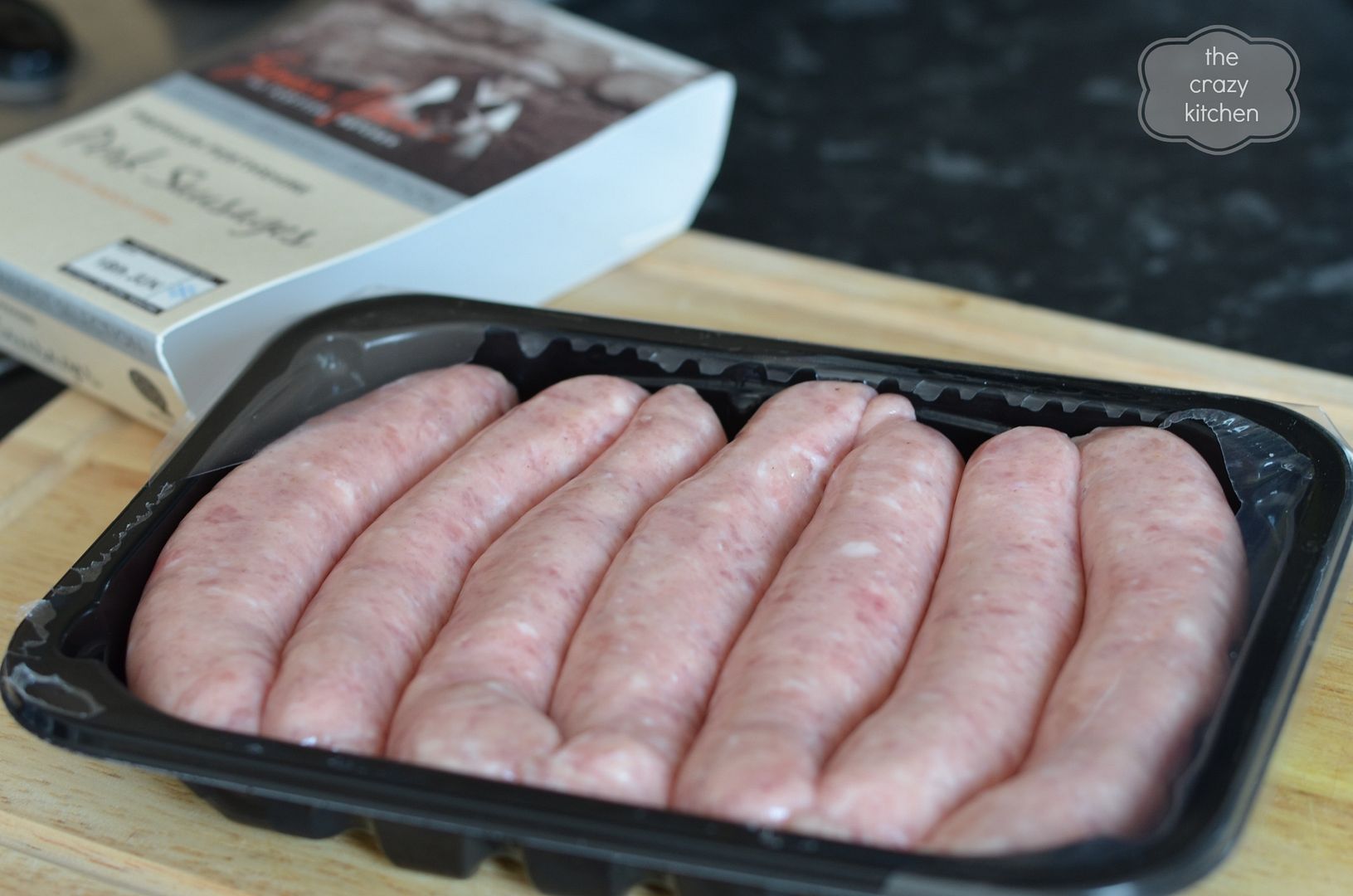 On Father's Day morning I performed my wifely duties in the kitchen and gave the husband a short lay in and cooked up bacon and egg sandwiches. It didn't look like there was much bacon in the pack but as it was dry cured and wasn't full of brine, that's usually injected into cheaper bacon, it didn't shrink during the cooking and there was plenty to go around.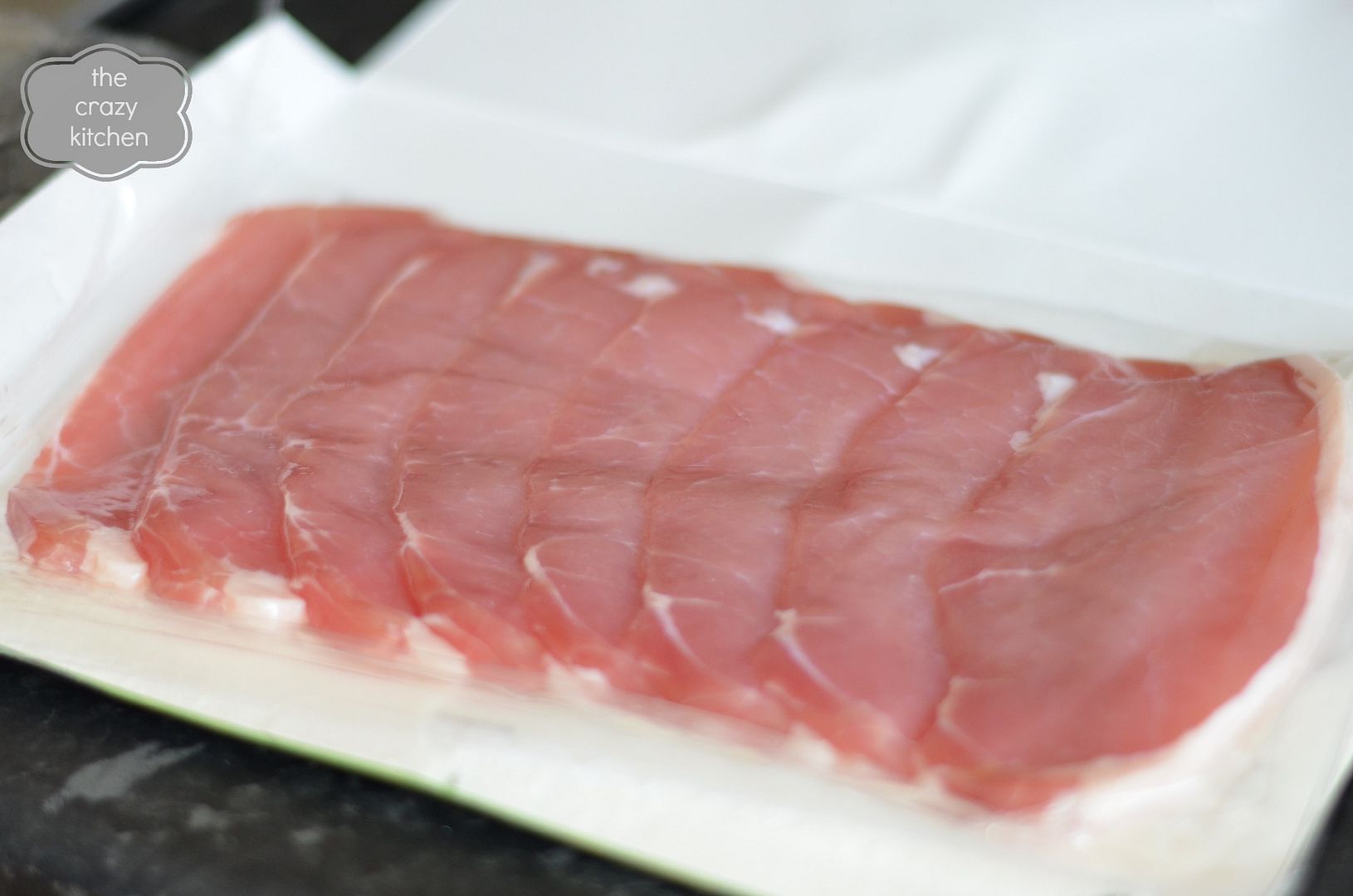 For Monday night dinner we had the steak pie. When I've seen steak pies in the past they may have steak in but they never seem to have much, but wow, this was loaded with pieces of steak, and big ones at that.
The pastry was lovely and light and crispy and the gravy was thick and peppery and the steak tender, just as a steak pie should be. We had the 1lb pie which easily fed the 5 of us.
The only criticism with the pie was the lack of cooking directions on the packaging, something that less able cooks would need to ensure that they cooked it properly.
I am still yet to cook the black pudding but I'm planning on using that in a dish of it's own rather than as a side to a cooked breakfast, watch this space.
When the meat box arrived and I checked online to see which one it was I must admit to thinking that it wasn't worth the £30 price tag but now I think differently. The steak pie and rib eye steaks were worth that alone in my eyes.
Simon Howie offer free delivery on all orders over £70 or £20 for your first order. Orders are delivered in a thick walled recyclable cool box surrounded by ice packs to ensure your meat stays fresh. When our delivery arrived the ice packs were still partly frozen.
I was sent the meat box for the purpose of this review