Father's day this year passed without rain and we were able to enjoy a few hours in the garden doing jobs as well as relaxing on our comfy garden chairs. My parents came to visit and we shared an early afternoon bottle of Rosé with a friend and a late afternoon bottle of red.
I recently received a selection of foods from Grey's Fine Foods, importers and distributors of fine foods and wine from Spain, to enable us to enjoy a tapas night. What better day to share these fine foods than on Father's day for a special Father's Day Tapas.

In the hamper we received the following :
Lopez Cristóbal Roble 2012 - red wine
Villadiego Semi-cured Manchego - Spanish raw ewe's milk cheese
Montanegra Ibérico Ham
Fuenroble Olive Oil
Cantábrico Anchovies
Martinez Somalo Barbecue Chorizo
Querida Carmen Paella
Lolin Bonito Tuna in Olive Oil
Along with the foods there was also a good description of the products and how best to serve and enjoy them. Armed with this information I set about putting together a tapas selection with the hamper foods and a few others.
We had :
Freshly baked sliced baguettes with Fuenroble Olive Oil for dipping
Selection of meats including the Montanegra Ibérico Ham
Thinly sliced Villadiego Semi-cured Manchego cheese with Cantábrico Anchovies
Roasted potatoes and Chorizo
Fried Cannellini beans with Chorizo
Olives, Sundried tomatoes and sweet marinated garlic
Burrata with sliced oranges
Tomato, Mozzarella and Basil salad
Roasted aubergine and peppers
Querida Carmen Paella
It was a feast fit for a king.
We all absolutely loved the Chorizo, especially oven roasted with the potatoes. The cheese was lovely too, although only two of us were brave enough to try it with the anchovies which, to be honest, were not for us. My friend happily took the remainder home with her as she loves them. The Olive oil was amazing, so smooth and great to dip the bread into and drizzle over the tomato and mozzarella salad and Burrata. I wasn't too keen on the ham but others enjoyed it. After the anchovy I couldn't bring myself to try the Paella but Hanna and the husband took on the challenge, sadly disliking it. My Mum did like her small portion of it but not enough to want seconds, unlike the red wine which went down a treat!
We topped it all off with fresh local strawberries, melted chocolate and jelly (special request from the husband as it was his day).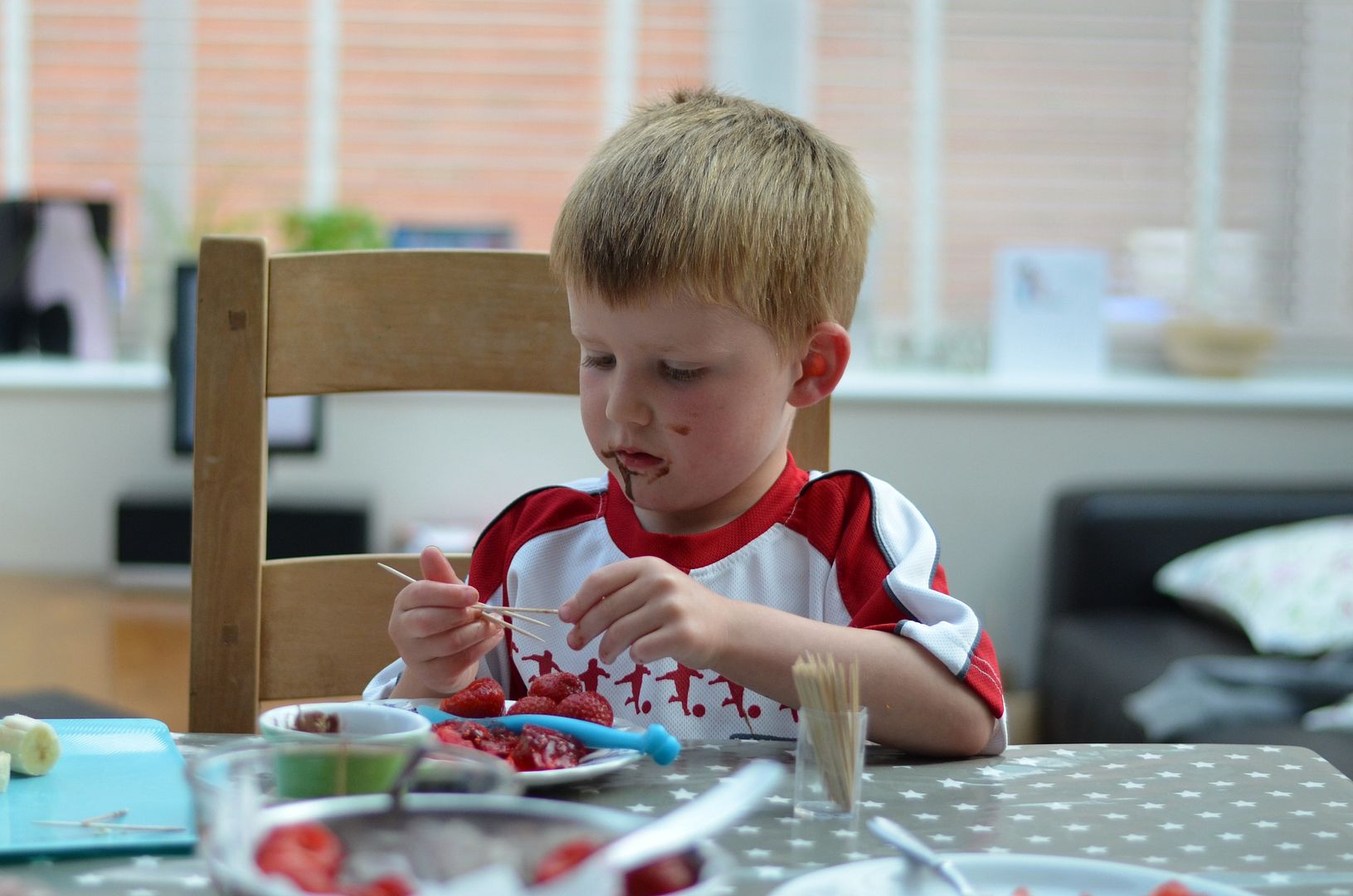 We had a great afternoon and it was lovely to sit around as a family and talk about the different foods as we passed them amongst us. I definitely think we'll be having another tapas night but will probably give the fishy feasts a miss.