It's not often that I post fishy meals on this blog as I'm not really that keen on fish or seafood but the husband loves it so I do try from time to time, as long as the fish is prepared for cooking of course.
The Saucy Fish Co takes the hassle out of preparing your favourite fishy feasts and the new products in their range include ready cooked salmon fillets, along with a sachet of dressing.
The fillets can be eaten straight from the pack, or warmed up. I chose to use them straight from the pack and flaked them over pasta and salad for some really quick and tasty meals. First up I used the roasted sweet chilli fillets which come with a chilli chutney dressing, which I stirred through the spaghetti, along with a little red pesto. I tossed the flaked salmon and some rocket into the spaghetti and it fed 3 people nicely.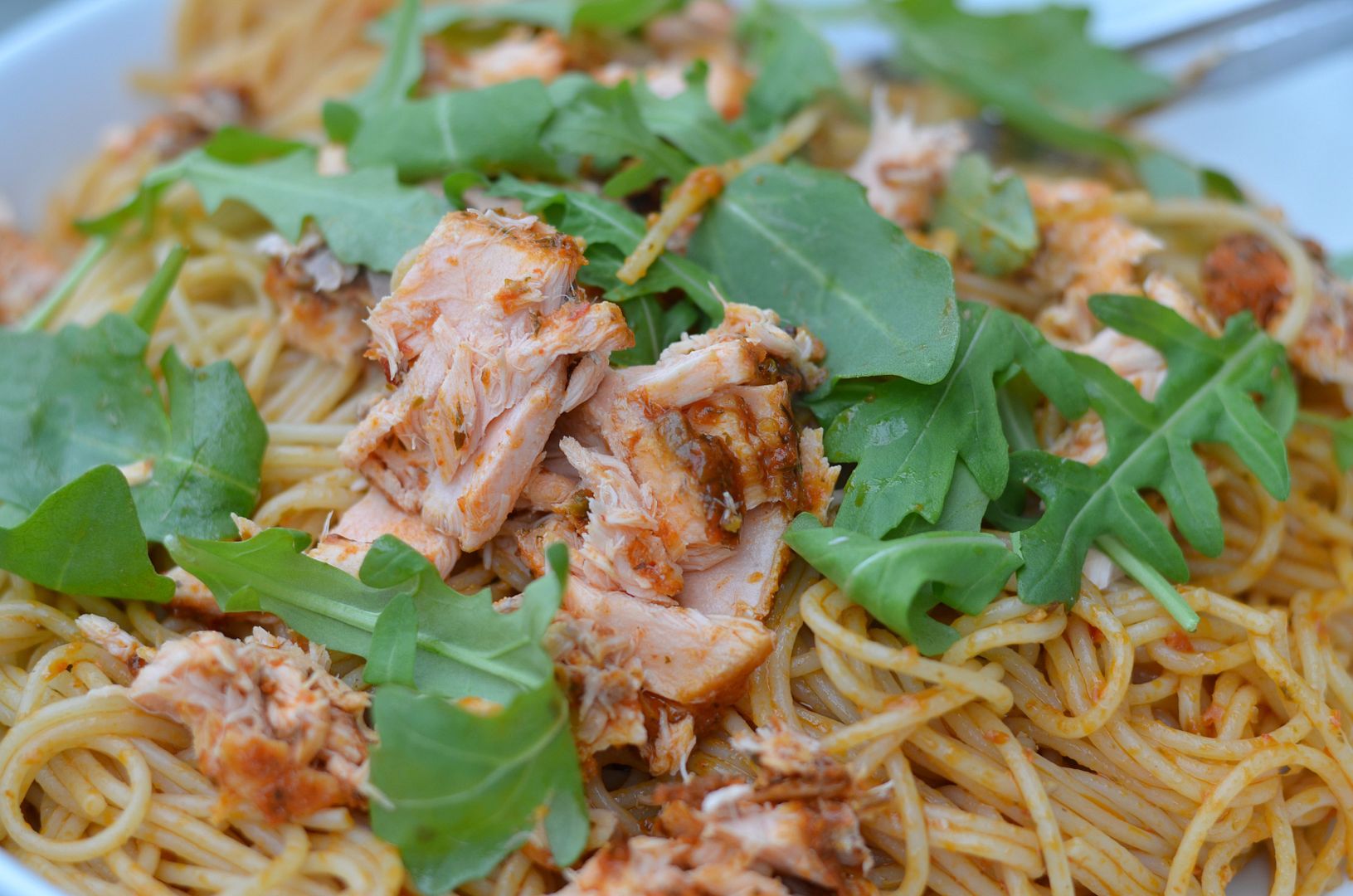 For an Al Fresco lunch on Sunday I made a salad with the steamed salmon and lime & coriander dressing,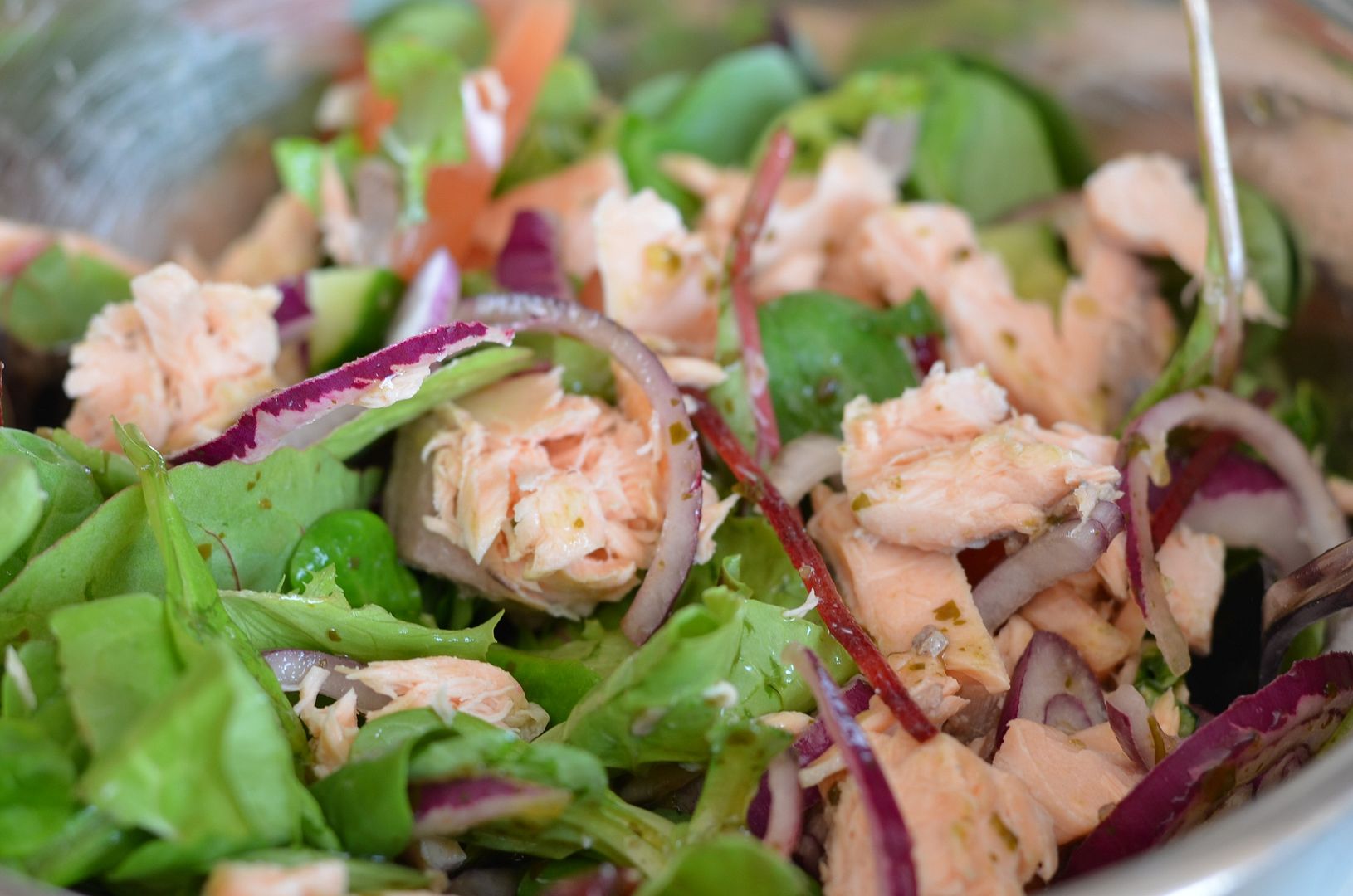 and more pasta, this time with the smoked salmon fillets and maple dressing.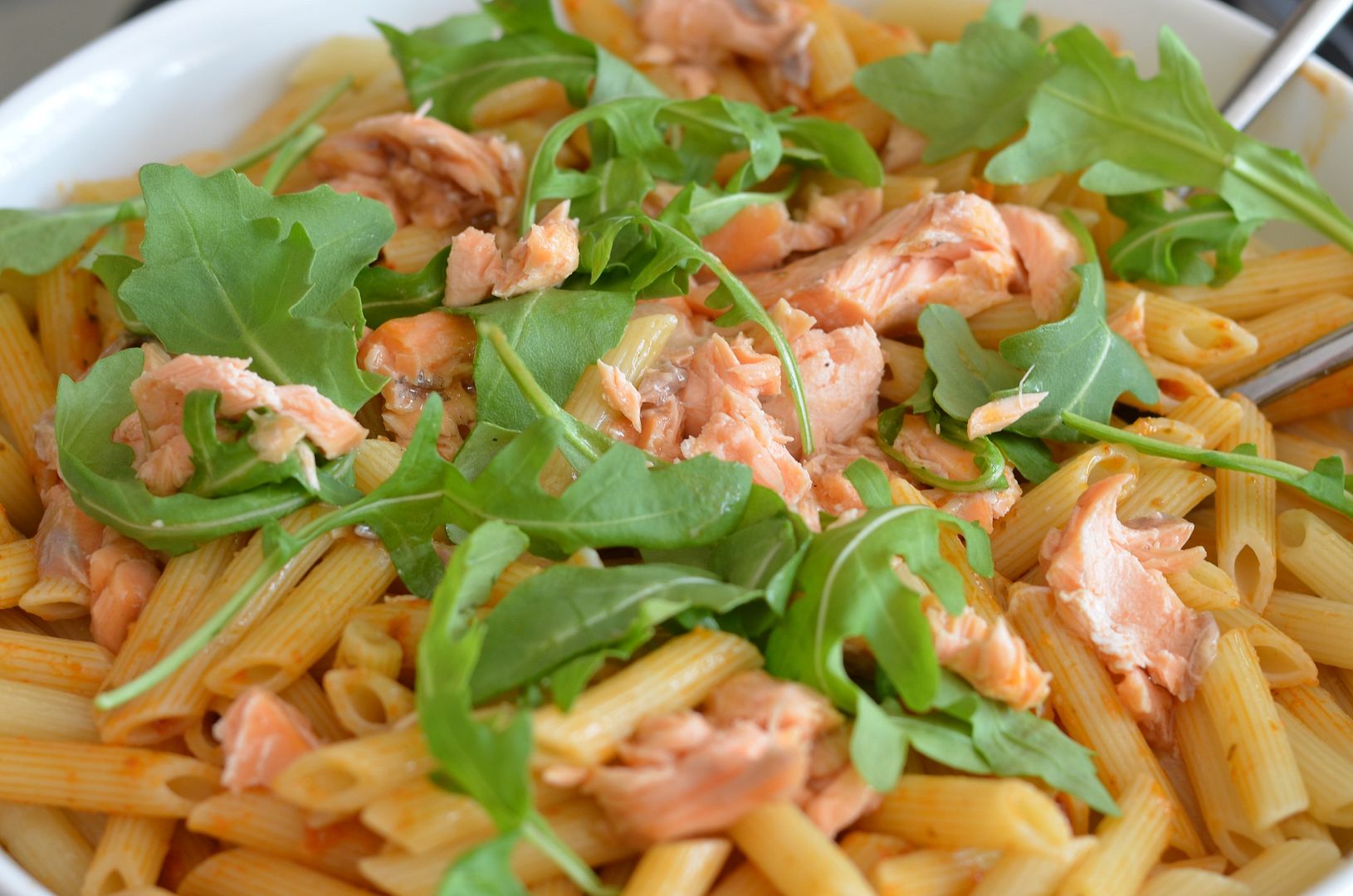 My favourite was the steamed salmon fillets with the lime & coriander dressing, so fresh tasting.
With salmon this good, not to mention the convenience of it being ready prepared, and with a dressing, I expected them to be quite pricey but was really pleased to see them priced at £3.50 per pack (rrp £4). Considering they would feed 2 adults, and if you're very frugal a couple of kids too, I think they are excellent value and will definitely be looking out for them in the Supermarket.
Further info & stockist details :
Roasted Sweet Chilli Salmon with Tomato and Chilli Chutney
These tender sweet chilli-infused salmon fillets are complemented perfectly by the delicious tangy tomato and chilli chutney in this exciting new offering from Saucy Fish. With a fiery kick from the tasty chutney, this dish delivers the ultimate in flavour sensation for a speedy, healthy and delicious fish supper. Why not pair with fresh egg noodles and crisp stir fry veg for an Asian-inspired dish which will really tantalise those taste buds? And at only 266 calories per serving, you can indulge without the guilt!
RRP £4 – available from Sainsbury's, Morrisons and Asda
Smoked Salmon with Sticky Maple Dressing
Introducing the very first smoked salmon product to The Saucy Fish Co. range, this delicious addition is sure to be a hit with those who prefer the woody flavours of cured fish. The sweet and earthy tones of the sticky maple dressing complements the smoked fish fillets perfectly, and tastes great when served up with sautéed potatoes, buttery green beans and a drizzle of the Maple Dressing for a fish dish with the wow factor.
RRP £4, available from Asda and Ocado
Roasted Lemon and Herb Salmon with Sicilian Lemon and Dill Mayonnaise
All of the delicious flavours of Mediterranean cuisine are infused into these succulent Ready to Enjoy salmon fillets, for a true taste of summer on your plate. The zingy lemon and soft hues of fresh herbs make for a mouth-watering combination which is perfect when paired with sundried tomato couscous, roasted Mediterranean vegetables, buttery new potatoes – all topped off with lashings of the zesty Lemon and Dill Mayonnaise.
RRP £4, available from Sainsbury's, Morrisons and Asda
Steamed Salmon with Lime and Coriander Dressing
This new addition to the Saucy range delivers the ultimate in fresh-tasting Asian-inspired flavours with the zesty Lime and Coriander dressing. For a dish to really impress, why not serve with steamed jasmine rice and a fresh crisp summer salad – with a generous drizzle of the zingy dressing?
RRP £4, available from Morrisons and Asda
I was sent 4 packs of salmon fillets with dressing for the purpose of this review.