At the weekend I hosted an afternoon tea for a group of friends. Of course, with this particularly loud group of friends, it was never going to be a sophistcated affair. To the outside eye it certainly looked it though, we had sandwiches with the crusts cut 'orf' and cakes galore, not to mention the pretty little teaset and a collection of teapots.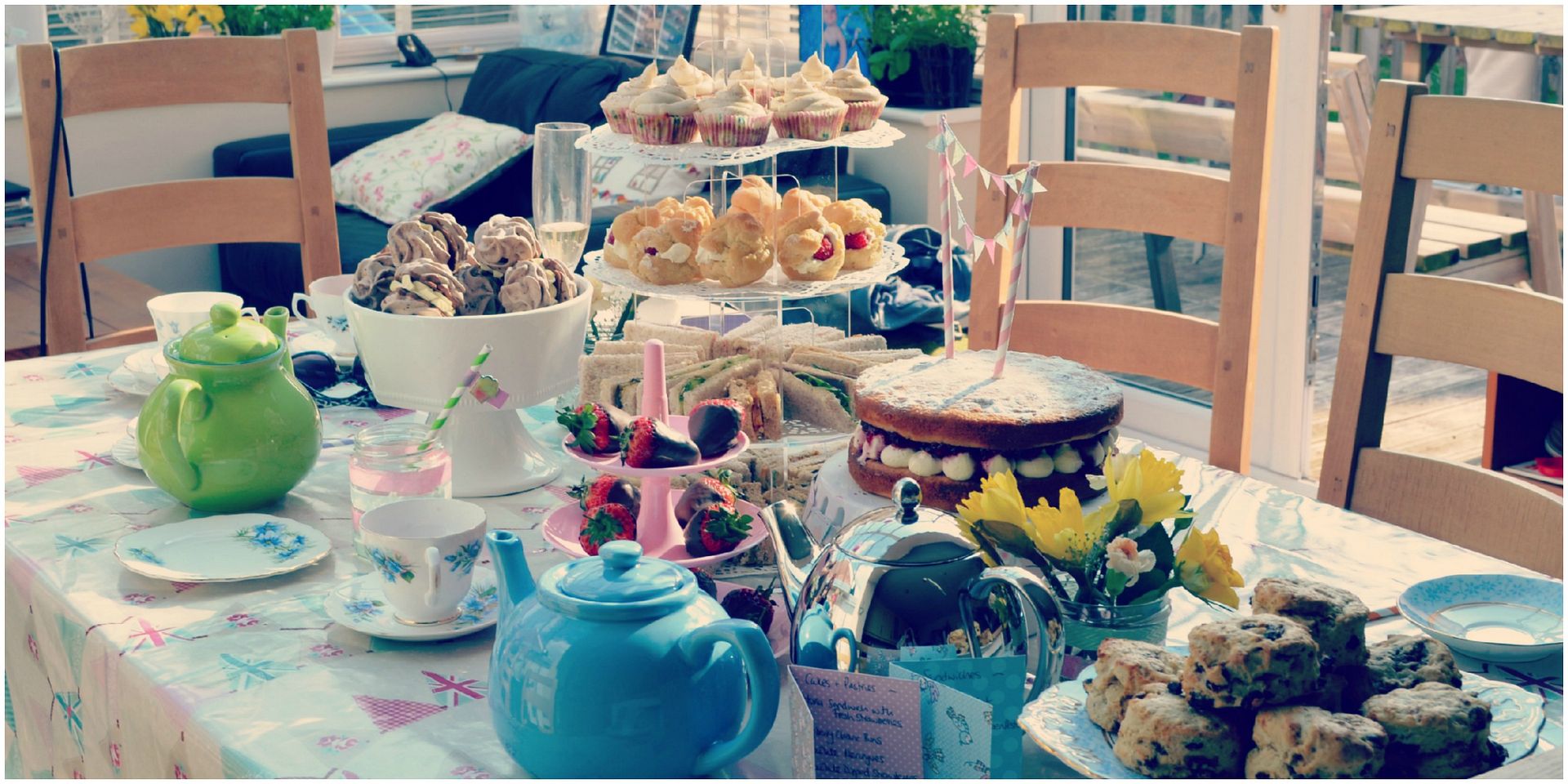 Did I mention that the teapots were filled with cocktails? Cocktails were the basis for the afternoon tea idea after I was sent a couple of pouches of ready made cocktails from the MyCocktails range to try out. Remembering my friend telling me that she enjoyed cocktails in teacups poured from little china teapots a while ago my brain went into overdrive.
I decided that as well a serving the MyCocktails I would make a couple of others based upon tea, and came up with Cheeky Chocolate Chai and Flirty Summer Fruit cocktails (recipes below). I chose to serve a selection of sandwiches that I hoped would suit both my meat eating and vegetarian friends, as well as the odd fussy one that likes plain and simple, along with a selection of home-made cakes.
The MyCocktails are a genius concept for those that don't have a cupboard full of spirits but still like to enjoy the occasional cocktail in their own home. The 1.5 litre pouches have a dispensing tap making it easy to pour straight into the glass, or teacup in our case. The pouches also mean that they can be taken along to outdoor events such as festivals and concerts (drinking responsibly of course). We tried Cosmopolitan's and Woo Woo's and they were both a really pleasant drink, although quite sweet. You could certainly taste the alcohol in them and after a couple of teacups of each I managed to drop a tray of sandwiches whilst getting them out of the fridge - unfortunately I couldn't apply the 5 second rule as my friends were laughing so much and taking photos to post on all available social media outlets!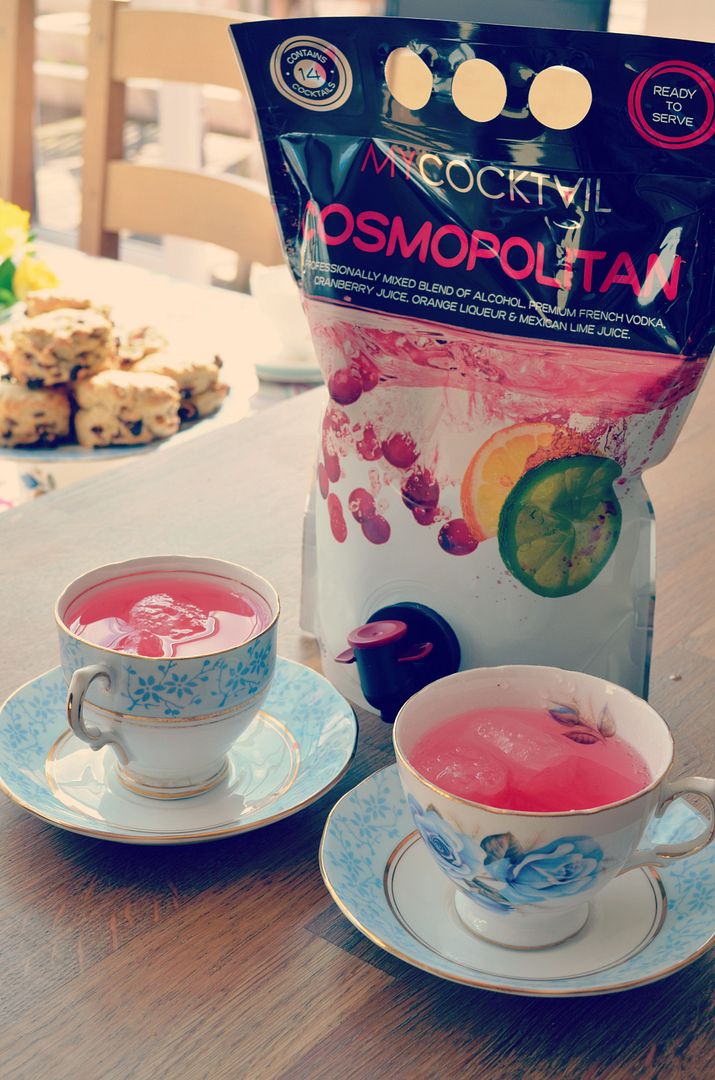 Apart from the small mishap with the sandwiches all went well and we had an amazing afternoon and evening with lots of laughs, lots of food and possibly too many cocktails, including the locally famous Flip Flop, invented by a friend whilst on holiday last year, and my favourite Kir Royale's (Chambord Raspberry Liquor and Champagne - introduced to me by fellow Chambord lover Heather).
I decorated the room with tissue paper Pom Poms, and bunting made from a pack of 'afternoon tea' paper that I found in Dunelm whist shopping for my bunting table covering. I also found some mini bunting in there that I used to decorate my cake stand and made some washi tape bunting which was hung between 2 paper straws to decorate the Victoria sponge. I bought a couple of bunches of flowers and popped them in empty jam jars which I decorated with a few strips of washi tape, and placed around the room.
Here's the menu for the afternoon, many of the items can be made in advance, such as the meringues and choux buns, and then filled with cream just before serving. I made the carrot cakes the day before, as well as the Victoria sponge and then filled it with cream on the day. Scones were made fresh a couple of hours before my guests arrived, as were the chocolate strawberries which were a last minute addition as I'd bought such a big punnet of strawberries. I also made the chai tea cocktail a couple of days previously and kept it in the fridge, along with the base for the fruit cocktail.
Roast Beef & Rocket
Grilled Aubergine and green Pesto
Chicken Tikka
Cucumber
Ham
Victoria Sponge filled with fresh strawberries & whipped Cream
Raspberry Choux Buns
Chocolate Meringues
Chocolate Dipped Strawberries
Mini Carrot cake with Cinnamon Cream Cheese Frosting
Fruit Scones with Jam and Clotted Cream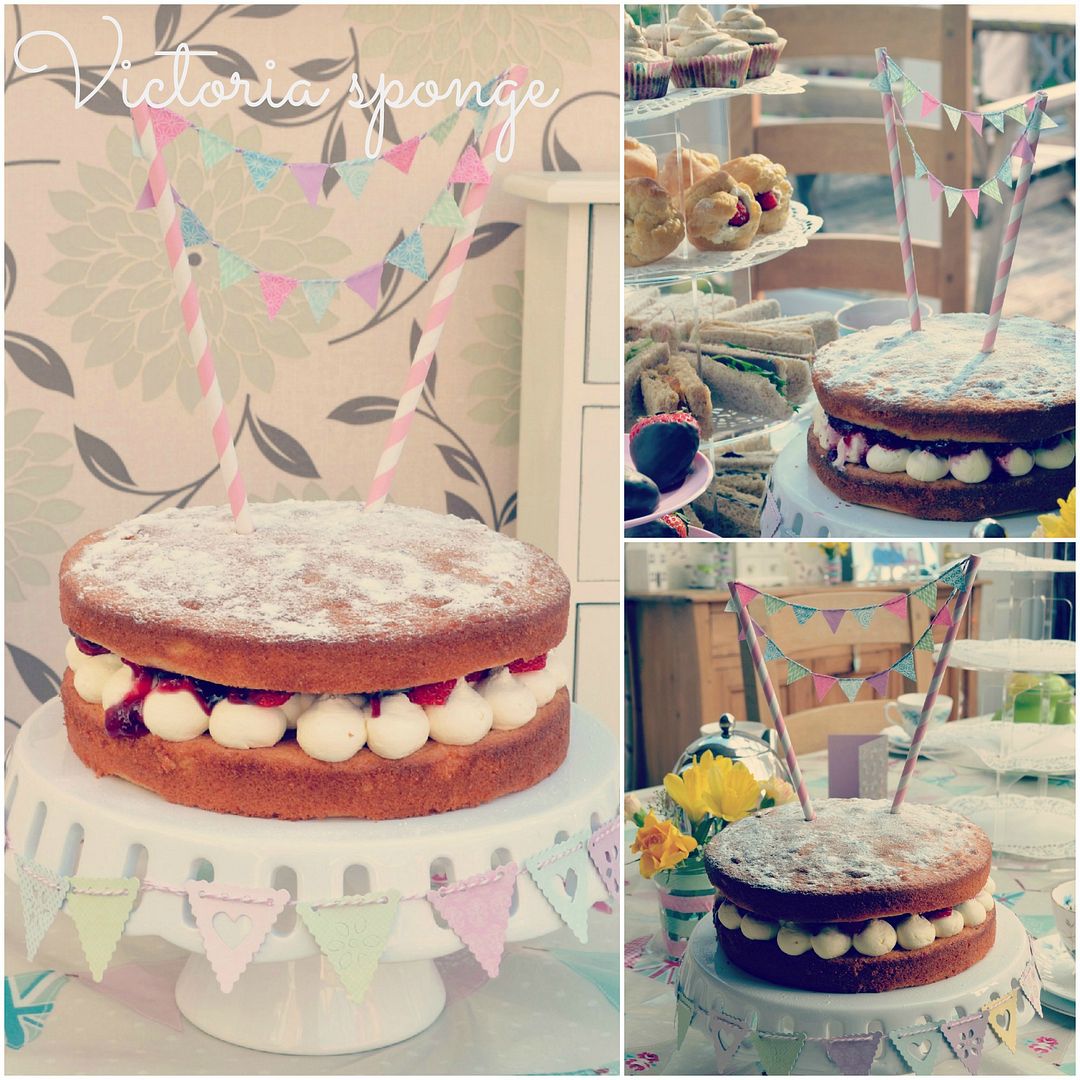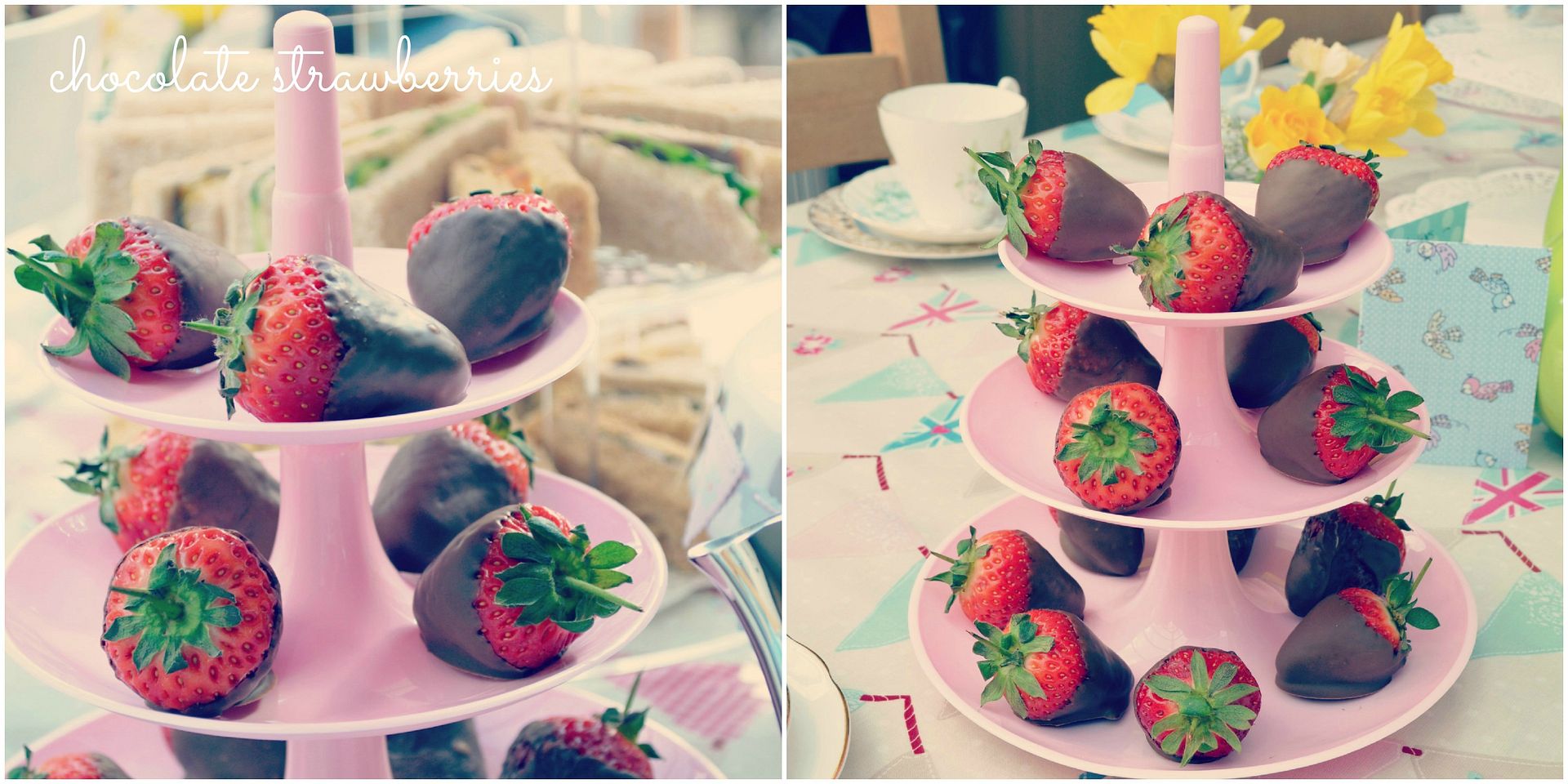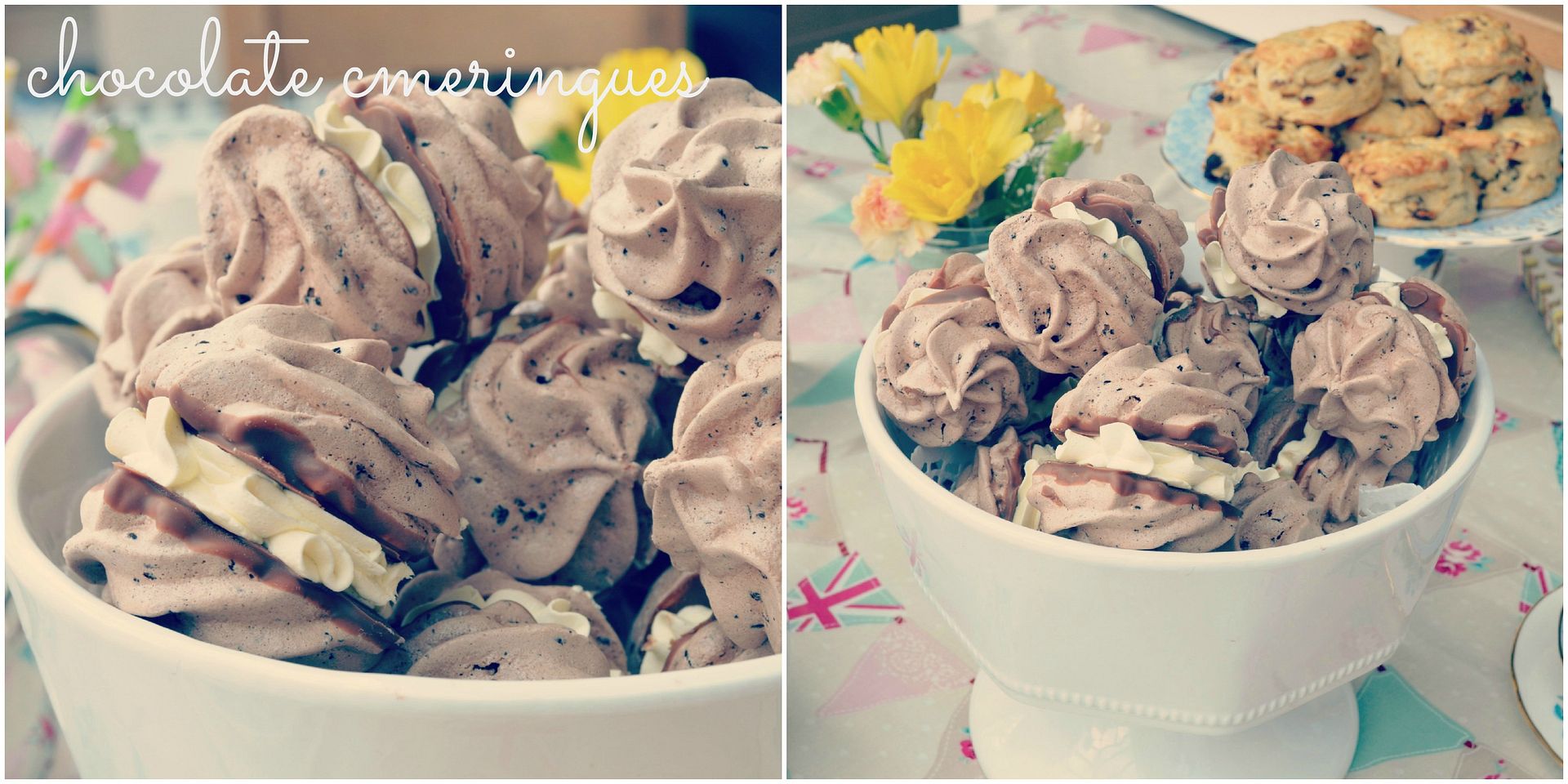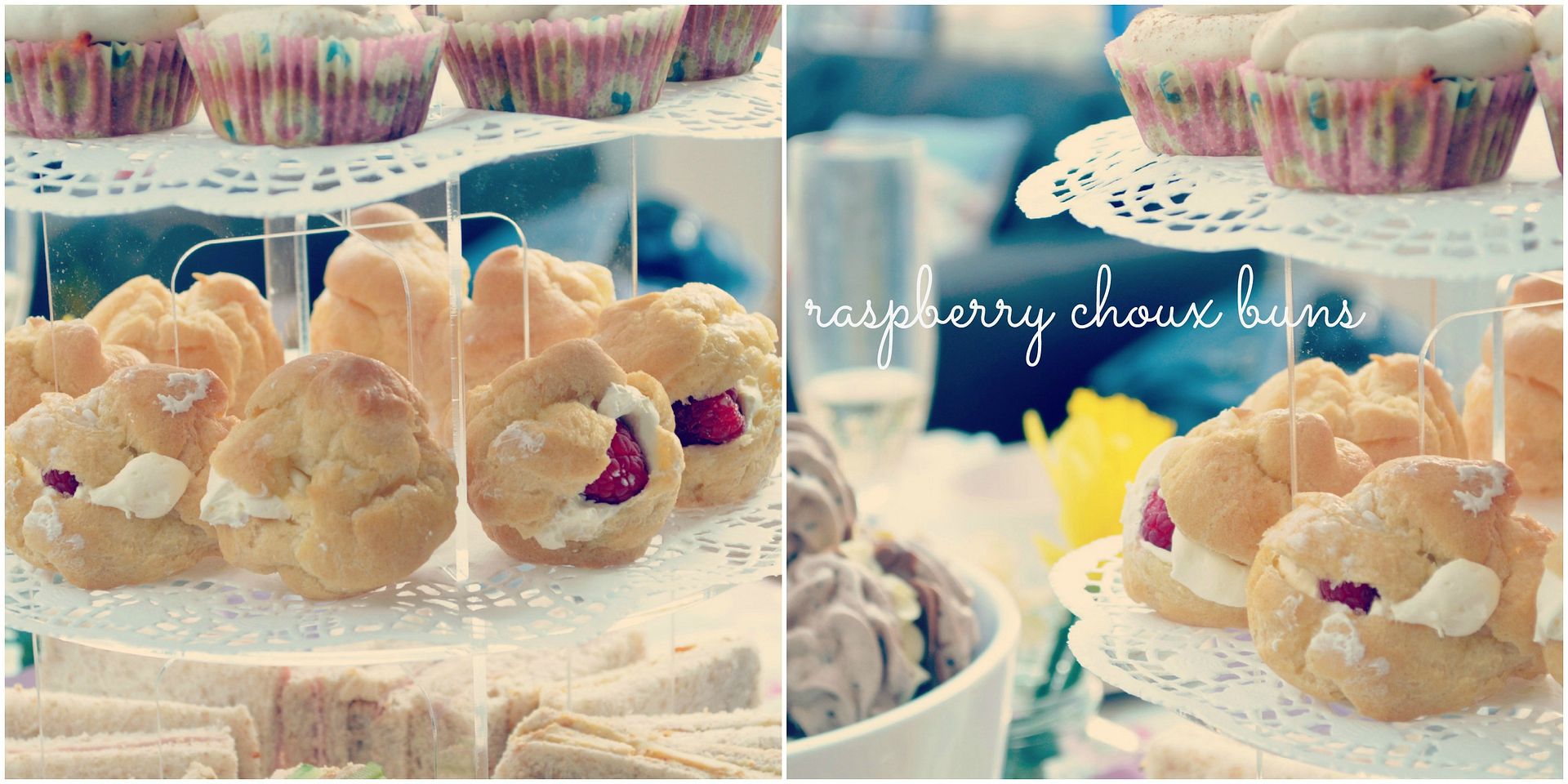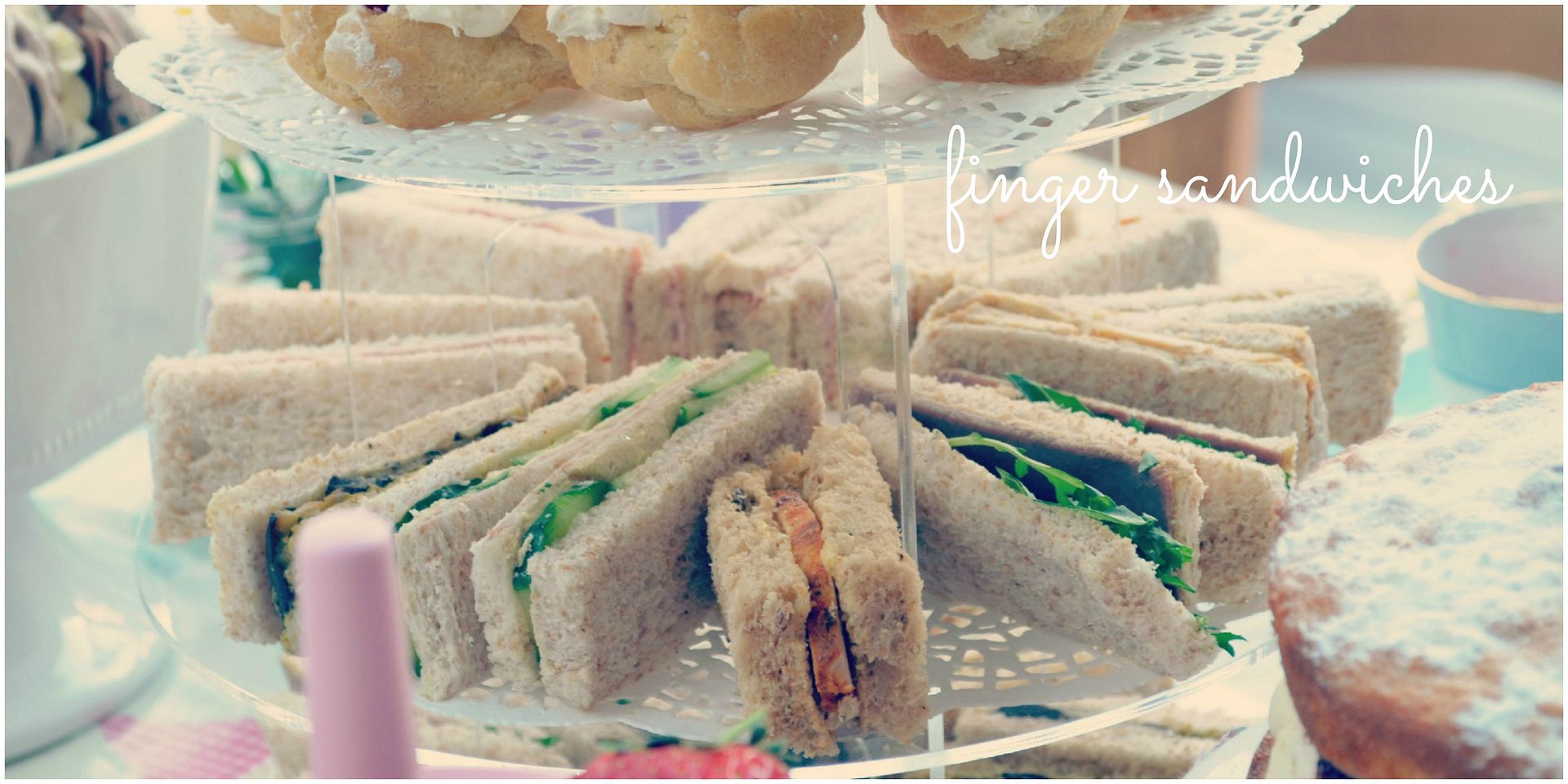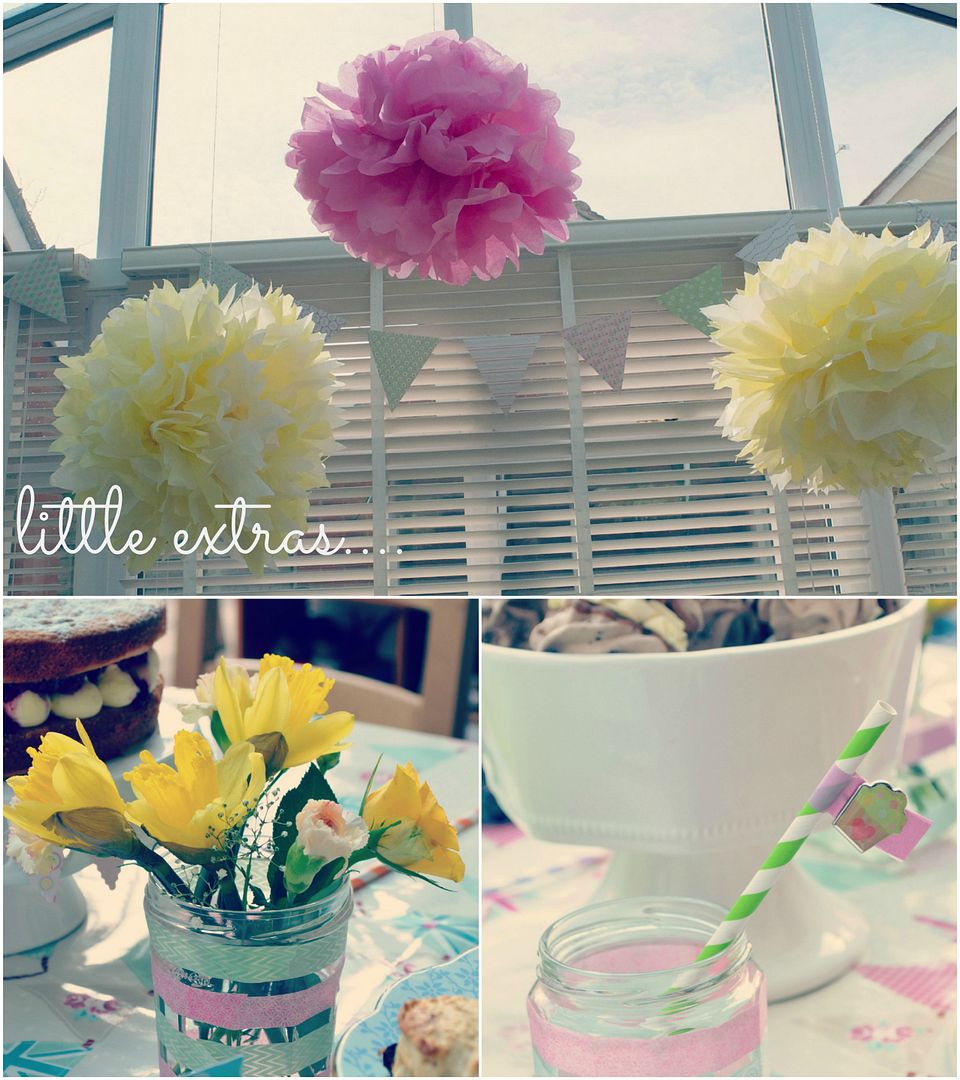 Cheeky Chocolate Chai Tea Cocktail
per person you will need:
75ml boiling water
2 Chai teabags
35ml dark Rum
35ml Baileys (or equivalent cream liquor)
20ml Double cream
1 tsp Nutella
Pour the boiling water over the teabags and leave for approx 20 minutes

Use a little of the tea to mix the Nutella to a sauce

Remove the teabags and allow to cool

Once the tea is cool mix with the rum, Baileys, cream & Nutella

Chill in the fridge before serving
Flirty Summer Fruit Tea Cocktail
per person you will need:
2 fruit teabags (I used Twinings Strawberry & Raspberry)
1 tsp Chambord raspberry liquor
Sparkling Rose wine / Cava / Champagne
Make the tea up with the boiling water and teabags & leave for approx 20 minutes

Remove the teabags and allow to cool

Stir in the vodka and Chambord

Chill in the fridge until you're ready to use

To serve pour equal amounts of the fruit cocktail and sparkling wine, Cava or Champagne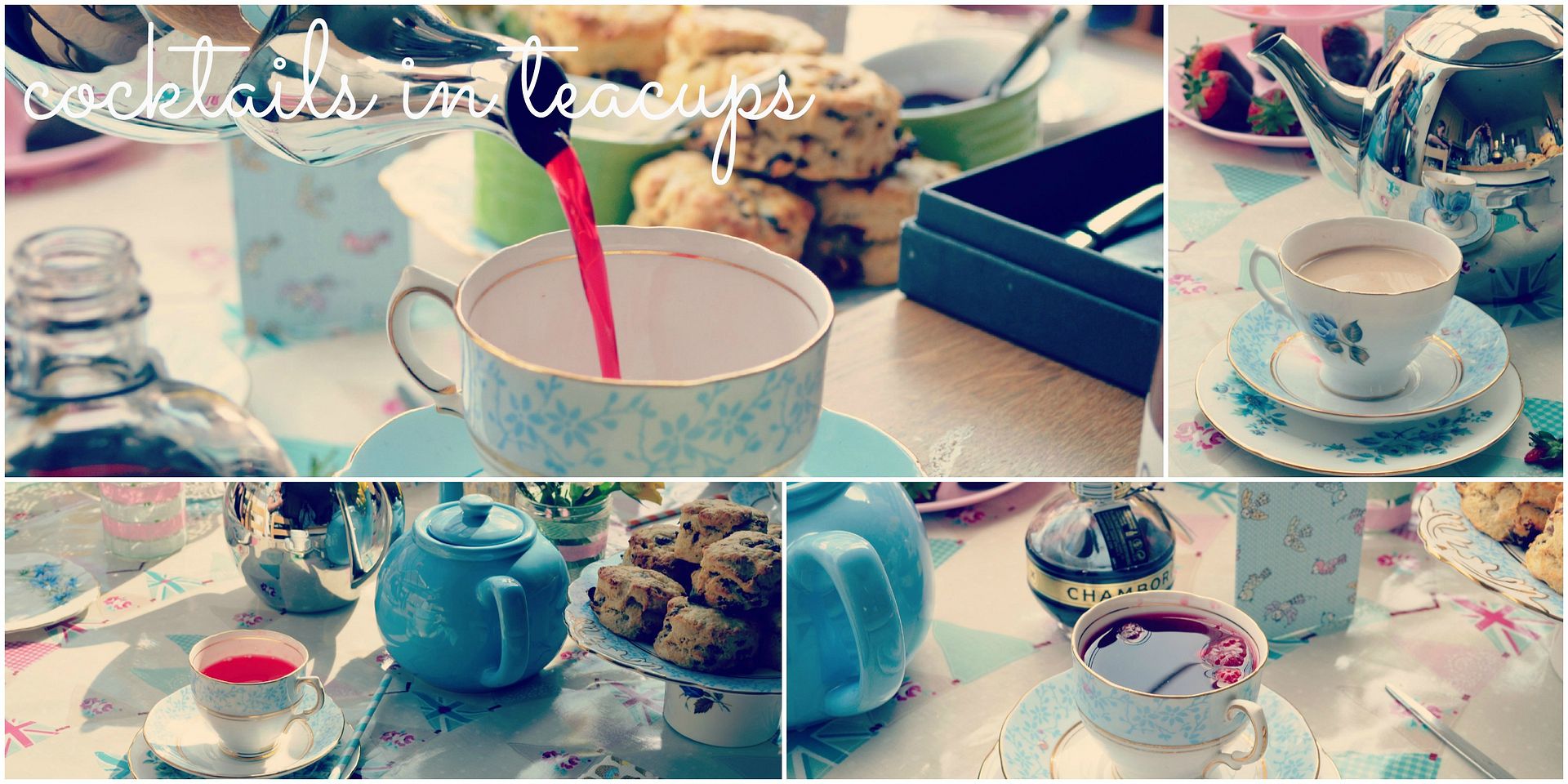 As the afternoon drifted into the evening there may have been a small amount of singing and dancing, some of which may have taken place on a table. Any likeness in these pictures to anyone that you may see in a respectable day job is purely coincidental, it's definitely not them....honest.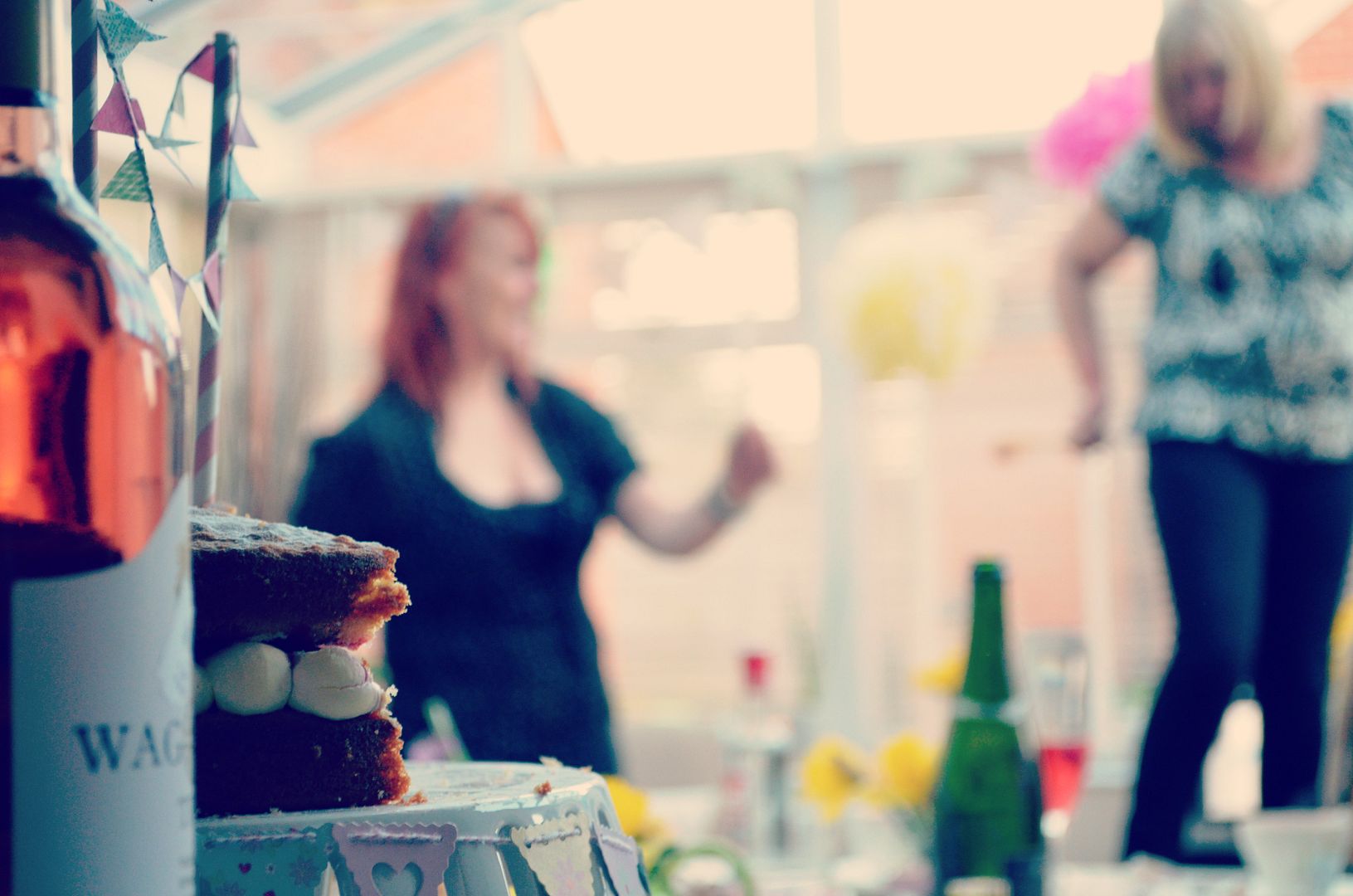 I was sent 2 pouches of MyCocktail for the purpose of review. All other food & drink shown in this post was provided and paid for by myself.
MyCocktails are available from Asda for £13.99 with up to 14 servings in each pouch. On their Facebook page there is the chance to win a cocktail pouch weekly.