It's not often that I get to go out without the kids, especially not to another town, and with one of my best friends. The purpose of the trip to Manchester was to review the new menu at Chiquito's. We could've chosen to visit a restaurant nearer to home but it would have meant that one of us would be driving, and as we wanted to try out some of the cocktails on the menu we decided to make an afternoon of it and go on the train.
It was a fabulous day out, despite the cold and drizzly weather. We arrived in Manchester just after 1pm and headed straight for the restaurant, only stopping briefly en route to watch a street band who bizarrely had rat heads on. We were then accosted by a spaceman outside Boots brandishing a can of Lynx deodorant before finding our way to Chiquito's just before 2pm.
The restaurant was very busy at this time but thankfully I'd made a reservation online in advance. We were shown to our table by a friendly waitress and asked if we wanted drinks. We couldn't decide and asked her to come back in a few minutes, which she did. Our food and drink order was taken and within a couple of minutes our drinks arrived - 2 lovely Kir Royales, a beautiful combination of Prosecco and Chambord. Less than 10 minutes later our food arrived, with me apparently commenting 'wow, already!'.
I chose the Fajita Chicken Salad and my friend the Peri-Peri Chicken Burger and salad, with a portion of fries on the side for us to share.
Our waitress was really attentive and regularly checked on us to see if everything was ok and we needed any more drinks. After the main course we ordered some cocktails and a short time later ordered a dessert to share, a Banana Taquito, which is a banana wrapped in a a cinnamon tortilla and fried and then served with ice cream and chocolate sauce. The dessert was plenty enough for the both of us as we were pretty full after the main course but I desperately wanted to try the Taquito. Both the cocktails and dessert again arrived really quickly which made me wonder if presenting my voucher before our meal had allowed us a privileged service. However, I could see by looking around, that the quick service wasn't just confined to us as, in the 2 hours that we were there, the tables either side both had two different parties of diners who all received their meals in good time.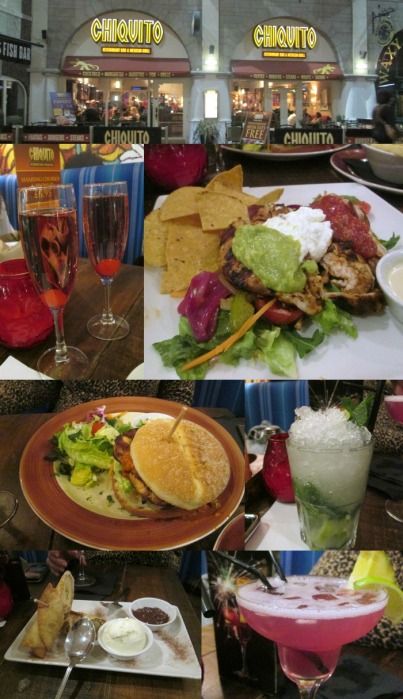 The restaurant had a real buzz about it, with lots of chatter and music, neither of which was too loud that you couldn't hold a conversation, yet was loud enough that you didn't feel you had to whisper through fear of being overheard. I did however feel that the tables we were seated at were a bit too close for my liking, and it felt as though we were dining with strangers. Aside from this we had an excellent experience, with great food and drinks and I would definitely visit Chiquito's again, in particular this one in Manchester.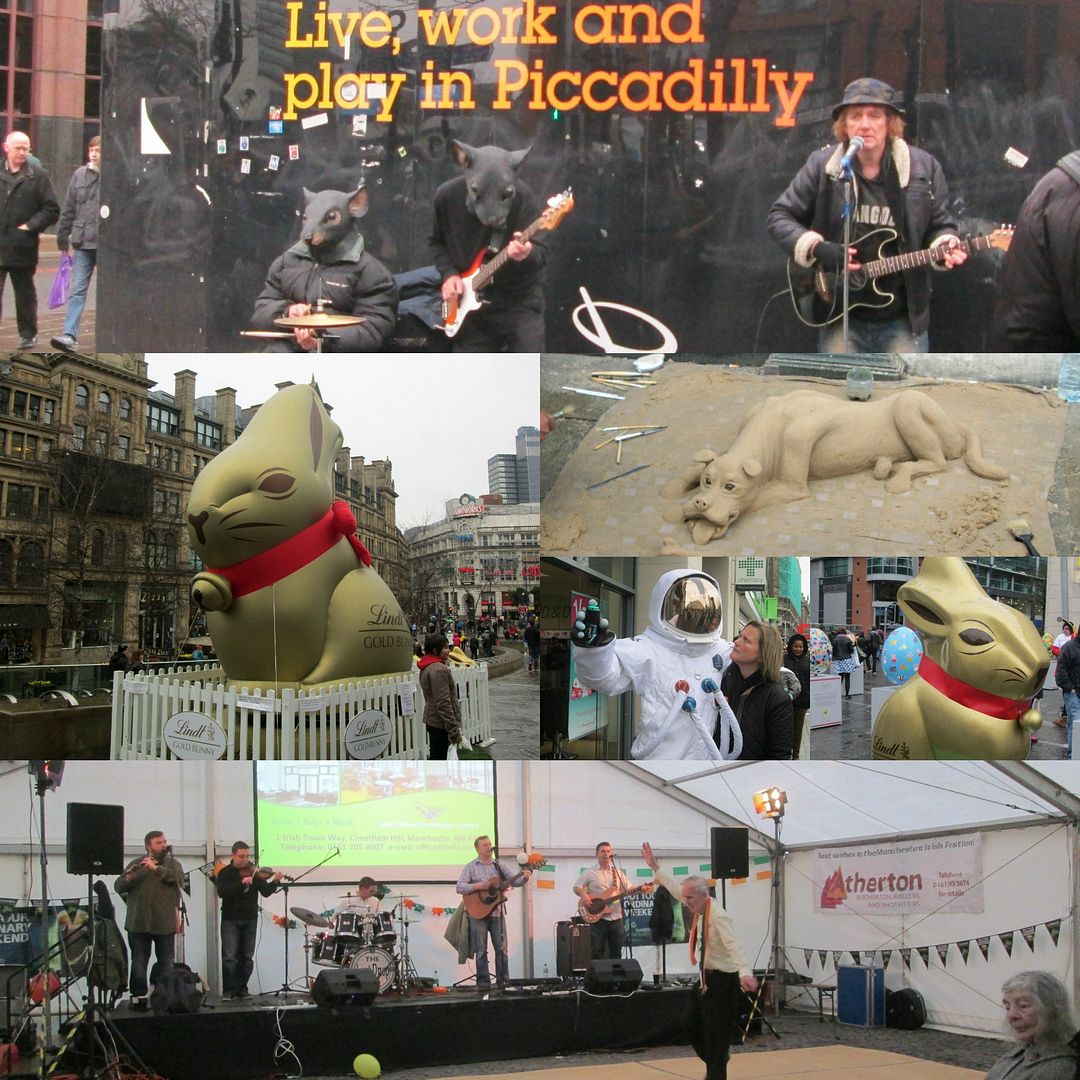 Following our meal we decide to have a quick look around some shops and, whilst getting ourselves a little lost, stumbled across an Irish Festival with live band and Guinness on tap. It would be rude not to pay a visit wouldn't it! It was a really cold and miserable day so, after admiring some giant Lindt bunnies, headed to the warmth of a bar for more cocktails before wandering around trying to figure out how to get back to the station. We hopped on a bus and, after handing over a few pound coins, found ourselves no nearer to the station than we had been previously. A lovely lady took us under her wing and led us back to the station, whilst regaling us with her tales of why a freelance journalist from London would find herself in Manchester on a cold and wet Saturday afternoon. Turns out she'd spent the afternoon coking naked with the writers of Naked Vegan Cooking, a food blog dedicated to (surprise, surprise) cooking vegan food in the buff - who knew that people did that?
I was provided with a voucher towards the cost of food & drink for the purpose of this review