It's Twitter party time again. Some people love them, some hate them. If you love them and want to join in the fun with the chance of winning prizes then come and join us, if you don't, then don't.
Everyone is invited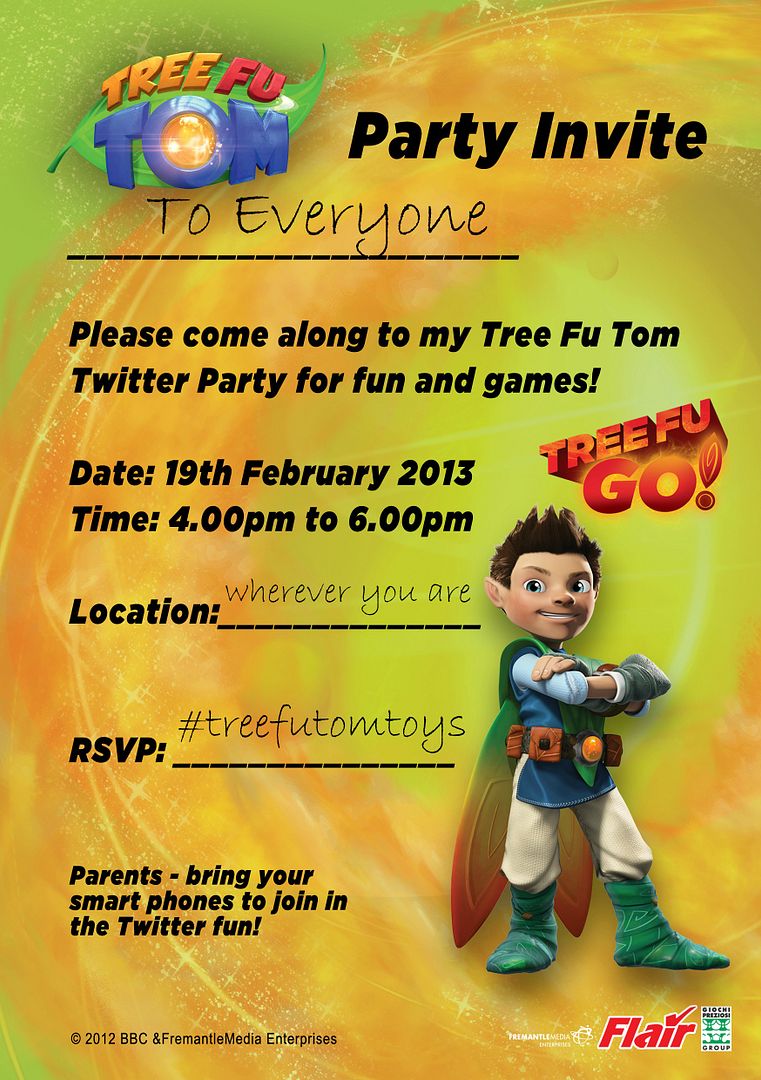 We'll be playing with some great Tree Fu Tom toys and sharing our views.
Tree Fu Tom is about the amazing adventures of a young boy called Tom who, with the power of 'movement magic' called 'Tree Fu', can transform into a tiny but mighty magical super hero and travel to a wondrous enchanted kingdom called Treetopolis that exists in a tree in his back garden.
Here he meets his magical friends: Twigs, Tom's best friend and side-kick, a silly and energetic acorn sprite; Zigzoo, a bubbly, eccentric tree frog inventor; Squirmtum, an odd-job woodlouse with a heart of gold; Ariela: a beautiful but rough-and-tumble ranch-running butterfly; and Treetog, a Tree Fu Master and wise teacher.
Set against the Treelings are the mischievous Mushas: comically bungling, no-good, foolish fungi, brother and sister duo Stink and Puffy.
Tom and Twigs are inseparable as they become embroiled in amazing, action-packed adventures, which always lead to trouble, impending disaster and near catastrophe. When events run beyond their control, it is only with help from the audience performing Tree Fu moves and passing their magic through the screen that Tom can create spectacular Big World Magic and save the day! As the audience joins in with Tom, they too become superheros!
All spell movements have been developed from those used to help children who have movement disorders and difficulties such as Dyspraxia, and the spell sequences have been designed by movement specialists/therapists to assist and enhance the development of all children – regardless of whether they have any movement challenges – at a crucial time in their growth.