Garden parties are a brilliant way to enjoy the nicer spring and summertime weather and get together with friends and family. Along with the entertainment, one of the most important items on your garden party to-do listing is planning (and executing) the perfect menu.

Use this guide to help get you started with the need-to-know of planning a truly memorable garden party:
The Perfect Menu
At a garden party, the general rule is that fresh tasting foods and thirst-quenching drinks are the biggest hits. For this reason, veggie and fruit platters with chilled dips always go down well with guests, as do cucumber sandwiches, egg mayonnaise sarnies, salads and chilled pea or watermelon soups. Fresh seafood dishes will also hit the spot with guests, so consider adding grilled shrimp scampi, crab cakes, seared sea scallops or poached salmon with cucumber, cress, and caper sauce to the menu.
Of course, firing up the bbq is another garden party tradition, so grill pieces of chicken or tofu to include in kebabs or char-grill vegetables like aubergines, courgette and peppers to give them that smoky flavour.
tofu kebabs

When it comes to drinks, the colder the better. Home-made lemonades and punches are ideal for beating the heat, while sangria, beer and chilled champagne are the best alcoholic choices for your garden party.
Don't forget about dessert either: lemon curd tarts, fairy cakes and Victoria sponge cakes are tasty garden party treats.
Making Sure Serving Goes Smoothly
A little decorating and table preparation can go a long way in making guests feel at home in your garden. After all, you don't want them to sit awkwardly at the table whilst you run inside to retrieve an extra fork or a cold beer from the refrigerator. Use seasonally-themed trays, platters and jars to help you carry the food from your kitchen to the garden area. This Portmeirion 'Spring Days' platter is a perfect example.
Portmeirion Spring Days Rim Platter
Place a cup full of brightly coloured cutlery (like this rainbow offering from Cath Kidston) on each table so guests can easily replace a dropped fork, and keep beverages chilled in galvanised buckets of ice in a shady area of your garden.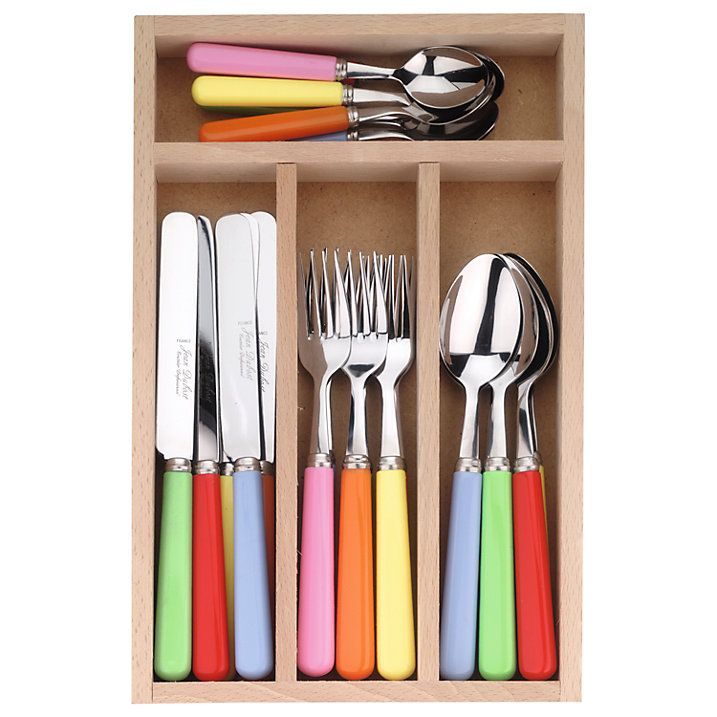 Kath Kidston Cutlery
Last but certainly not least, don't forget to set the mood when you're decorating the tables: use colourful and floral table cloths, tea lights, illuminated jam jars or traditional outdoor lighting such as lanterns or string lights – these make great decorations, especially if the garden party will take place in the evening hours.
LED lantern
Clean-Up
While it may be tempting to buy disposable plates, cups and utensils for the occasion, stick with your regular kitchen dishes and silverware instead: they're sturdier than the plastic variety, and more economically friendly. An energy efficient dishwasher is a must-have for facilitating easy clean-ups, as industry standard holds up to 12 place settings in one load and uses less energy than washing up by hand. Use machine-washable linens as tablecloths, and in the inevitable event that a spill occurs, make sure to react quickly so that it doesn't set. Consider moving your compost and recycling bins temporarily outdoors for the event so that guests can toss their trash easily while still being eco friendly.
I received payment for publishing this guest post