In our house breakfast is definitely the favourite meal of the day with the children. I have never known them to skip breakfast, and they will often follow a bowl of cereal by fruit or toast, or another bowl of cereal. At the weekend we all try and eat together, and on Sundays, the only leisurely morning of the week, I try and make something a bit more exciting than cereal or toast.
Pancakes are the most commonly requested breakfast 'treat' and I've previously shared my favourite recipe for American style pancakes, but as they're so good there's no harm in sharing it again.
American Style Banana Pancakes
1 cup plain flour
1 tbsp sugar
2 tsp baking powder
1 egg
3/4 cup milk
2 tbsp oil
1 banana, mashed
Mix all the ingredients together until well combined, but do not over beat/whisk.

Spoon or pour batter (I find it easier to pour from a jug) into a greased non-stick frying pan around 3 inches in diameter

When the pancakes are dry around the edges flip them over & fry on the other side until browned

Drizzle with lashings of Maple syrup

We're lucky that we have quite a large kitchen with a big table in the centre where we all sit when we're eating together. On weekdays though the children and husband often take shifts at the breakfast bar. The stools we have aren't the most comfortable but they do the job. When we re-fit our kitchen (hopefully this year or next) I definitely want to get something more comfortable, like these
breakfast bar stools
from Atlantic Shopping. With padded seat, variable height and 360 degree swivel I think that we're going to be needing a bigger breakfast bar though, as no-one is going to be wanting to vacate these in a hurry.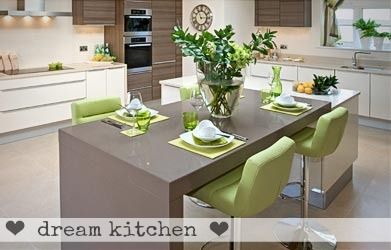 This post is supported by
Atlantic Shopping