I've been sent a lot of products to review, most of them I like, some of them I really like, but only a few do I really, really love and this is one of those.
When I saw The Boy and Me tweet a picture of her Trolley Dolly I knew I had to have one. What a great idea, enough reusable bags folded up nice and neat inside another bag the size of a handbag - genius! So when I was asked if I would like to review one too I couldn't contain my excitement - little things and all that.
The Trolley Dolly is a patented world first solution to get a realistic sized supermarket shop home without using a single plastic bag. I've been using re-usable bags for a while but they're so bulky and take up so much room in the boot of my car when they're not being used. The Trolley Dolly is tiny in comparison, yet holds so many bags inside.

I chose the Pin Dot Black bag and the bag itself measures 25cm x 25cm x 15cm deep with a shoulder strap, zip pocket on one side, large enough for a purse, and a clear plastic pocket on the other, ideal for your shopping list. It also comes with a handy trolley coin.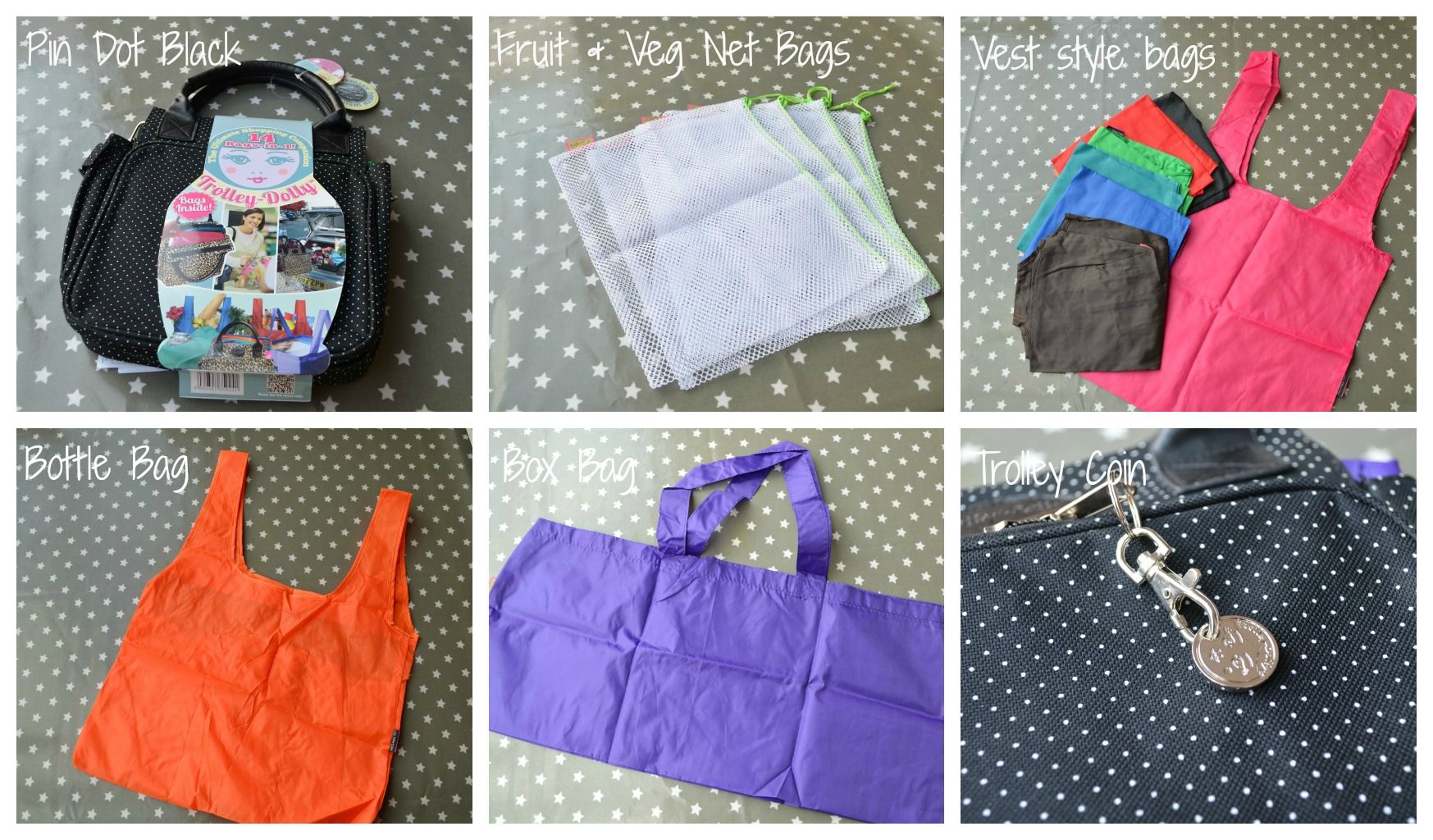 This morning I finally got to use the Trolley Dolly for my weekly shop, although the shop wasn't quite as big as it usually is. Some of the bags I used weren't completely full and amazingly I still had two bags that weren't used at all.

The vest style bags are great, they can hold a lot more than you would expect and the long handles make them really easy to carry. I didn't need to buy the usual boxes of cereal or loaves of bread this week but the large box bag will be ideal for carrying those. The bags feel really strong and even the one with the heaviest items in didn't feel as though it was going to give in under the strain any time soon.
I couldn't recommend this bag highly enough, I was even explaining it to the lady on the Asda checkout at 8am this morning. I'll be telling all of my friends about it and may even be buying my Mum one for Christmas!
I was sent the Trolley Dolly for the purpose of this review