Since I first made a den for Jack with his Den Kit he's been really into 'camping' so he was overjoyed to receive camouflage Wigwam (some may call them a teepee or tipi) to play in.
The wigwam needed some assembly to start with, which mainly consisted of slotting wooden poles together and passing them through elasticated loops on the inside of the wigwam.
They were all then held in place with a cord around the top - all in all this only took around 15 minutes.
So far we've put the wigwam up in the playroom, kitchen and lounge and it's very easy to move from room to room by gathering all the poles together and then spreading them out again to set it up. When Hanna got inside for the first time she said 'it looks small from the outside but it's massive in here' and I couldn't agree more - I would say that you could easily sit 5 or 6 children inside. It stands 1.9 metres high and is 1.4 metres in diameter.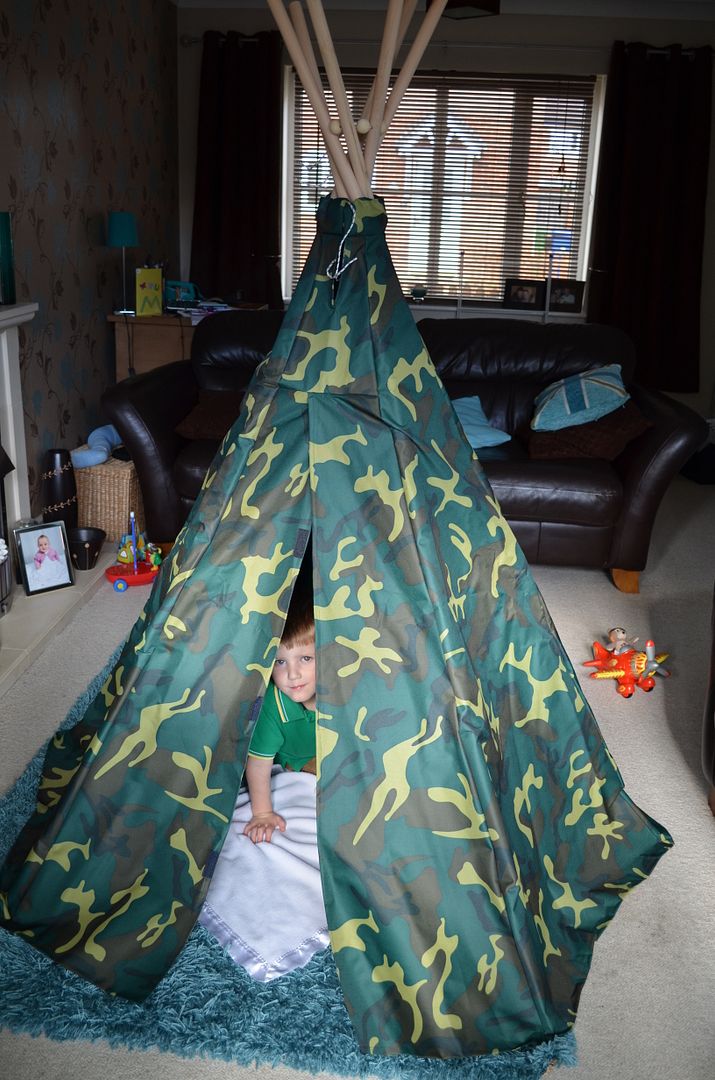 I was very impressed with the quality of the wigwam, especially the strong waterproof fabric, which can be used inside or out.
I also think that it's very reasonably priced at £54.99 from www.playhouses.co.uk along with other play tents, wigwams and some amazing wooden playhouses, but if you fancy trying your hand at making your own den, why not follow this great tutorial on how to make a yarn teepee.
It's a shame the the wigwam doesn't come with a carry bag though as it would be handy to take it out on days out and adventures.
I was sent the wigwam for the purpose of this review.