I'm not a great fan of fish and because of this don't tend to buy it very often but when I was asked by Princes if I could come up with a family friendly recipe using their Wild Alaskan Pink Salmon I agreed as I do love a challenge.
Fish is a great source of many essential vitamins and minerals, such as vitamins A and D, selenium and calcium.* Oily fish, such as

mackerel

,

sardines

,

kippers

and

salmon

, are also rich in

omega 3 fatty acids

, which can help prevent heart disease.*
*As part of a balanced diet
I've already posted recipes for Salmon Pots and Salmon Fishcakes but this pasta bake can be eaten as a complete meal, no accompaniments needed, just a bowlful of steaming hot pasta - perfect for these miserable Summer nights.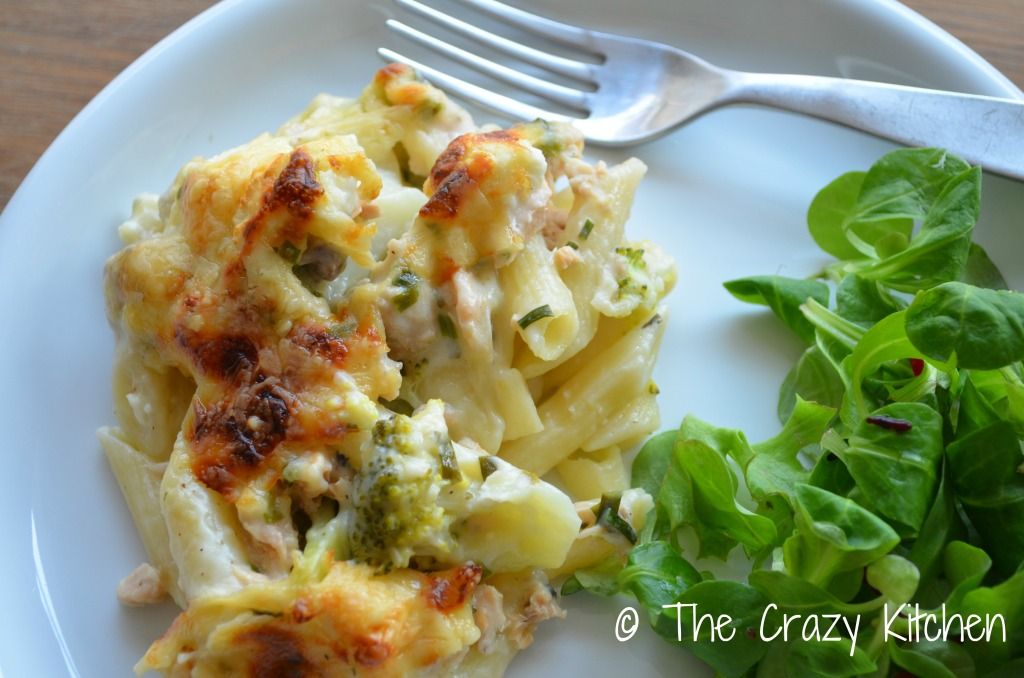 50g Butter
50g Plain Flour
1 Pint milk
Vegetable Stock Pot (Knorr), or fresh mixed herbs
Ground Black Pepper
450g Pasta
200g Broccoli Florets, cut into bitesize pieces
2 Cans Wild Pink Salmon, drained
200g Feta Cheese, cut into 1cm pieces
100g Mature Cheddar Cheese, grated
Melt the butter in a saucepan, add the flour & whisk for 2 minutes over a low heat

Add the milk to the pan gradually, whisking continuously, until all combined

Add the stock pot and season with black pepper

Bring slowly to the boil, stirring continuously, until thickened and then remove from the heat.

Cook the pasta as per directions on the pack, adding the broccoli 3 minutes from the end of cooking time

Drain the pasta and broccoli and add to a large baking dish

Flake the salmon over the pasta & broccoli

Scatter the feta over the dish

Pour the sauce evenly over and top with grated cheese

Bake in a 180 degree (C) oven for approx 30 minutes, until browned and bubbling
I was sent Princes Wild Alaskan Salmon to use in family friendly recipes