I was recently invited by NEXT to an event to preview their new Autumn/Winter range and as the Spring/Summer event last year was such a great day out I felt privileged to be one of the lucky ones to be invited, and accepted promptly. We were then told that Jack needed to attend a follow up appointment at the fracture clinic on the same day. Although I was very tempted to let the husband take him on his own I decided to begrudgingly decline the invite.
However, to soften the blow a little, NEXT have sent us a few items of clothing for Jack and Hanna to review.
I find that NEXT clothing fits Hanna better than other shops that I've bought from. I like the fact that the jeans have adjustable waists and they have room in the legs for her sporty thighs. She's also very broad with all the swimming she does and often when we buy tops in larger sizes from other stores to fit across her back they don't then fit right in other places, with NEXT tops they are again usually a good fit.
We were sent a pair of butterfly embellished jeans as well as a twin pack of heart t-shirts. The jeans are boyfriend style but have a lovely girly look to them with the floral fabric trim and embroidered butterflies - practical but pretty. The t-shirts are in lovely soft colours which go perfectly with the jeans, with the sequin hearts adding a little bit of sparkle. Some of the other items that I have my eye on for Hanna this season are the striped cardigan and denim star boots which I think will go with the jeans really well.
For Jack we were sent the new 'Jack the Lad' hoody. We had one last year when we attended the last NEXT preview event but I think I like this one even better as it's in a lovely bright red. There are always loads of cute little boy clothes that I love and this Autumn we will definitely be buying a little pair of Chino's just like big brother's. I thought the red gingham shirt is a bit of a bargain at only £8-£9 so might have to get him one of those too, and not forgetting a cute pair of boots in a perfect colour for hiding mud splashes.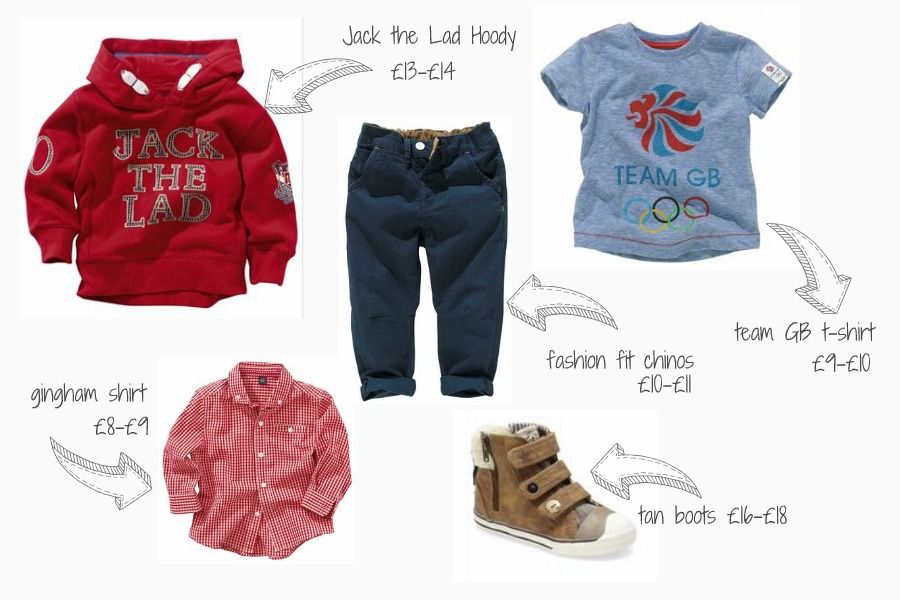 Unfortunately my children, however gorgeous they are, will never make models...just look at those grumpy faces on them!