A few weeks ago I was invited to a launch of Welch's new Rose Grape Juice but as I couldn't attend they sent me a few cartons of their juices instead.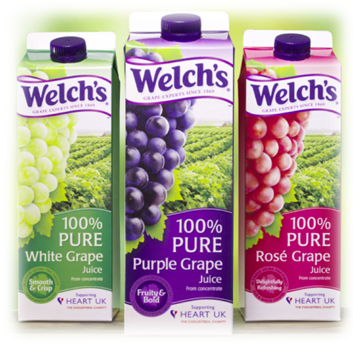 Not only does grape juice have health benefits, which you can read more about here, it also tastes really good and is a great alternative to fizzy drinks and squashes for families.
We were sent some mocktail recipes to try out and myself, Sam and Hanna decided to give the White Grape Mojito a try, although I have to admit to adding a dash of Rum to mine.
White Grape Mojito
A colourful and flavourful surprise for the eyes, this tasty version of the classic Mojito is fresh & invigorating with its combination of muddled lime, mint mixed up with Welch's White Grape Juice, crushed ice and crowned with a fresh mint sprig. You'll want to drink this all year round.
Ingredients
3 Squeezes of fresh lime
1 tea spoon of sugar
5 mint leaves
250 ml Welch's White Grape Juice
Crushed ice
Garnish – Mint sprig
Whilst I loved mine the children weren't too keen on the bits of mint floating around in their glasses so opted to drink the grape juice neat instead. They loved all the flavours, particularly the red and rose grape which they drank with sparkling water during our Jubilee picnic.
You can find more information on Welch's on their Facebook page.
We were sent some cartons of Welch's juice for the purpose of this review