A few weeks ago I saw a review of Hello Canvas by a good bloggy friend of mine, Mummy and The Beastie. The canvas she received was a collage of some of her lovely Instagram photos, and it was absolutely gorgeous and I knew that wanted one and started sorting through some of my own Instagram photos to pick out my favourites. A few days later I was over the moon to be asked if I wanted to review a canvas for myself. My only problem was not having anything more than Picmonkey and Paint to make my collage, which is where Mummy and the Beastie stepped in and offered the services of her very talented husband to make the collage for me. He was happy to oblige as he knew there would be cake in it for him - or there would be if Royal Mail had actually delivered the cakes!
Anyway, the collage was put together and I emailed it off to Hello Canvas on a Friday and the following Wednesday it arrived, well packaged in bubble wrap and cardboard.
I absolutely love it. It measures 70cm x 50cm with a 3cm deep frame. I chose for it to be printed in black around the edges to match the frame around the pictures which makes it look as though it's in a black frame. Canvases start at £13 for a 8"x 8" and go up to £99 for a massive 36" x 56" - you can use their set sizes or choose a size of your own (up to 36" x 56"). The canvas now takes pride of place in the downstairs toilet so it can be enjoyed by all of our visitors.
I'm really impressed with the speed of service and the quality of the canvas and would recommend them to anyone, in fact a friend of mine has seen it and wants one now too!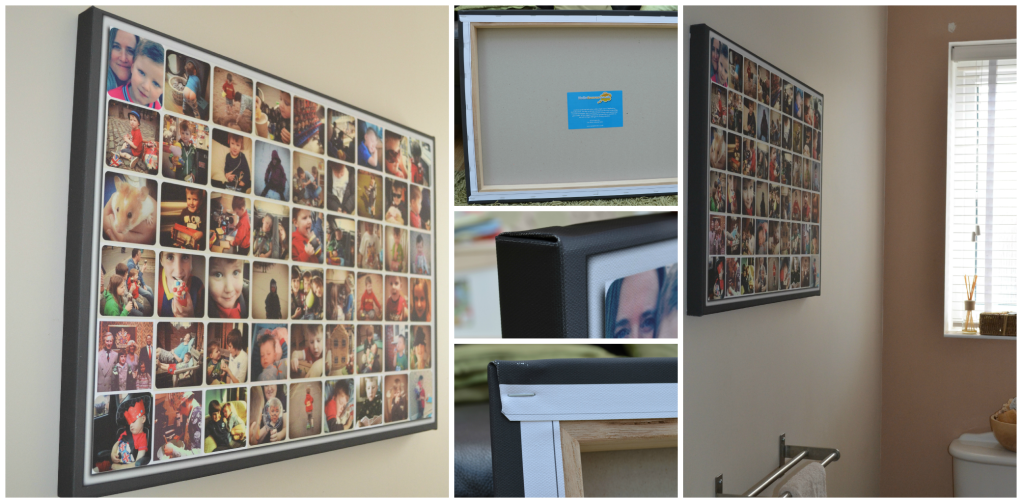 I was sent the canvas for the purpose of this review