We love to do a bit of baking here but haven't been able to do so much recently as there always seems to be so much else to do. When Just Jaks asked if I would like to review one of their flapjack kits I thought it would be a good opportunity for the children to bake something that didn't take too long.
The kits are available in a few different flavours and we were sent the Happy Holidays kit, which is packed full of juicy dried fruits. The package is letterbox friendly so if you order one for yourself or as a gift you don't need to worry about staying in for the delivery.
Inside the box the ingredients are laid neatly in bags with full instructions inside the lid.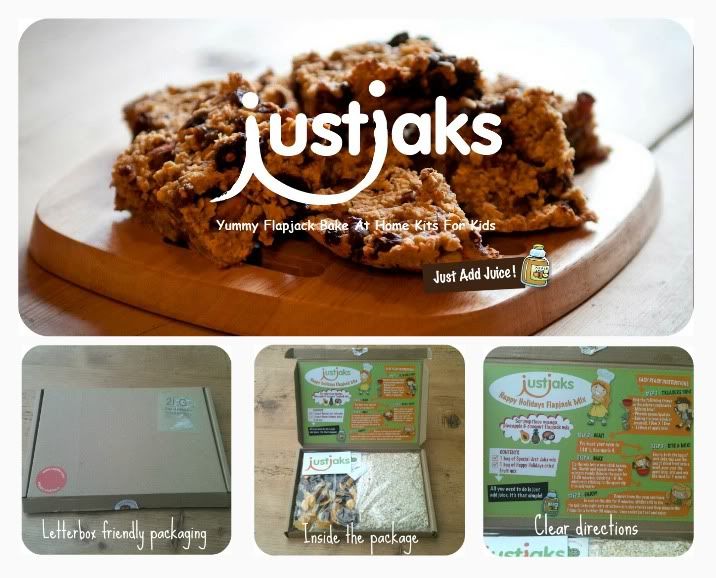 The best thing about the kit is that you don't need to add lots of ingredients. All you need is apple juice.
Mix the ingredients together with 150ml of apple juice and press into a greased baking tin/dish and bake in the over for 16-20 minutes. We baked them for the full 20 minutes as they still looked quite pale after 16, however they were still pale after the 20 minutes too but I didn't want to over bake them so took them out. I'm guessing because they don't have butter and sugar in they won't turn brown like regular flapjacks.

Once out of the oven and rested for 5 minutes I sliced up into 16 pieces and then put in the fridge until they had cooled completely.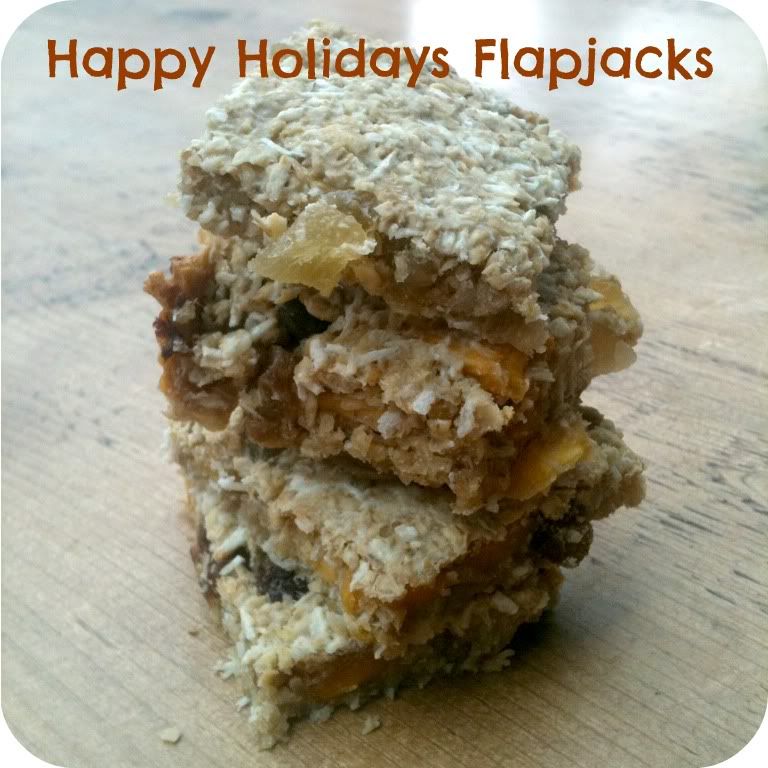 At first bite I thought they were a bit dry and maybe a bit 'too' healthy but then when I got over the fact that they are not really like sweet and buttery flapjacks that we're used to I really quite liked them. The big chunks of juicy sultanas, pineapple and mango sweetened them up and I didn't feel guilty in the slightest eating a couple.
Hanna loved them too, Sam found them a bit too healthy and Jack (being Jack) took a couple of bites and said how delicious they were....and then said that he didn't like them!
Just Jaks was started by two Mums, with 3 children between them, that wanted to give their children a healthy start in life. There's no sugar added to any of the recipes as they are sweetened by the fruit, and there are also no artificial flavourings or colourings.
Just Jaks kits are priced at £4.99 including postage which does seem quite expensive but if you're looking for something quick to bake with the children they are ideal and handy to keep in your cupboard until you need it. They would also make a nice gift and you can add a gift message when ordering.
We were sent the flapjack kit for the purpose of this review