Last week when I was away we received a delivery of pies from Holland's. The husband thought Christmas had come early when he text me about them......until I informed him that he would need to wait until I came home or take the photos himself. He opted to wait to be on the safe side.
Holland's sell a range of proper pies, of the variety that you would be likely to find in your local chippy, and indeed possibly do. They also sell them in Supermarkets as well as online in their own shop.
I'm not a big pie eater myself, mainly because I've spent my whole life on a diet and pies tend to have a high calorie content considering some can be only quite small. However, for the purpose of research, I allowed myself to try a Peppered Steak Pie. I microwaved it as per the directions and although the pastry wasn't as crisp as it would be if I'd oven-baked it, it wasn't soggy. There was a few chunks of steak and thankfully no gristly bits and the sauce was nice & peppery.
The rest of the pies were eaten over the next few days by all the members of the family, although J only ate the sausage out of the sausage roll. They were all baked in the oven apart from the Steak & Kidney pudding which was steamed in a pan as directed. The favourite pie of both S & H was the Potato and Meat which tasted similar to that of a Cornish Pasty. Although all of the pies were really nice it was disappointing that they weren't as full and meaty as shown in the pictures, particularly the Potato & Meat which you can see from the picture on the website (below) is packed full of potato chunks but in reality was a bit empty in comparison.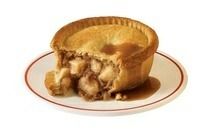 I have listed all the calories next to the names of the pies as I was quite surprised that the sausage roll was so high in calories compared to the rest, possibly to do with it having flaky pastry and the others had shortcrust. The Steak & Kidney pudding had the lowest calories in total as well as per 100g (195 cal / 9.3g fat) versus the sausage roll at 321 calories per 100g and 18.5g fat.
Taking the calories into consideration they're not something that we would eat an a regular basis but I wouldn't mind another of the Peppered Steak Pies to accompany some chippy chips once in a while.
I was sent a selection of pies for the purpose of this review.