At the weekend we went down to Devon for an Easter break. It was a great opportunity for Jack to try out his new scooter from Ozbozz. I built it beforehand and was very pleased to see all the necessary tools included in the box, along with some easy to understand instructions.
The scooter was fairly easy to put together although the plastic knob that you pull to fold the scooter came away in my hand the first time I pulled it - it was easily fixed with a blob of superglue though.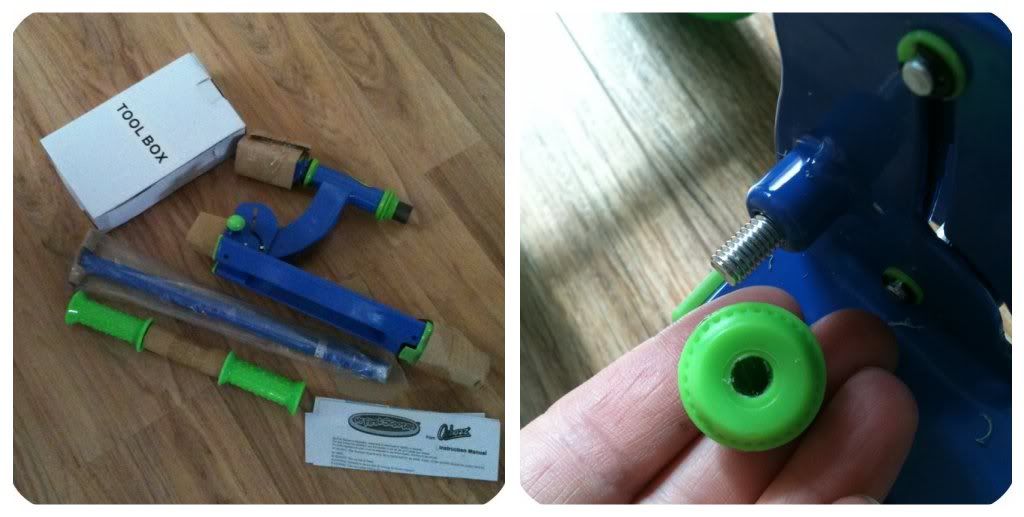 The Ozbozz My First Scooter is designed for children age 2 and up. Jack has just turned 3 and has been on a scooter a few times before so easily got the hang of steering it. For beginners you can make the scooter with 4 wheels enabling them to balance easily and then as they get older and increase their stability you can make it into a 3 wheeler and then a 2 wheeler - just make sure you know where you've kept the shorter axles ready for when you need to change from 2 to 1 wheel.
Jack loved going out and about on the scooter and it also meant that we could leave the pushchair behind. Big brother and sister also got to have a go too!
The scooter has a really handy fold feature which makes it great to put in the back of the car, or boot, and makes it much easier to carry when your little one decides that they've had enough of scootering. It would be even handier if it had a carry strap with it but I just attached the one off the pushchair making it even easier to carry.
The My First Scooter also comes in a pink version.
Stockists include Toys R Us and JD Williams. For more information visit www.ozbozz.co.uk
I was sent the scooter for the purpose of this review.