Frankie & Benny's in Stafford is situated on a small retail park just on the outskirts of the town. The restaurant is a lovely old renovated building that was discovered when work was being carried out to demolish parts of the old GEC factories to make way for the new retail park. It must be one of the better looking restaurants in their chain as it's pictured on the Restaurants home page.
(unfortunately the quality of my photos isn't great due to them being taken in low light on my phone as my camera battery wasn't charged)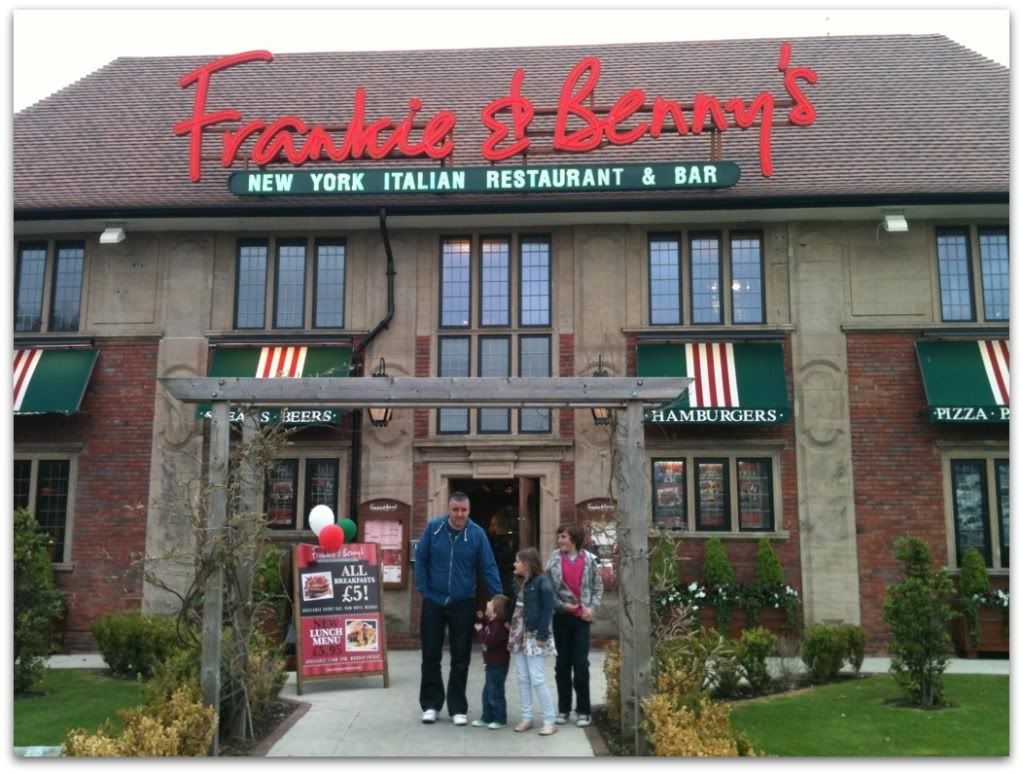 We arrived at 5.15pm on a Saturday so were expecting it to be busy. Within moments of our arrival however we were seated in a vacant booth, which is perfect for a family of 5 with a toddler in tow. We were immediately handed menus and a kids activity pack for Jack. After requesting another for Hanna our waitress then came back with two junior packs. We were asked for our drink orders which then arrived within 5 minutes, when we were asked if we would like any garlic breads, which we declined. We requested a few more minutes to make our choices from the menus, which had far too many tempting options.
At 5.30 we placed our orders and 15 minutes later were asked if we wanted drink refills and our waitress said she would check on our food order. Five minutes later she came back and told us that ours wouldn't be long. By this time the children were getting hungry but thankfully the activity packs and bottomless drinks took their minds off their grumbling bellies.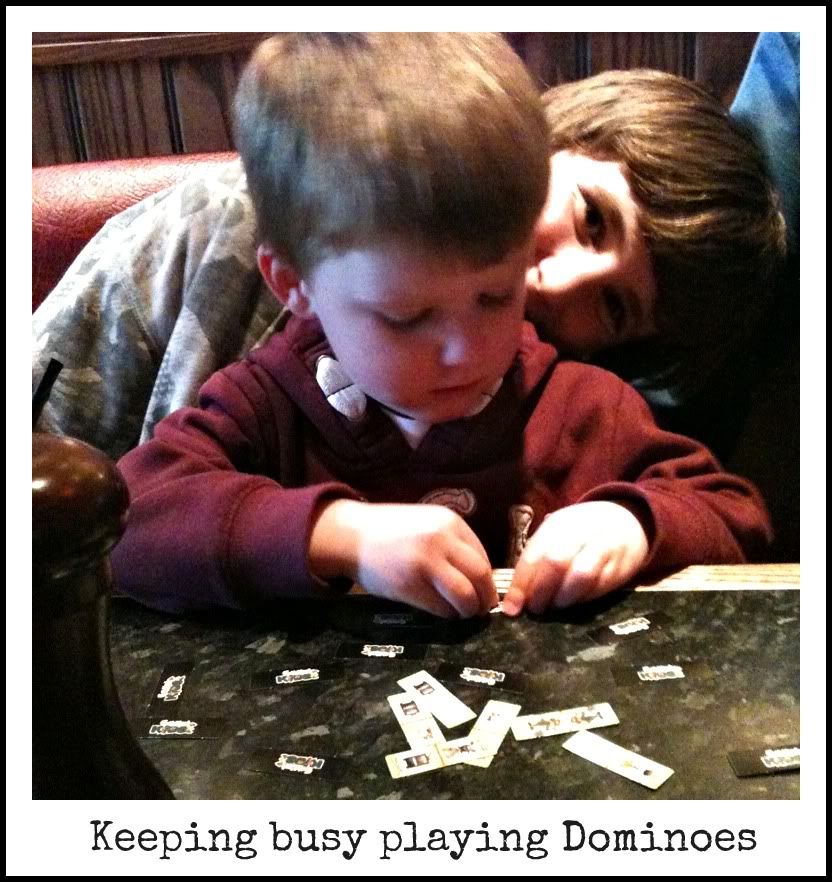 The atmosphere in the busy restaurant was lively. There was a party of teen girls letting off party poppers, lots of families eating and waiting staff busy taking plates and trays back and forth. All the noise from the diners along with the 50's music being played makes it a great place to take children as you don't need to worry if they make too much noise, even Jack's loud voice blended into the background sounds. Part the way through the evening the music stopped whilst 'Happy Birthday' was played and the party of teen girls all sang Happy Birthday to their friend whilst her Mum brought over a stand of lovely looking cupcakes. Many of the diners cheered before returning to their meals and the 50's music was played again.
After another ten minutes of waiting for our food our waitress informed us that it wouldn't be too much longer and the delay was down to my meal taking longer - which made me wonder why a chicken salad would take any longer to cook than anything else that we'd ordered. By this time the restaurant was really filling up, with a queue of families waiting to be seated.
Finally, 37 minutes after placing our order, we received our meals. Hanna's order of Make your own chicken wraps from the Junior menu had obviously been standing under the heat lamps for a while as the pot of ketchup was warm and the pot of cheese had melted. Hanna was happy to have the melted cheese though so we never asked for it to be changed and she enjoyed making up her own wraps with the crispy breaded chicken and salad and said they were quite filling.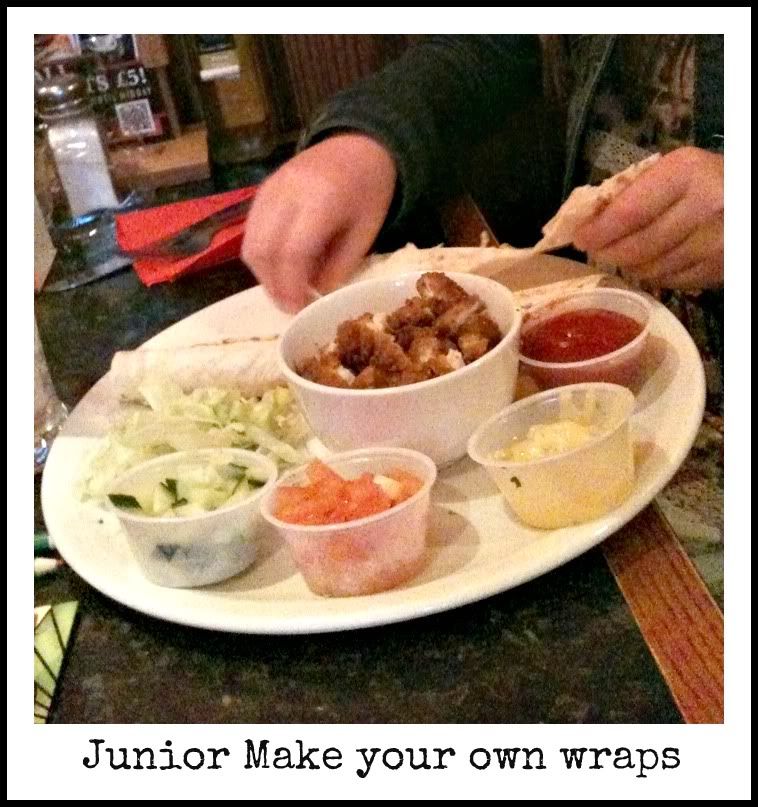 Sam said his Fish and Chips, also off the junior menu, was really nice and, after giving me a taster, I can vouch for it being very moist fish with crunchy batter. He did say that it didn't fill him up much though so I don't think it will be long before we will be needing to order off the adult menu for him unfortunately.
Jack chose his favourite sausage and mash from the kids menu which was just the right sized portion for him.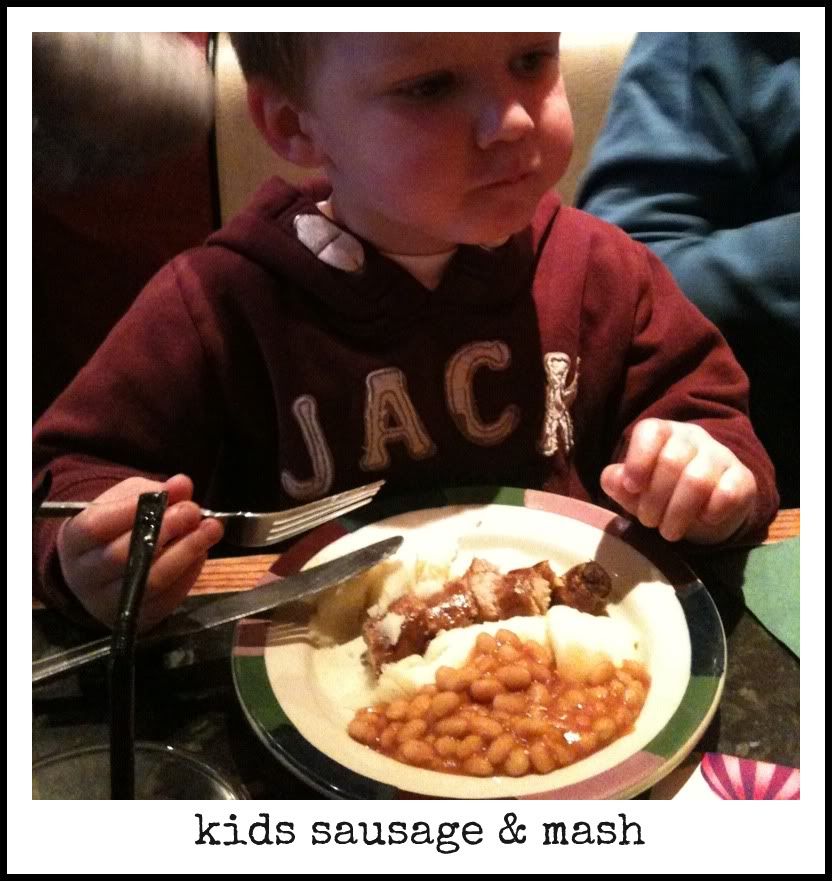 I ordered the Chicken Citrus Salad from the Lighter Options menu, a new selection of main courses with 650 calories or less. It arrived with a large chicken breast cut in two on a bed of mixed salad and chargrilled cherry tomatoes. The chicken was nice and not at all over cooked and the lemon and oil dressing was a really nice light and tasty dressing on the salad.
The husband ordered Chicken and Ribs and although the chicken was quite plain it was nice and the ribs were cooked to perfection, with the meat falling easily from the bones.
The children all decided on the chocolate brownie for dessert which arrived in just over ten minutes and typical of fickle Jack he didn't like the Brownie or wafer and chose instead to just eat the ice-cream.
At £3.95 for the kids menu and £7.55 for the Junior they are both great value as they include both refillable drinks and a choice of dessert. They also offer Organic Baby food for £1.75 if you have a little one that needs feeding too. The menu also states that free apples are available for children, although we didn't get offered any we did notice a bowl of rosy red apples near the entrance.
Overall we had a really good experience food wise but unfortunately Frankie and Benny's let itself down with the slow service and because of this the family have rated it a 6/7 out of 10. The waiting staff were extremely friendly though and couldn't do enough for us.
We were provided with a voucher towards the cost of our meal in exchange for this review.