Nine year old Hanna was really excited to receive the Chocolate Rotator from the Let's Cook range to review, it's the kind of item that she always has on her birthday and Christmas lists, but never receives.........a bit like myself when I was her age and I asked for (and never received) a Mr Frosty.
She was a little disappointed to find that the set didn't include any chocolate, but lucky for her I had a supply of cooking chocolate in my stash.
The set is fairly straightforward to use and the rotator comes ready assembled. It comes with a chocolate melting pot and stirrer, 6 two-part moulds - egg, teddy, car, shell, lion and ball, along with 3 sheets of coloured foil, stickers and strings (to make into a decoration).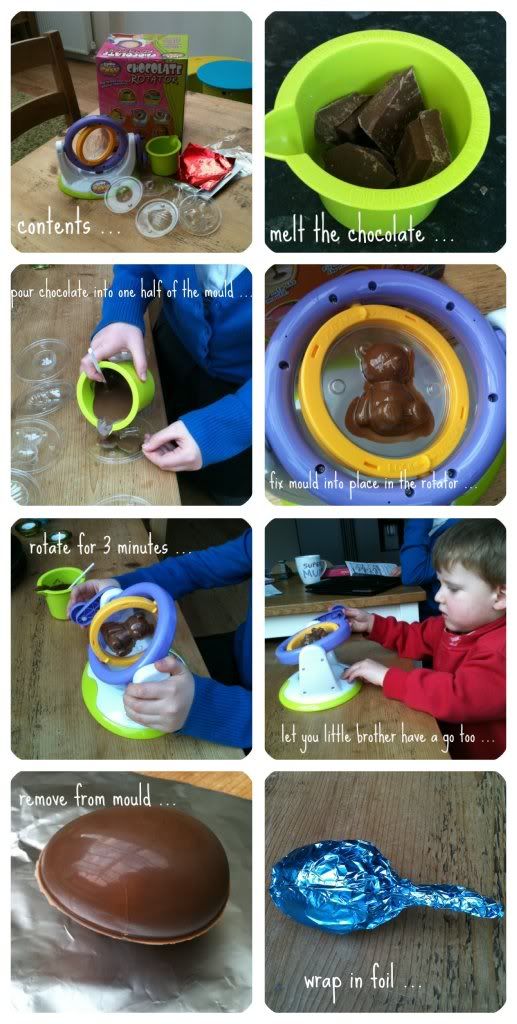 It seemed to be going so well, but after leaving the filled moulds to set fully in the freezer (as per instructions) it became apparent that we needed to rotate for longer than the 3 minutes as the chocolate had mostly dripped down to one side, leaving the other side very thin and fragile. The chocolate had also seeped into the sides of the moulds slightly leaving some excess chocolate around the joins. Some of the shapes fell apart when we took them out of the moulds as the chocolate was so thin.
We found it quite tricky to wrap the chocolate in the foil neatly and can't see with foil of that thickness that the chocolates could be wrapped as neatly as shown on the box.
All in all the set is fun to use and with a bit of practice I think we could make some nice chocolate gifts to give as presents. It's a shame that there are only 3 foil sheets included though, especially as the box pictures four (very neatly) foil wrapped chocolates next to an additional 3 sheets. Hanna enjoyed using the set although she did say that it wasn't as good as she expected it to be.
The Chocolate Rotator is available from Character online for £14.99.