Once again I have been lucky enough to get the chance to review a Hotel Chocolat product, this time being an egg from their Easter Range. Last year I hadn't been blogging long when I saw lots of reviews for the Easter Eggs...oh how jealous I was, and now I am one of those lucky bloggers.
I had my eye on the impressive looking 'You Crack Me Up' egg back then as it's one of their extra thick Easter eggs and is filled with smiley faces, chicks & bunnies
- perfect for sharing with the family.
This year the smiley faces are filled with chocolate brownie or praline, the chicks (my favourite) are solid chocolate with caramel pieces and a hint of sea salt, then there are cocoa pod bunnies, praline fried eggs and white chocolate soldiers
The egg itself is cast from 40% Milk Chocolate which is smooth and creamy as would be expected from Hotel Chocolat. I was disappointed though that, although the egg appeared to be a whopping 1cm thick on first inspection (and as pictured on the website and packaging), it was only on the outermost edges. The majority of the egg was a disappointing 3-4mm thick.
Aside from the thickness of the egg I really like this egg, especially the presentation box that it comes in. This strong cardboard box with a black ribbon around could be used, long after the egg has been eaten, to keep trinkets in whilst you drool over the pictures on the side.
Each side of the egg is wrapped in gold foil and the 12 piece chocolates inside are carefully wrapped in tissue paper inside the egg halves.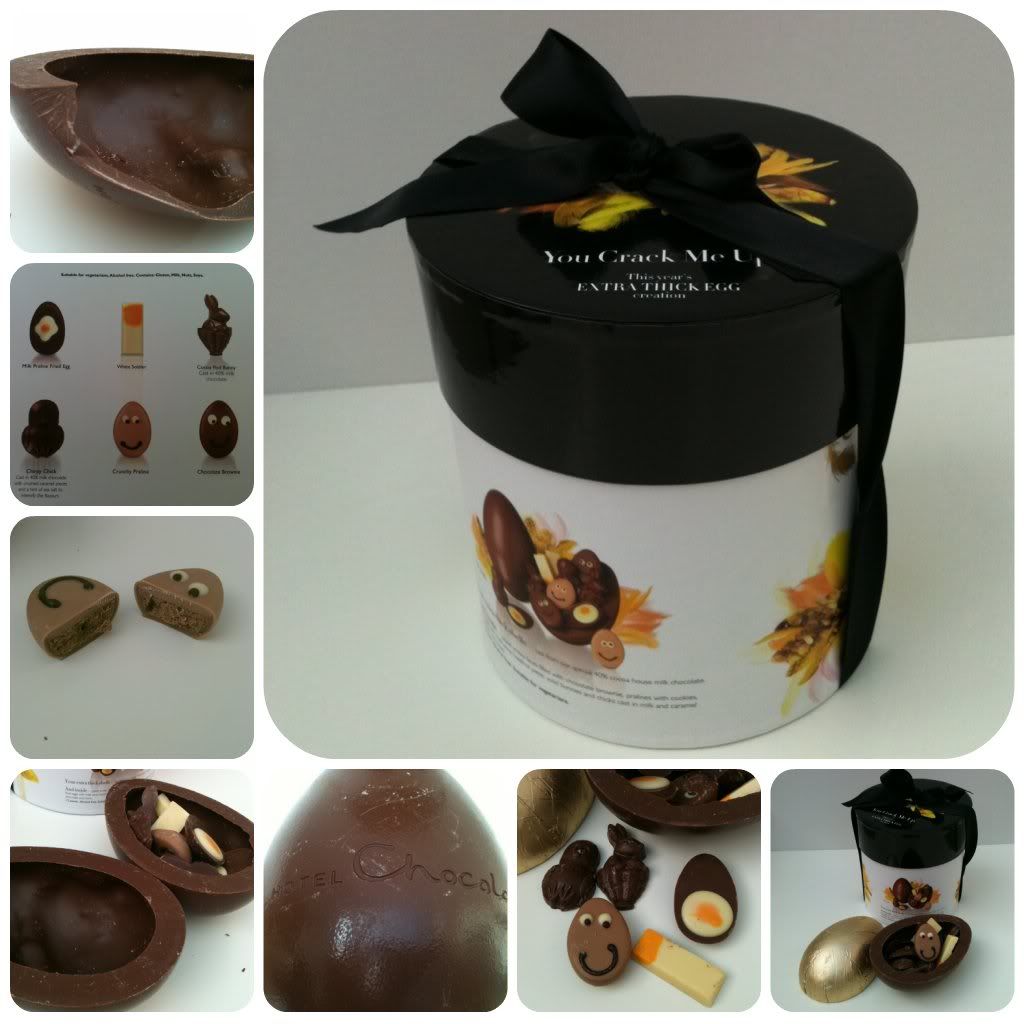 The 'You Crack Me Up' extra thick egg weighs in at 380g in total and is alcohol free and suitable for vegetarians. Whilst it is quite pricey as an everyday egg at £26 it would make a lovely fun gift this Easter.