Yesterday afternoon I set off to London for a restaurant meal which I had been invited to by a lovely PR that I'd worked with before. I was a little bit nervous to say the least, firstly because I didn't know anyone else that was going (apart from the PR, whom I had never met before) and secondly because the restaurant that I was going to served the meals in complete darkness!
Dans le Noir is situated in Clerkenwell, an apparently very trendy area of London, and offers a dining experience like no other I've had before.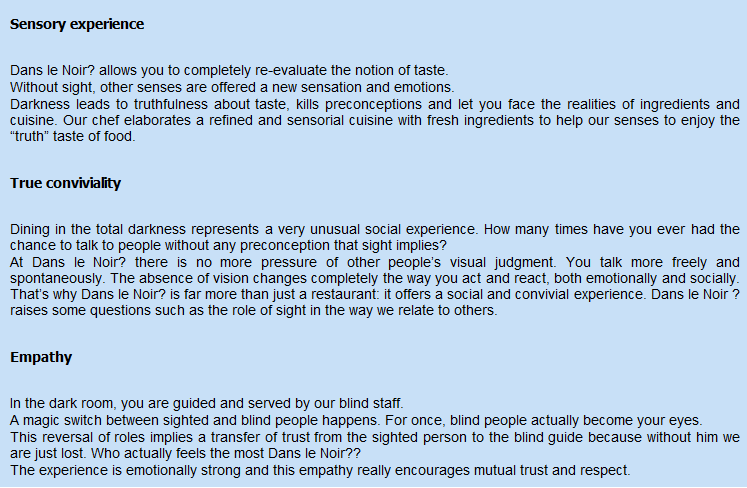 I arrived at the restaurant a little early but was going to go in anyway as there was a few people milling around....and then I spotted a camera crew filming the restaurant from across the road, and stopped dead in my tracks. Instead I opted to wait a while in the comfort of a bar next door, with a glass of wine for Dutch courage....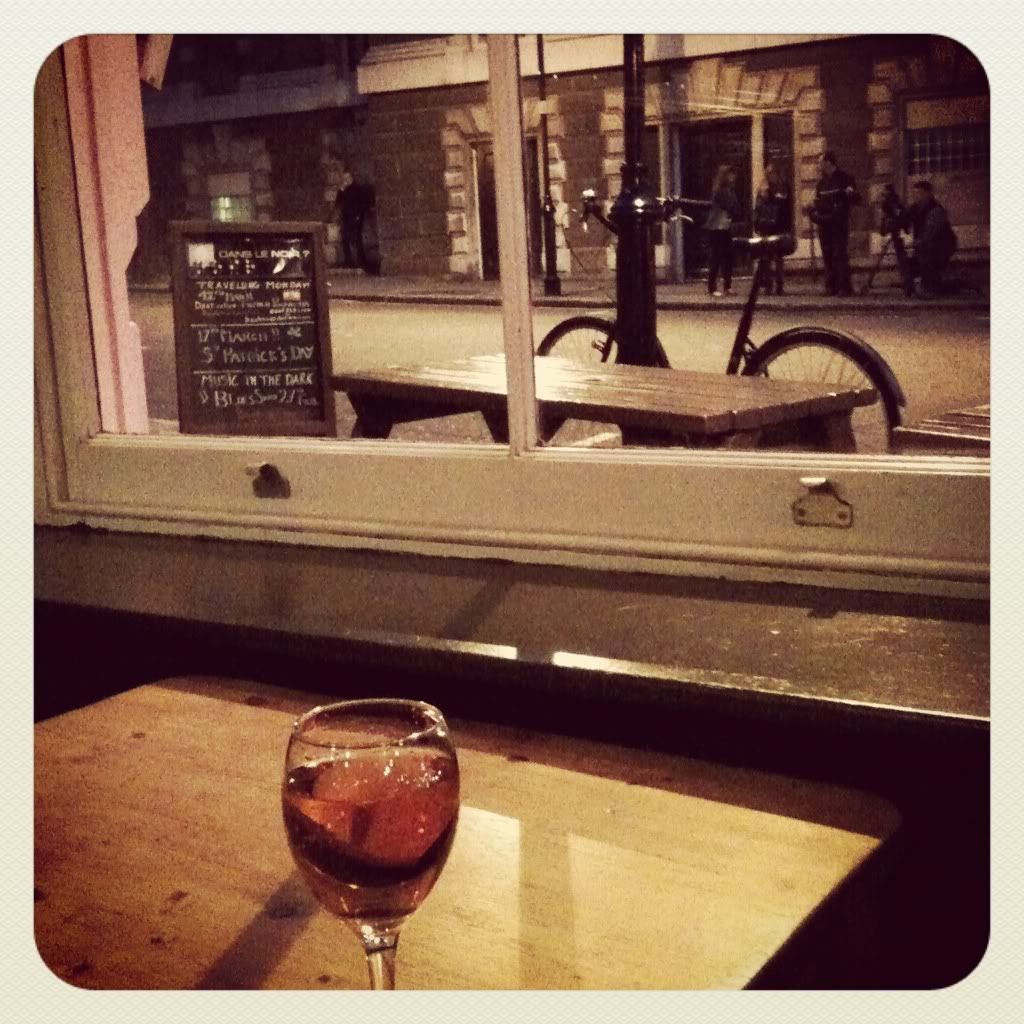 Boosted by Mummy and the Beastie who told me to 'sup up' and go inside, I entered the brightly lit entrance of the restaurant, where I was met by our hosts. After a couple of glasses of some fizz, and packing our valuables (and sources of light) into lockers provided, we were led in procession by our blind waitress, Nadine (it's a good idea to remember the name of your waiter in case you need anything!), up a ramp and through 2 sets of black curtains into an extremely dark room - so dark that you couldn't see your hand in front of your face. We were led to our seats and quickly got acquainted with our fellow diners, one of them being the lovely Kate from Fabric of My Life, whom I had the pleasure of walking behind in and out of the room, holding onto her right shoulder, a method used to make sure no-one got lost in the dark.
The whole eating part was a very weird experience and one that I don't think I would try again as I didn't feel as though I enjoyed the food as much as what I would've done had I seen and known what I was eating. I also felt that, because the only way to find out what was on the plate was by locating and eating it, I possibly scoffed my food down a little too fast, resulting in a very bloated feeling - nothing to do with the 2 tumblers of red wine consumed with dinner of course!
During the meal we had the pleasure of being filmed, which I can't wait to see, but I'm pretty sure I won't be sharing any links to the final cut on my blog!
Afterwards we went into a room upstairs where we our hosts for the evening were revealed to be Alpro, best known for their soya products. Details of the food that we had eaten were given to us on menus showing that the meal was cooked using many Alpro products instead of their dairy equivalents.
Alpro introduced to us some of the new products in their range, which included Alpro Fruity & Creamy, a luxury soya yoghurt alternative as well as their new nutty drinks - Almond Milk and Hazelnut drink
The new drinks are a healthy alternative to dairy milk and can be used in many ways, such as on cereal, in cooking, and in coffee - anywhere that you would normally use dairy milk you can replace with the nutty drink, which is naturally low in saturated fat and a good source of calcium and vitamins. We were offered some delicious looking cakes, pastries and truffles made with the new products but I let the side down and could only manage a single truffle and a sip of hazelnut drink before speeding off in my cab in time to catch the train home - which I made by the skin of my teeth!
I haven't decided how I'm going to be using my nutty drinks yet but if I come up with a recipe I'll make sure I post it here first.
As well as my cartons of almond and hazelnut drink I received some of the new Fruit & Creamy desserts and a lovely little Cobnut tree and a watering can that matches my lounge perfectly!