Scooters are all the rage at the moment, my eldest is always on his, racing here there & everywhere between friends houses. They're easy to just hop on & off, are easy to carry and, unlike bikes, don't take up much storage space either.
Jack was thrilled when his Micro scooter arrived, it meant he could be just like his big brother. At first he just rode around the house, getting to grips with it, which isn't that easy when you're only 2. He seemed to master the steering almost straight away though - tilting the handlebar to the side turns the wheels making them easier for little ones to get the hang of.
When it was time to take to the roads I chose a short route from the car to the school, only a few minutes walk away. At first he was a bit hesitant, but not scared at all, probably helped by the scooter being so lightweight and not at all cumbersome. The second time he went on it he was a lot more confident and managed to freewheel for a short distance and even shouted 'ready steady go' at the top of a long slope, thankfully I was close enough to grab him before he disappeared.
Jack has the Mini Micro Scooter in the Limited edition neon blue with brightly coloured handlebar grips. The Mini Micro Scooter is aimed at children from age 3-5 years and features 3 tough PU wheels for stability. The scooter is so lightweight that Jack his happy to carry it himself when he's had enough of scootering....although he does have a unique way of carrying it!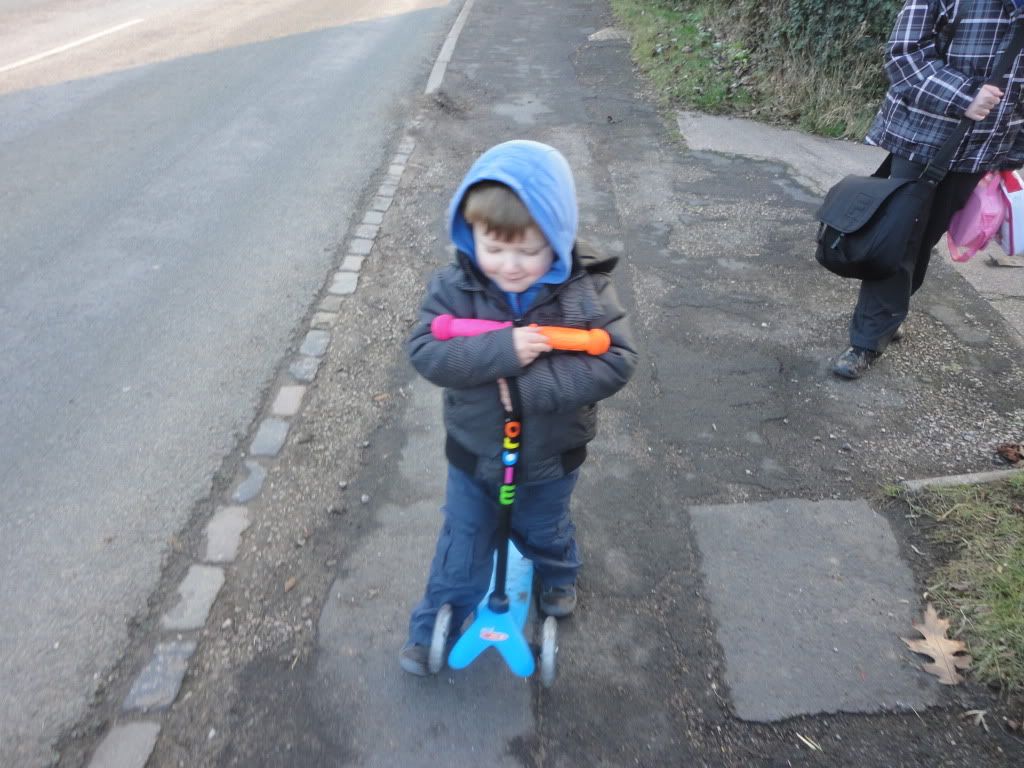 There is also a whole range of accessories that can be purchased for the Micro Scooters, from bottle holders and bags to bells and spares. I think our next investment will be a Scoot n Pull so that I can pull him along when his legs get tired.
Micro Scooters Scoot n Pull
we were sent the Micro Scooter for the purpose of this review.