Since the beginning of the year I have been partaking in some regular exercise, mainly thanks to the NEXT Davina Challenge that I'm involved in. I was then contacted to see if I would like to take part in a health screening - a simple way to find out if you may be at risk from certain diseases and strokes, so I thought if I was doing all this exercise I may as well find out if I was likely to kick the bucket doing so.

The appointment was made over the phone by a friendly assistant, and then followed up by an email to confirm the appointment, along with details of what to expect on the day and directions to the venue. There was then a further reminder email a couple of days before the screening. There is a very comprehensive website where bookings can also be made.
The mobile screening service that Life Line provides make the service easily accessible to everyone, with locations such as village halls, social clubs and hotels. The screening that I attended was at Uttoxeter Racecourse, just a short drive from my home, with plenty of free parking. When I arrived there were signs to direct Life Line participants to a specific car park and then further signs directing me the way to one of the event rooms.
I was greeted immediately, booked in and shown to a waiting area and given a short questionnaire to complete. After a few minutes I was called over to my first screening and the procedure was explained. Each screening lasted 5-10 minutes, although the first one took a little while longer as I was told that it was a new machine that they were using for the first time.
Each area was separated by screens and I went from one area to the next quickly, only having to return to the waiting area once in between, just for a few minutes. They were not invasive at all - one of them required me to lift my top to expose my stomach and another to lift my trouser legs up - when it dawned on me that I hadn't shaved my legs! Another of them was so relaxing, I almost fell asleep.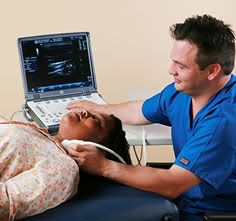 The screenings that I underwent included key tests

reviewing stroke, aneurysm and cardiovascular risks, as well as

an ultrasound scan for osteoporosis risk:
Stroke Risk Screening
Artery Hardening Test
Bone Density Test
Enlarged Aorta Test
Heart Rhythm Test
These tests are normally aimed at older people than myself, or ones that have a high risk of these conditions, but it's good to have the tests to get peace of mind (hopefully).
I now just have to wait up to 21 days to find out if I'm ready for the scrap heap or not yet.