I'm a bit late posting this week's update on my Davina for NEXT challenge. In fact I'm so late it's almost week 5 and the final week so I suppose I need to pull my finger out and give it a last good push.
Since my last update I received a lovely surprise in the post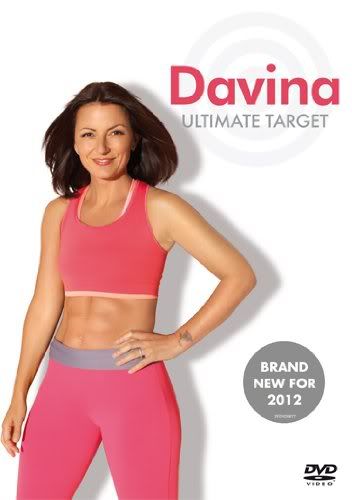 I'd heard great reviews about the new Davina DVD so couldn't wait to give it a try. That weekend though I didn't need any DVD workouts as I had decided to start 'project playroom' and spent much of the weekend moving furniture, books and games up and down the stairs as well as doing some good stretching exercises painting the walls.
Unfortunately Jack was off Pre-school last week with an upset stomach which meant that Peppa Pig took priority over exercise DVD's but late on Tuesday night I managed to squeeze in the 15 minute 'Target Abs' workout.
On Wednesday a friend offered to watch Jack so that I didn't have to miss my weekly Zumba session that I've been enjoying for the last few weeks. I never managed to fit in any more of the DVD before the weekend but I got plenty of exercise Saturday sledging and making snow angels in the snow and on Sunday we went sledging again with my Davina Capri's keeping me extremely warm underneath my jeans.
Since then I've tried out a few more of the routines on the Davina DVD including the Fat Burner, Target Abs and Bingo wings sections.
I like that the DVD is divided into sections and you can skip sections and target it to meet your own needs. I really like the Abs section and really felt the effects the following morning!
Sections include :
Fabulous Fat Burner - cardio workout
Brilliant Boot Camp - squats & toning
Target Abs - 15 minutes of tummy toning
Target workouts - 3 short but effective routines :
1. Bingo Wings
2. Summer Shoulders
3. Bikini Bum
I did find it quite difficult to follow some of the cardio routines though as I'm not particularly co-ordinated and found it hard to follow the routine when the camera kept panning onto Davina as I could no longer see what her feet were doing. I find it easier to follow a routine if I can see the instructors full body and they stay in the same place all the time....I get easily confused when it comes to dance & exercise routines at the best of times! The toning exercises were great though, and very effective.
I'm going to try and follow the DVD a few times over the next few days as come half term I doubt that I will manage to fit it in.
I was sent the Davina DVD by NEXT as part of the Get Fit With Davina challenge.