I have lots of friends, scattered near and far but I don't have one best friend, although I do have lots of extremely good ones. I have lots of circles of friends, some of them cross, some of them don't - Mums from school and Pre-school, friends in the village where I now live, ex work colleagues, friends from school and friends from my single days back in my home town, and of course my blogging and twitter friends.
My group of friends back in my home town mean a lot to me, we have so much history together, we've laughed together, we've cried together, we've drank tea together and we've drank wine together, we've been to weddings, christenings and sadly funerals together. It was in fact at a funeral that I met a couple of my closest friends, a funeral of a mutual friend, and since that day our circles of friends have merged. I don't always get to see these friends as often as I would like as we all have families and busy lives now. I did get to meet up with some of them earlier this month, during half term, to discuss our upcoming girls holiday, and I'm hoping to get back there next month for a baby shower and memorial for a friend.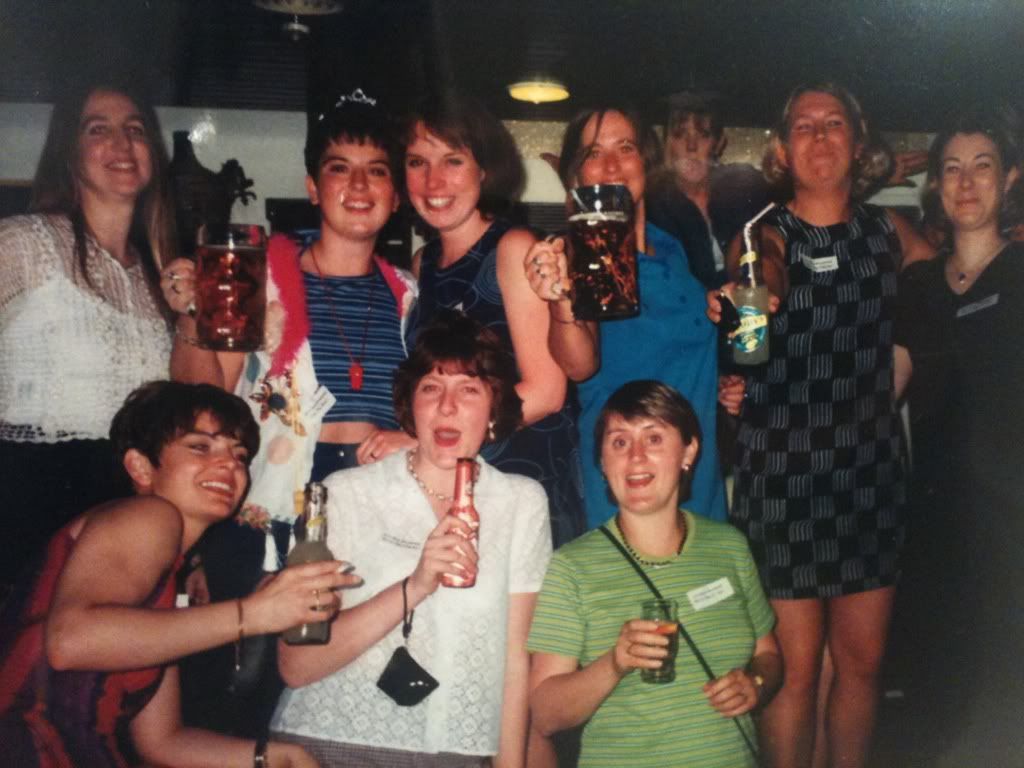 1997 - me in the blue dress (yes a dress!)
This photo was taken nearly 15 years ago and out of the 10 of us in that picture 7 of us were among the group that went away last year together when we looked like this
2011 - Me 5th from the left
And 2 years before that like this
2009 - Me in a pink wig-Little Miss-hap
What will this year have in store for us I wonder.......
I am linking this up to this weeks Gallery where the theme, if you haven't guessed already, is Friends.