I have had the Yummy Dough from Maps Toys in my possession for some time now as I've been waiting for a day that we had plenty of time to try it out. When I first agreed to review it I must admit I didn't realise that it would comer in powder form, I was expecting it to be more of a sugarpaste icing that was already made up so I knew that we would need to allow more time for the review.
The Yummy Dough comes in a plastic tub containing instructions, 4 sachets of powder (red, yellow, green & blue), a syringe and a plastic cutting tool.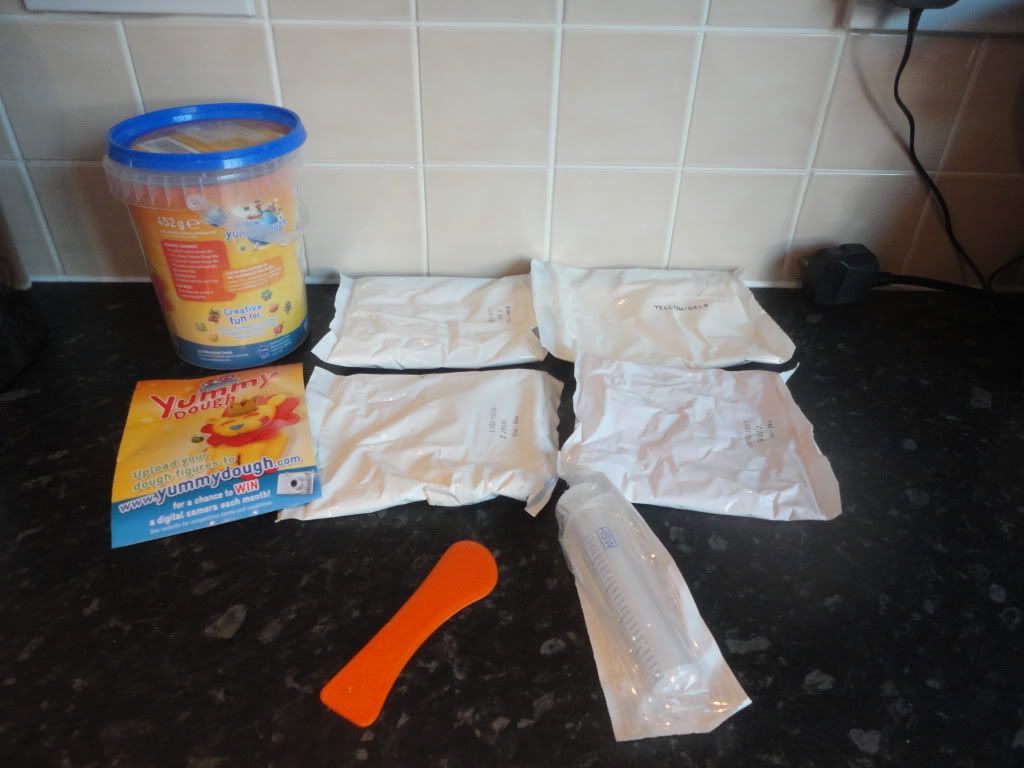 The instructions state that exactly 15ml of water should be added to the powder & mixed to a crumble and then kneaded to a dough by hand. It also states that you shouldn't be tempted to add more water, which I didn't.....for the first two colours....and as they seemed very dry I decided to add an extra 1ml for the remaining two colours. It did seem better with the additional water but to be honest the more we kneaded the original two colours the more dough like they became, until after a while they were completely smooth and a very soft texture so although the instructions really don't seem to be correct with what they say they are!
The tricky part was deciding what to make. Myself, Hanna and her friend made a few creations between us, mostly snails, fruit & veg. We spent an enjoyable 45 minutes together mixing and modelling and and discussing the Yummy Dough. The girls came to the conclusion that it is a very fun product, which at first we though would be no different to making biscuits and discussed that as an alternative we could just add food colouring to cookie dough. We quickly realised that the Yummy Dough was better than that though, as it really was the texture of modelling dough and unlike crumbly biscuit dough. The more you played with it the softer it became. We also mixed a couple of the colours together which worked ok but they colours weren't that strong. The only reasonable alternative that we could think of would be marzipan but the only downside with that is that not many children (that I know of) like the taste of marzipan.
before going in the oven
We baked the Yummy Dough creations for 17 minutes for the smaller items and 22 minutes for the larger ones, and then allowed them to cool before eating.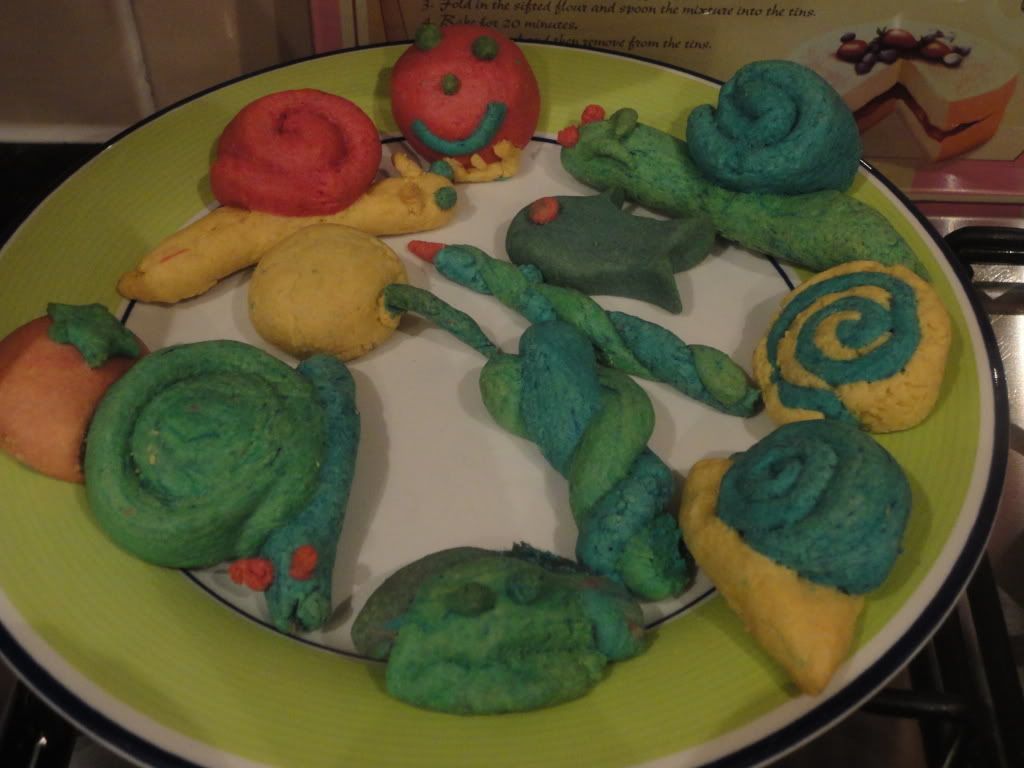 out of the oven
I was actually surprised how nice the biscuits tasted after they were baked - quite sweet but they had the thumbs up from the girls who wanted more.
The Yummy Dough is available from Amazon for £7.89 which does seem quite pricey for a set that ultimately makes biscuits but I think it would make a great present for crafty kids.
The age recommendation is 3+ years but I wouldn't use it with very young ones, I think 7+ would be a better age to get the most out of it.