I received a lovely package in the post today, even though I knew it was on it's way it was still a nice surprise. Hotel Chocolat sent me a lovely Valentine gift to review - the Valentines Goody Bag.
Inside the bag is the following :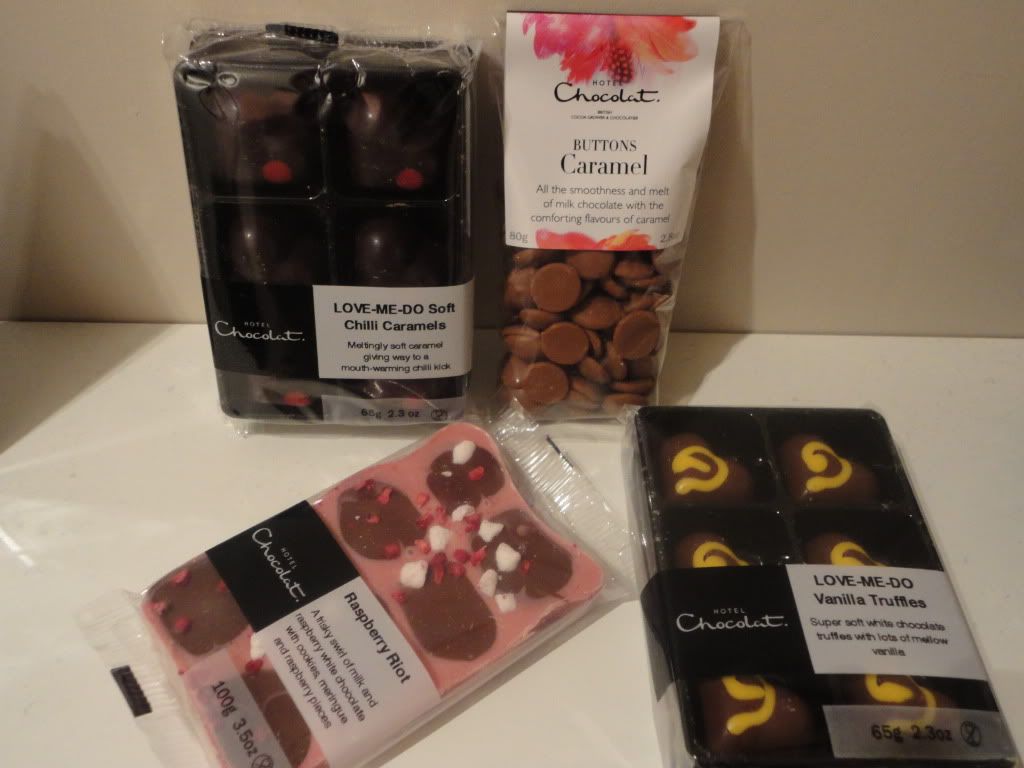 All packaged in a lovely clear fronted gift bag with fabric ribbon handles and bow.
My family couldn't wait to get stuck into the chocolates, all except the Chilli caramels which I had the pleasure of taste testing by myself.
Chilli Caramels
After being disappointed by the much longed for alternative mince pies at Christmas as they were too sweet, and not salty enough, I was hesitant to try the chilli caramels, thinking they might be sweet and sickly. I was extremely pleased and surprised that they weren't too sweet at all, much to do with them being encased in dark chocolate rather than the milk chocolate of the mince pies. They didn't disappoint in giving the promised 'mouth-warming chilli kick' either and upon eating the first one I almost choked as the chilli caught the back of my throat. I will definitely be putting these on my next Hotel Chocolat wish list.
Vanilla Truffles
The whole family had a try of these and all 3 kids loved them, Jack liked them so much he had 2. Hanna said they tasted like ice-cream. The vanilla flavour is very mild and although not unpleasant I would've liked them to have a bit more flavour. They were quite sweet and because of this were preferred by the kids more than the adults.
Raspberry Riot
I thought this pink chocolate bar was going to be a little too sweet but the swirls of milk chocolate and sharpness of the raspberry pieces made it less so. It was full of fruity flavour and everyone enjoyed it - particularly the husband who said he could eat a whole bar of it and , although he didn't want to admit it, I suspect he preferred it to his beloved Fruit n Nut.
Caramel Buttons
These were far to sweet and sickly for my liking, they reminded me of Caramac and I never did like that stuff. My husband wasn't keen either, for the same reason. The kids on the other hand couldn't get enough of them. I do however think they would be great to use in a hot chocolate or cupcakes or muffins, so I've saved some to make cakes with at a later date.
All in all the Valentines Goody Bag was a big hit and at £17 for a lovely presented gift I think it's a good value valentines gift - presented with a bottle of pink fizz and a bouquet of flowers you are guaranteed to be in your loved ones good books this Valentines Day.
Hotel Chocolat have a great selection of Valentines Day Gifts for all budgets, ranging from a whopping £160 for a Signature Cabinet for the real chocaholic to £4.50 for a Valentine card with milk chocolate slab.
I was sent the Valentines Goody Bag for the purpose of this review.