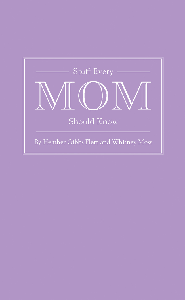 In today's third & final competition I have a copy of 'What Every Mom Should Know'



Priceless, practical wisdom for mothers of all ages!

Another in the widely popular range of Stuff Every…takes Mothers through everything they will ever need to know, in a handy-sized, portable, invaluable, useful, funny, informative book. From potty-training, to how to entertain during long waits or car journeys, baby-proofing like an expert, Important Paperwork, the value of a security blanket (and what to do when this treasured possession is lost!), making baby food, dealing with unsolicited parenting advice, introducing children to solids for the first time, why you need a mother's night out.........and many many more!
To be in with a chance of winning just follow the instructions in the Rafflecopter form below
a Rafflecopter giveaway
(please note that there may be a small delay with the dispatch of this book - please allow 4-6 weeks for delivery)