This has been the first week of my 366 Photo challenge and to be honest the photos haven't been particularly exciting! I haven't ventured out much as I'm trying to catch up on a backlog of accounts so all of my photos have been indoor shots, and mostly at home.
The Boy and Me is doing a weekly linky for our favourite photo of the week so here is mine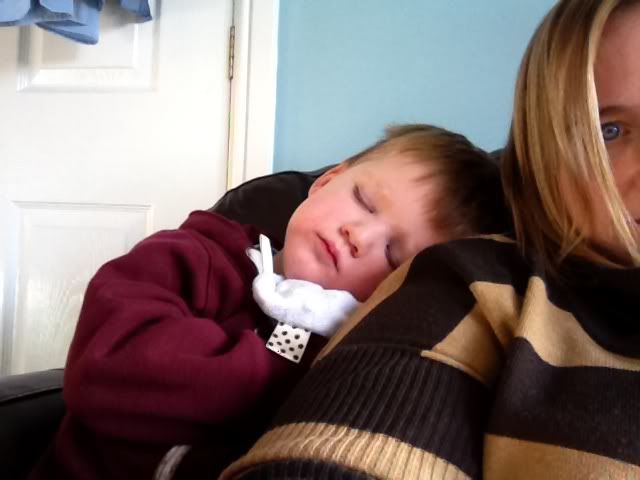 It's not often that Jack falls asleep on me, in fact it's very rare. These days he doesn't have a nap in the day, brought about by a combination of going to Pre-school 3 full days a week and giving up his dummy. Yesterday he was a bit tired though as he came into our bed at 5am (also rare) and proceeded to fidget until my alarm went off at 5.45 at which point he though it was time to get up and went to wake his big brother up whilst I was in the shower. The plan was for me to take Hanna to swimming club and then do the grocery shop whilst the boys stayed with Daddy at home. Jack decided that he would like to come along for the ride though so after an hour riding around Asda in the trolley, milkshake in the cafe and tripping over 3 times at the leisure centre he was in need of a nap.
Last night whilst browsing through old photos I came across another photo of Jack asleep on me, when he was less than a week old. We are in the same chair and amazingly it's in the same position in the room despite being moved around many times in between! Oh how much easier he was back then!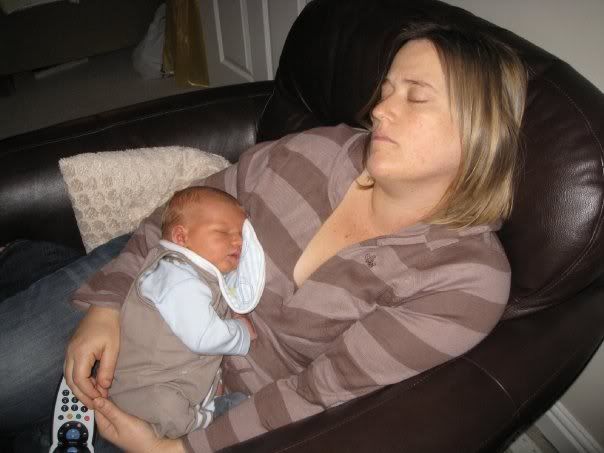 A bit sneaky to post another photo I know but hey I won't tell The Boys Mum if you wont......just head over to her linky and post your entry and she will be happy for ever more!